THIS POST MAY CONTAIN AFFILIATE LINKS. PLEASE READ DISCLOSURE FOR MORE INFO.
Quinoa is a cereal grain that's native to Bolivia and a relative of spinach, Swiss chard, and beets.
The gluten-free whole grain is distinctively healthy thanks to the minerals, vitamins, and fiber it packs among other unique properties.
It's often used in vegetarian meal plans and is unusually high in antioxidants, unlike other grains, because of its close relation to spinach and other antioxidant-rich plants.
This coupled with its nutrient-rich profile that includes all the nine essential amino acids makes it a popular alternative to other grains for people on gluten-free diets.
You can have quinoa as a cereal in the morning, or as a way of adding extra antioxidants or protein to your soups.
If you're looking for high-quality quinoa, we've rounded up 10 of the best quinoa brands on the market, and a buyer's guide at the tail-end of this post so you can make an informed choice.
Best Quinoa Brands You Can Buy
Check Price on Amazon
This quinoa by BetterBody Foods blends black, red, and white, quinoa giving it a nutty texture, robust flavor, and plenty of antioxidants.
It also balances the deep, bold flavors of the black and red quinoa, and the light and fluffy nature of the white quinoa for a richer and more nutritious blend.
Each serving of this organic quinoa contains fiber, iron, protein, and more nutrients for a great bonus meal whether at home or on the go.
It is USDA organic certified, non-GMO, gluten-free, and kosher so you can add it to your food regardless of dietary restrictions.
Any vegetarian, vegan, or other types of dieter can incorporate this nutritious tricolor grain into their diets.
To prepare the multi-color quinoa, rinse with water, and then combine it in two cups of water and bring to a boil.
Once boiled, cover the pot, lower the heat, and allow it to simmer for up to 20 minutes until all the water is absorbed.
You can also cook it in an Instant Pot or rice cooker.
Check Price on Amazon
This whole grain, premium, raw organic quinoa by Healthworks is packed in a resealable five-pound bag and is certified organic.
It cooks up with a fluffy, light flavor, and is as versatile as rice, plus it tastes really good on its own or in various recipes.
To cook it, boil the quinoa in water and enjoy the meal. Among the benefits you'll gain from this white, gluten-free quinoa include nutrients like iron, phosphorus, magnesium, B-vitamins, calcium, potassium, fiber, and vitamin E.
You can eat it as a side dish on its own, or with seasonings like olive oil, among others. Plus, if you prefer, you can pair it with beans, curries, stir-fries, and pasta among other dishes.
This way, you can satisfy your hunger and stay full for longer.
A 100 percent money-back guarantee is available for 30 days on any product you buy from Healthworks directly.
Check Price on Amazon
Viva Naturals Royal quinoa is organically grown and harvested in Bolivia, and packed in a four-pound bag.
The pre-washed product is carefully sifted to remove any debris or twigs so you have an easier time of cooking it without having to do the sifting of the grains yourself.
The grains have a nutty flavor, and they're softer and larger compared to the Chilean or Peruvian quinoa.
This lends a delicate softness and great mouthfeel once you cook it. You'll also feel satisfied and fuller longer, unlike eating rice and millet, what with the fiber and protein the quinoa gives per individual serving.
This quinoa is also a complete vegetarian protein with a wide range of amino acids so you can maintain lean muscle mass, and support enzyme production for better health every day.
Its flavor is enhanced thanks to the chemical-free processing of the quinoa through mechanical de-saponizing, and triple washes that remove the bitter exterior of the grain. This makes it easy to rinse and pop into your Instant Pot or rice cooker and enjoy your meal.
Check Price on Amazon
This organic quinoa from Kirkland is a white, organically certified cereal packed in a four and a half-pound bag. It's also certified gluten-free, drawn from Peru, and packed in the USA.
Like other quinoa brands on this list, you don't have to rinse this quinoa as it comes pre-washed.
It also contains all nine essential amino acids so you can get all your nutritional needs in one meal, plus great taste among other nutritional properties it offers.
Check Price on Amazon
This organic quinoa by Lundberg Family Farms is made with whole grains, is gluten-free, and non-GMO.
The tricolor quinoa combination is also certified USDA organic and delivers the essential amino acids plus other nutrients like iron, protein, and dietary fiber.
It's grown in the USA organically, unlike others that are sourced from Peru and Bolivia, but it isn't your typical conventional quinoa.
It's grown with a concern for the environment, thus treating the air, soil, and water as important resources to respect the delicate natural balance.
Lundberg Family Farms have always been in the organic farming and energy conservation field and is also a proud participant of the Non-GMO Project that offers consumers consistent organic and natural non-GMO products.
Check Price on Amazon
TruRoots offers a quick and easy to prepare quinoa mixed with brown rice and lentil blend, sea salt, and olive oil for a wholesome tasty meal for you and your family.
The gluten-free, non-GMO, nut-free, and organic grain blend microwaves in just 60 seconds. It's also USDA organic and verified by the Non-GMO Project.
In this quinoa blend, you get a hearty quinoa that offers 8 grams of protein and 7 grams of dietary fiber with every individual serving.
This combined with other grains, sea salt, and olive oil delivers a versatile taste, which excels whether on its own or when incorporated with other recipes.
The quick cook quinoa is an ideal dinner solution for busy weeknights when you're tired from work or just need a quick meal to get by when time is at a premium.
It comes in an array of delicious varieties that invite you to experience ancient cultural and time-inspired flavors so you can get one that fits your needs.

Check Price on Amazon
This quinoa comes pre-washed (triple cleaned), so you don't have to soak or strain it to eliminate the bitterness otherwise found in unwashed quinoa.
It's been grown organically in Peru and is USDA certified organic white quinoa, making it an excellent option for a bulk source of white quinoa.
The gluten-free, batch tested grain is a 100 percent, whole grain, rich in proteins, vitamins, and minerals, and is plant-based too so you can use it in any of your vegan and organic recipes.
The white quinoa contains 6 grams of protein, which means you can swap it for rice in recipes for extra protein, and still get nutrients like calcium, magnesium, B vitamins, antioxidants, and a lot more.
Check Price on Amazon
HerbaZest's quinoa delivers a rich blend of minerals such as proteins, which makes it an easier option for a healthy, wholesome meal.
The quinoa flakes are USDA organic certified, Non-GMO, and gluten-free, and grow organically in the Peruvian Andes, where they're sourced directly from farmers.
The subtropical climate in which this quality quinoa grows is in high altitudes, with prominent rich soils that are ideal for its growth.
These flakes are easy to use and go well with your granola, muesli, yogurt, cereal, and baked or non-baked goods, among other meals.
You also get a 100 percent money-back satisfaction guarantee for 30 days plus their customer support team is outstanding so all your queries will get responses.
Check Price on Amazon
Terrasoul Superfoods' white organic quinoa is packed in a four-pound bag and is certified organic by USDA, non-GMO, raw, vegan, and gluten-free. It's also kosher for those who prefer that dietary type.
The brand is family-run and sources only the freshest and highest quality foods across the globe, with a mission to make healthy and amazing foods at affordable prices.
Its quinoa is pre-washed to de-saponize it so you don't get the bitter saponins present with quinoa seeds. It's also been lab-tested and packaged in-house at the brand's own facility so that you get the best premium quality products.
Like other brands, Terrasoul Superfoods also offers 100 money-back satisfaction guarantee for 30 days and a good support team that manages your queries and feedback.
Check Price on Amazon
This raw, pre-washed organic quinoa by OA Quinoa brand is de-saponized to remove the saponin substance that comes naturally with quinoa, to remove the bitter taste that can cause indigestion when consumed.
The organic quinoa is carefully selected to remove impurities like stones and twigs that may be in the product so you don't have to, and you can enjoy it with your family.
It's 100 percent organic, grown in the highlands of Bolivia whose environmental conditions make it favorable to get organic quinoa products.
The super grain is gluten-free, naturally, and contains all essential amino acids your body needs, plus it's an exceptional plant-based protein source.
OA Quinoa's product also has a pleasant neutral flavor and you can substitute it in any recipe that calls for barley, oats, rice, or other grains.
What To Look For When Choosing A Quinoa Brand To Buy
Whether this is your first time to try quinoa or you've been buying it regularly, there are several things you need to know about this little grain.
Before you head down to the store to pick out a brand of quinoa, here are some things you need to keep in mind:
Color
Quinoa comes in different colors, mostly red, white, or black. You can pick any color you want because they're similar in nutritional value, so you can go with the one that'll taste best to you.
White is the least bitter quinoa among the three colors, while black and red have a texture that's chewier and holds better in salads and other cold dishes.
Pre-washed/Pre-rinsed
This is just a way of making your life easier instead of having to rinse the quinoa yourself.
Many brands pre-rinse or pre-wash their quinoa to remove the saponin coating on the grains, which usually acts as a pest repellent.
It's harmless, tastes really bitter, and you may not enjoy your fluffy quinoa meal.
You can run it under fresh cold water before you cook it, but most strainers can't keep the grains from littering all over the place, which can be a daunting task.
Pre-rinsed quinoa is better and isn't more expensive anyway, so pick a brand that has that on its label too.
Gluten-free
Quinoa is usually gluten-free, but there have been some strains that were found to contain measurable gluten levels from a study published in the American Journal of Clinical Nutrition.
It's good to double-check whether the product is labeled gluten-free or not, especially if you're gluten-intolerant or have celiac disease.
Non-GMO or Organic: What's the big deal?
You don't need to stress over these terms because quinoa has a native saponin that farmers don't need to spray many pesticides to repel pests.
However, unless you insist on only buying foods that are organic, quinoa shouldn't be one of those that you nitpick about being organic or not. In its raw form, the grain is also Non-GMO.
Where the quinoa is grown
You've already seen that most of the quinoa is grown in South America, specifically Peru or Bolivia.
However, it's also being grown in the USA, as we've seen in one of the brands on our list, and there's no truth in the rumor that the farmers in South America can't afford to grow or eat it themselves.
They still eat the grain and make money selling it to other countries.
Mixing quinoa with other foods
You can mix quinoa up with other whole grains and enjoy a hearty, healthy, and satisfying meal.
It's good for you, but it shouldn't be the only thing you eat.
Add other sources of complex carbs like different whole grains as they also have different nutrients to offer, so brown rice and millet are good to go too.
Health benefits
Quinoa offers several health benefits to the body besides offering a feeling of fullness and satisfaction.
It's naturally low in sodium and rich in protein and fiber, which helps with satiety, prevents constipation, and helps pull cholesterol from your heart.
It also keeps blood sugars stable.
The fiber is the indigestible part of the carbohydrate in quinoa that allows carbohydrates digestion to happen slowly and aids in controlling your blood sugar.
Storage
You can store your quinoa in your pantry, especially if it's dry quinoa as it has a long shelf life, and be careful to keep it in an airtight container or in its own package.
It's a seed, so the sell-by date still exists, though you can still use it safely past the date of expiry.
Once you cook the quinoa, it'll stay fresh in your refrigerator for up to seven days.
Once it develops mold and is hard, it's time to throw it out.
You can also store the quinoa much longer in your freezer so long as it's in an airtight freezer container.
Allergies and Interventions
The saponin in quinoa has been cited as the main cause of allergic reactions.
Saponins are common in many plants, so if you're allergic to some grains, you'll probably also be allergic to quinoa and other kinds of grains as well.
Consult your healthcare provider in case you suspect an allergy or get some symptoms after you've had some quinoa.
How To Prepare Quinoa
Quinoa is prepared in the same way you prepare rice.
You can soak and/or rinse it before you cook it in boiling water to remove the naturally occurring saponins, and then add it to two parts of water for each part of starch.
You can use it to whip up your side dishes or have it with your breakfast in the morning.
However, make sure you read the package instructions for the exact directions depending on the brand you pick from our list above.
Place in the saucepan with the boiling water (can be chicken broth or sodium vegetable) for every cup of quinoa, bring it to a boil, and then lower the heat, and cover the pan.
Let it simmer for up to 20 minutes or a bit longer if you prefer, and when it's fluffy and light, serve it on its own or with your side dishes.
Wrapping Up
Quinoa is a wholesome grain that comes in different types (red, black, or white) all of which yield distinctive textures and flavors.
You can try the white quinoa for a start, or prepare some cold salads and throw in your red or black quinoa.
Any of the brands listed above can deliver the great tasting quinoa you've heard about or have always been looking forward to, so pick one that you find suitable, and enjoy your meal.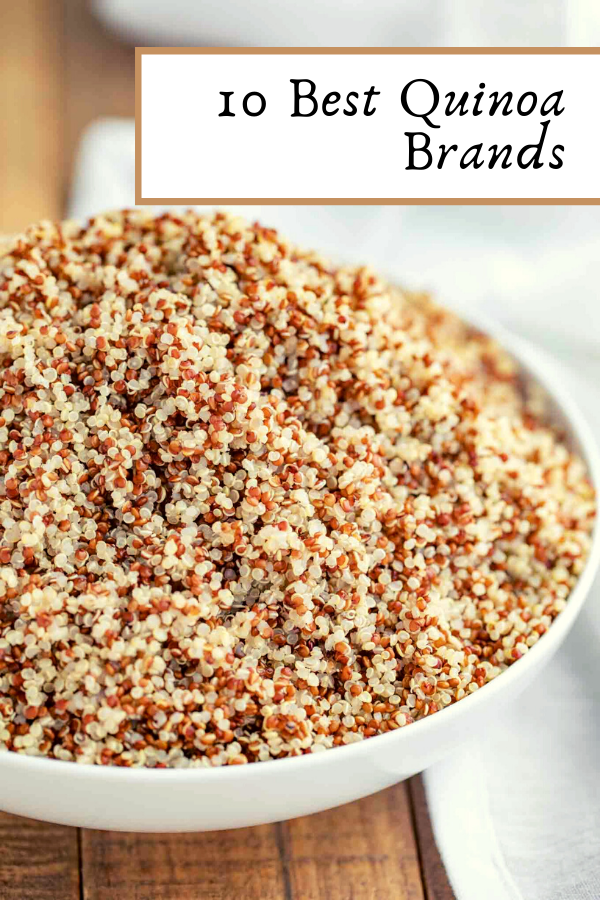 THIS POST MAY CONTAIN AFFILIATE LINKS. PLEASE READ DISCLOSURE FOR MORE INFO.