THIS POST MAY CONTAIN AFFILIATE LINKS. PLEASE READ DISCLOSURE FOR MORE INFO.
Wheatgrass is a young wheat plant harvested before the wheat kernel grows. It is a nutrient dense food, which has become very popular in recent years and is available in online stores, health food shops and even juice bars and cafés.
Nutritional Content
Wheatgrass contains twelve amino acids, eight of which are essential to the human body. Other essential nutrients include: vitamins A, E, and B-12, calcium, phosphorus, sodium, potassium, iron, magnesium and zinc. It also contains anti-oxidants and chlorophyll which produces the green color.
Wheatgrass Benefits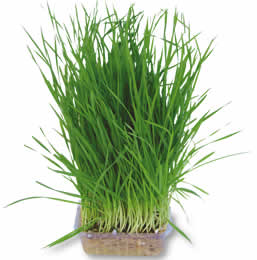 Due to the anti-oxidant properties of wheatgrass, it provides protection from free radicals which are known to cause damage to the cells of the body. Free radical activity contributes to the aging process.
The chlorophyll found in wheatgrass is very similar to our body's own hemoglobin, which helps the blood carry oxygen. Chlorophyll cleanses the liver, tissues and cells and also purifies the blood in our bodies and can help in removing harmful toxins that the body stores.
Many people who take wheatgrass report improvements in their digestion. A study in Israel even found that wheatgrass significantly reduces the symptoms of ulcerative colitis.
Other ways wheatgrass is used:
As a skin cleanser
For sore throats
To prevent tooth decay
To heal wounds
To heal psoriasis and other skin conditions
To clear up sinusitis
To reduce varicose veins
To ease the symptoms of menopause
To clear up gum disease
As an antiseptic
Using Wheatgrass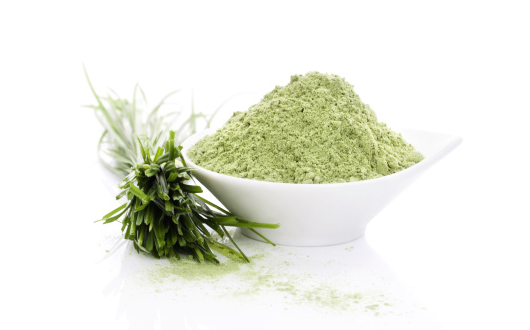 Wheatgrass comes in different forms. Most people add wheatgrass juice to a smoothie or even drink it from a shot-glass! However it is also available in tablet or powder form, to mix into drinks or add to food.
When preparing the fresh wheatgrass, a press is used to obtain the juice from the plant. The taste can be strong until you get accustomed to it, but if it's diluted in other juices, you probably won't even notice it's there.
I have also reviewed wheatgrass juicers that may help you make a selection. You may also be interested in finding out about WheatGrass Shots.
Where to Buy Wheatgrass
Wheatgrass is typically found in health food stores and online. Powders or tablets generally have a long-shelf life and you'll save money if you buy online.
We recommend LivingSuperFoods.com for buying Wheatgrass – Click Here to visit their website
As you can see, wheatgrass has many uses and important health benefits. It is thought that by using wheatgrass in your diet, you can fill in the nutrient gap content you may not be getting from the more common plants found in our diets.
THIS POST MAY CONTAIN AFFILIATE LINKS. PLEASE READ DISCLOSURE FOR MORE INFO.