THIS POST MAY CONTAIN AFFILIATE LINKS. PLEASE READ DISCLOSURE FOR MORE INFO.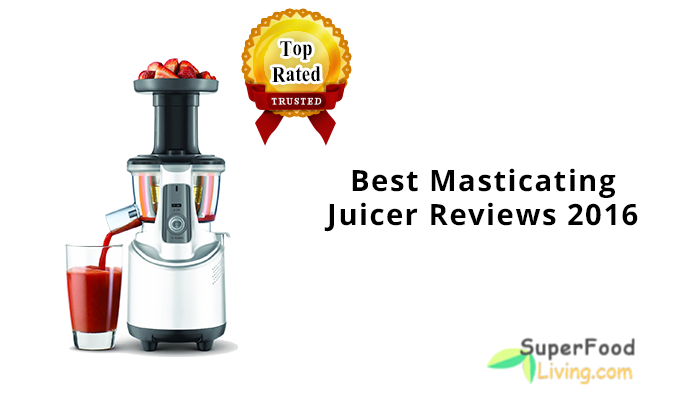 What is a Masticating Juicer?
Juicers have been around for decades and are generally used to extract juice from oranges or other fruits and soft vegetables. Traditional centrifugal juicers cope with these tasks adequately, by forcing food through a set of blades which 'spins' the juice out for collection.
However, the juice made through this process makes a lot of contact with the air, resulting in oxidization which reduces the levels of active nutrients present in the drink once it's ready to be consumed.
The heat generated by old-fashioned juicers further reduces the nutritional benefits of the fresh juice which the user has gone to the trouble of producing.[1]
Perhaps most importantly, however, centrifugal juicers don't cope at all with many of the ingredients which are now recognized as vital constituents of smoothies and healthy juices, such as wheatgrass and other leaves or greens.
This is where masticating juicers come in – by squeezing rather than shredding the food you put into it, the juices are extracted more gently, and retain more nutrients – especially vitamins A and C.[2]
Importantly, this more natural process also retains a higher proportion of fiber in the end product: great for digestion, as your gut will be able to more readily absorb all the goodness preserved by the juicer.
Who are Masticating Juicers aimed at?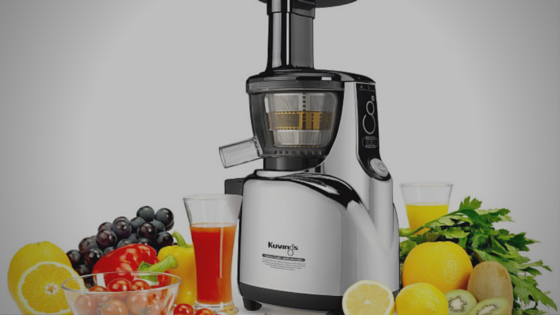 With more and more people looking to juices and smoothies to up their nutrient levels, detox, or replace meals as part of a controlled diet, manufacturers have recognized the need for a new generation of juicer.
These days, anyone who takes an interest in healthy living knows that heat and excessive processing reduces the freshness and nutritional value of fresh foods – especially fruits.
A masticating juicer can, of course, be used for the same purposes as any other traditional juicer. It is, therefore, a useful piece of general kitchen equipment which anyone can own and make good use of.
Where it comes into its own, is in producing the sort of smoothies and juices which cost several dollars to buy individually – and won't be nearly as fresh as home-made.
You will save money in the long run too, because masticating juicers can extract considerably more juice than the centrifugal type,[3] so you'll be putting less ingredients in, AND throwing less waste away.
Depending on the model you choose, you may well be able to make a wide range of other raw foods using a masticating juicer too.
Whether you're already incorporating smoothies into your lifestyle, or are interested in the role fresh juicing could play in your diet, a masticating juicer makes anything possible.
So, which Masticating Juicer should I buy?
There is a wide range of masticating juicers available on the market, reflecting a growing interest in making health drinks at home. This means there are countless options available, catering to different budgets, interests, and priorities.
There isn't a straightforward answer to the question of 'which is best,' but if you'd like to read a summary of the current market leaders and their pros and cons, read on… You can find the perfect juicer to fit your wants, needs, and budget.
Why you should trust us:
We have a strong reputation for providing independent market reports and reviews, and many buyers choose to use our information as a starting point in conducting their own research.
In putting together our reviews, we always consider a range of nutritional and consumer satisfaction factors, so that the reader can decide how their own priorities fit in with the products available.
Best Masticating Juicer Reviews For Celery Juice, Leafy Greens And Fruits
Breville: Mountain Crush Masticating Slow Juicer
Why we like it:
Breville has a great reputation for counter top appliances, and this juicer is no exception. You can expect overall quality for a reasonable price if you buy this product.
This juicer has an ultra-quiet motor. If you're used to using a standard centrifugal juicer, you will be amazed by how peaceful these juicers are by comparison!
Why you might prefer another option:
The Breville juicer doesn't have the best reputation for dealing with leafy matter, which consumers report can become tangled in the mechanism.
Replacement parts for this product are pretty pricey – you might be able to get the whole package for a good deal, but feel stung later when you need to replace worn-out elements.
Although the casing is very hard-wearing, it is made from plastic, which might not be appreciated by those who tend to avoid plastic in the home, or prefer to buy stainless steel appliances.
Chef Star's Slow Masticating Juicer
Features:
Quieter than a standard juicer
Low speed masticating juice extractor, yields around 35% more juice
Powerful 150 Watt electric motor
Easy to use, assemble, disassemble, and clean
Automatic pulp-ejection for continuous juicing
Juice / Pulp Cup
Why we like it:
This option is very affordable, making it a great choice for those on a serious budget. It might not have as many bells and whistles as some of the pricier options, but this is a reliable juicer at a bargain price.
The simple design of this appliance will appeal to anyone who isn't looking for their juicer to become a kitchen style statement, and it won't take up as much space as some fancier options either.
Why you might prefer another option:
Most masticating juicers require the fruit, veg, leaves or nuts which are used to being prepared to some extent. This blender, however, has a smaller than average chute, so you may well find yourself doing more chopping than usual.
Some consumers have reported that the parts are quite fiddly to put together. As a juicer needs to be frequently taken apart and reassembled for cleaning, this might not be the best option if you're worried about breaking it by mistake.
Omega Nutrition Center Masticating Juicer
The Omega J8004 Nutrition Center is a masticating style juicer. Sometimes referred to as a low speed juicer, the Nutrition Center processes at 80 rpm, whereas most other juicers process at a speed of 1,650 to 15,000 rpm. The low speed protects and maintains healthy enzymes, prevents oxidation and allows juice to be stored up to 72 hours without degradation.
Why we like it:
This is a commercial grade juicer at a lower price than the well-respected Breville, and performs consistently in consumer reviews.
Unlike most of the rather utilitarian looking juicers, this product has been designed with a modern aesthetic which would look great in any kitchen.
As well as a juicing mesh, the juicer comes with a blank cone, which allows for the extrusion of pasta, making nut butters, or even using frozen bananas to make a healthy one step ice-cream!
Why you might prefer another option:
Some buyers are put off by the fact that this product is not made in the U.S., so replacement parts may be a little harder or more time consuming to get hold of if needed.
While it's great at masticating fruit, veg, and leafy greens, this juicer isn't quite as effective as creating milks from nuts as it proclaims. A different type of blender might be worth investigating if this is a priority for you.
Final Thoughts
There's a good reason that masticating juicers are enjoying a bit of a 'thing' right now – their uses in the kitchen are potentially endless, and make achieving a naturally healthy lifestyle so much easier.
If you are struggling to incorporate the raw foods which we know are most nutritious into your everyday diet, a masticating juicer could be the answer to your healthy living prayers.
If you're someone who already eats a lot of raw food, a masticating blender could really open up the possibilities when it comes to finding new ways to present and enjoy your food.
Enjoyed Best Masticating Juicer Reviews For Celery Juice, Leafy Greens And Fruits? Share it with your friends so they too can follow the superfoodsliving journey.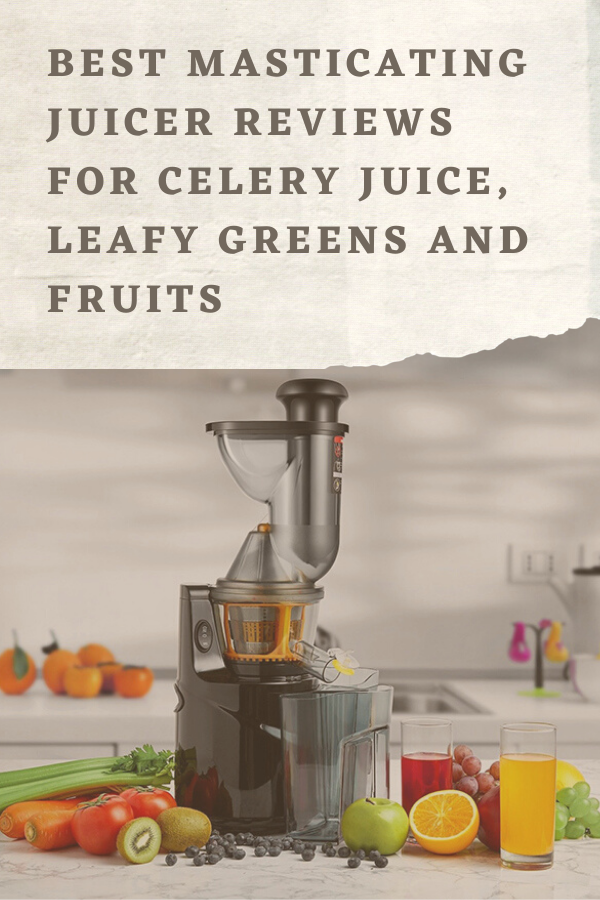 THIS POST MAY CONTAIN AFFILIATE LINKS. PLEASE READ DISCLOSURE FOR MORE INFO.