THIS POST MAY CONTAIN AFFILIATE LINKS. PLEASE READ DISCLOSURE FOR MORE INFO.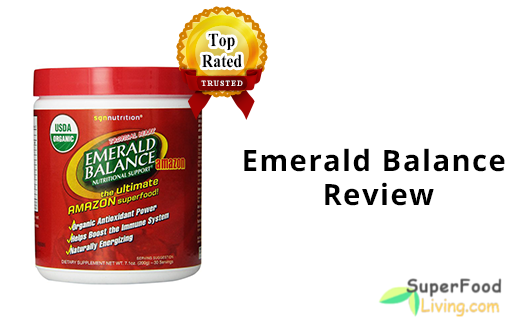 Emerald Balance is a product line that is known for its powdered supplements. Marketed as a green superfood powder without the "greens" taste, Emerald Balance is considered to be a "whole body superfood" thanks to its abundance of superfood ingredients.
Below we dissect just what Emerald Balance is made of and if it is a green superfood powder worth your money.
What is Emerald Balance?
Emerald Balance is a superfood powder supplement that is meant to be beneficial for the entire body. Created by the SGN Nutrition Company and founded by a clinical nutritionist, Emerald Balance is a fusion of superfood fruits and vegetables, fiber, herbs, antioxidants and probiotics.
Who is Emerald Balance Best For?
Emerald Balance is best for those who want a quality superfood powder that tastes great without any junk or artificial ingredients. This superfood powder contains high quality ingredients from juice extracts, which means you are getting the most nutrients possible from the ingredients involved.
Due to its sweet taste, Emerald Balance is a great superfood powder supplement for those who can't stand the "greens" taste that most other powders have. The sweeter flavoring also makes this powder more appealing to younger adults and children who are often lacking in the nutrition department.
Emerald Balance Benefits
Emerald Balance is packed full of superfoods. With over 2880 mg of superfoods in a container and over 2.88 grams per serving, Emerald Balance utilizes juice extracts instead of fruit and vegetable powders, which means that the phytonutrient content is far more beneficial.
Emerald Balance Ingredients:
Superfoods Blend (2880 mg) – organic barley grass, spirulina, parsley juice, watercress juice, carrot juice, chlorella, organic beet root juice powders
Antioxidant Blend (2675 mg) – Acerola Berry Juice Powder, Bioflavinoids (Citrus), Blueberry Powder, Grape Seed Extract – 92%, Green Tea Catechins – 60%, Orange Juice Powder, Pineapple Juice Powder, Red Raspberry Powder, Turmeric Powder, Vitamin C – Natural Rose Hips, Vitamin E (d-alpha tocopherol), Dandelion, Aloe Vera – Freeze Dried, Spearmint
Fiber Blend (760 mg) – Apple fiber, apple pectin, rice bran, certified organic flax seed meal powders
Cellular Support Blend (1710 mg) – Soy lecithin, bamboo, horsetail, cinnamon, eleuthero root, suma root, stevia, ginkgo leaf powders
Immune Support Blend (710 mg) – ginger root, royal jelly, amylase, cellulase, lipase, protease, astragalus root, damiana, silymarin, nova scotia dulse powders
Probiotic Blend (709 mg) – lactobacillus acidophilus, lactobacillus rhamnosus strain A, lactobacillus rhamnosus strain B, lactobacillus bulgaricus, Bifidobacterium breve, Bifidobacterium longum
Besides the incredible 2880 mg of superfoods in the Emerald Balance powder, you can see from the ingredients list that most are juice powders. While leaf, stem and fruit powders may be beneficial, juice powders hold on to more phytonutrients, also known as plant nutrients, which makes them far more beneficial to the body.
Emerald Balance also contains flaxseeds, something that many green superfood powders lack. This boost of healthy fatty acids and omega-3s makes Emerald Balance superfood powder even more appealing.
The benefits of the Emerald Balance superfood powder according to the Emerald Balance website are:
Immune Support – from spirulina, barley grass, chlorella, astragalus, royal jelly, aloe vera, and probiotics
Detoxification – from milk thistle, dandelion, parsley, watercress, fiber, and superfoods to help support the detoxification of the liver, kidneys and colon
Connective Tissue, Hair, Skin & Nails – from silica rich bamboo and horsetail that help support and strengthen hair, nails and connective tissues such as ligaments, muscles, bones, joints, blood, and skin.
Emerald Balance Negatives
While the sweeter taste of Emerald Balance is beneficial for some, others might be turned off by the slight sweetness of the powder. Regardless, the fact that this sweetness comes from the natural powdered stevia leaf makes it much more appealing than other green superfood powders that are artificially sweetened.
While most superfood powders are expensive, Emerald Balance's low cost also makes it one of the most cost effective green superfood powders on the market.
Conclusion
Emerald Green is a fantastic green superfood powder for those who are looking to add more nutritional bulk to their diets. Sweetened naturally with stevia leaf and bursting with superfoods such as spirulina, chlorella and even flaxseed, Emerald Green powder is both nutritionally sound and cost effective.
THIS POST MAY CONTAIN AFFILIATE LINKS. PLEASE READ DISCLOSURE FOR MORE INFO.