THIS POST MAY CONTAIN AFFILIATE LINKS. PLEASE READ DISCLOSURE FOR MORE INFO.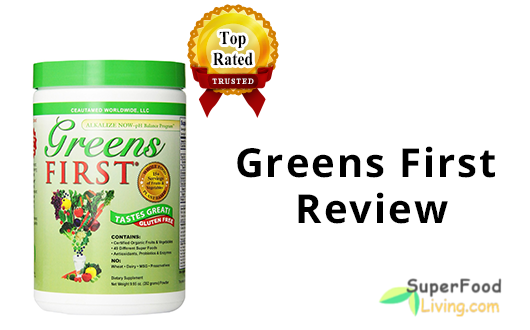 Greens First is a green superfood powder that is meant to help maintain a healthy acid and alkaline balance in the body.
With over 15 servings of fruits and vegetables in each serving as well as probiotics and digestive enzymes, Greens First is a fairly well-rounded superfood formula. Below, we review the Greens First superfood powder and analyze whether the nutrients in this product put Greens First at the top of the superfood powder list.
Why Should You Trust Us?
As a healthy living website, we strive to provide you with the best products, reviews and foods to help you work towards better health and wellness.
We pursue products that aid in creating a healthier lifestyle and work to provide content that is helpful and honest. This website is meant to inform and will only supply honest reviews of the products we mention.
What is Greens First?
Greens First is a green superfood powder that is created by the Greens First company and is formulated by Dr. Donald Hayes.
The superfood powder is meant to be used to maintain a healthy acid and alkaline balance in the body with over 15 servings of fruits and vegetables as well as probiotics and enzymes.
What are the benefits of Greens First?
Unlike some other green superfood powders, Greens First contains roughly 2 grams of fiber per serving in the form of oat bran, apple pectin, and brown rice bran.
Fiber is a naturally filling substance, making you feel fuller longer as it digests slower in your body. This means that Greens First can double as a weight loss aid for those who may be looking for help to lose weight. Though this superfood powder isn't meant to be a meal replacement supplement, the nutrients, as well as the fiber, make it a helpful weight loss tool.
On top of the addition of fiber, Greens First has all of the other nutritional elements of a green superfood powder as well. Each serving of Greens First provides roughly 4 grams of barley grass, spirulina, chlorella, carrot, cauliflower, broccoli, spinach and kale, all of which are from organic sources.
While these superfoods are basic and not overly potent in terms of what other green superfood powders can offer, Greens First also contains green tea extract, red beet root, and aloe leaf as added ingredients to bulk up their nutrition.
What makes Greens First different?
Though Greens First does have a fairly basic superfoods list, all of these superfoods come from organic juice powders, which have a higher phytonutrient content than vegetable powders.
Though superfood powders made with juice powders tend to be more expensive than their vegetable powder counterparts, the health benefits provided are profoundly better.
Greens First also makes sure to include both probiotics as well as digestive enzymes in their green superfood powder formula.
Greens First contains 200mg of gut-friendly bacteria, which should always be included in any superfood formula, and 200mg of digestive enzymes.
Enzymes are a vital ingredient to superfood powders because they help to process the nutrition from the foods you eat and deliver them to the body. What good would a superfood powder be if your body didn't absorb it's nutrients?
What are the negatives of Greens First?
One slight turn off to Greens First superfood powder is the trademark blends that they have added to the formula.
Though these blends can add powerful nutrients to the powder, the Greens First blends seem to be more of a marketing scheme to attract more customers.
Both the Oxisure-Blend and ReservaMax blend contain added nutrients such as Acerloa Cherry and Grape powder, but at the limited amount that these nutrients exist within the powder, it is clear that they are trying to highlight them to be more than they are.
The real benefit of the Greens First powder comes from the superfood panel, not the added blends that are marketed on the packaging.
Though more palatable than other green superfood powders, some might have difficulty with the taste of Greens First powder.
Due to Greens First powder being made from juice powders, the swampy, greens taste is somewhat strong, however this is the case in most supplements made from juice powders as opposed to vegetable powders.
However, Greens First is sweetened naturally with stevia, which helps to mask some of the earthy taste of the juice powders and algae that are included within the formula.
Conclusion
Though the nutrition panel of Greens First is not overwhelming by any means, it does provide superfood nutrients in juice powder form, as well as probiotics and digestive enzymes.
The added fiber benefit of Greens First is an added bonus that not all green superfood powder formulas contain, which really makes Greens First stand out amongst mid-range superfood powders.
THIS POST MAY CONTAIN AFFILIATE LINKS. PLEASE READ DISCLOSURE FOR MORE INFO.