THIS POST MAY CONTAIN AFFILIATE LINKS. PLEASE READ DISCLOSURE FOR MORE INFO.
This article we provide you with a detailed insight in to Nopalea produced by Trivita.
Nopalea is a juice made using the Nopal Cactus plant along with other botanicals.  The product has been available for a number of years and is completely safe, 100% natural and in our experience very effective.
Some of the Nopalea reviews that we've read are from people who either haven't tried the product or haven't spent much time studying the proven health benefits of the ingredients used in the product. We've done our research to bring you our detailed and honest Nopalea Review.
Nopalea Reviews – Our Story
At SuperFoodLiving.com we've been promoting the benefits of various different superfoods for many years, and we are passionate about using the gifts that nature has given us to heal the body and enable us to experience optimum health.
We first came across this product when our readers started to ask us if we knew anything about it, so we decided to take a closer look and write our own Nopalea Reviews.
In the past we've been sceptical about some of the 'juice' products on the market, however we wanted to do our own research and if it could live up to the 'hype.
What is Nopalea?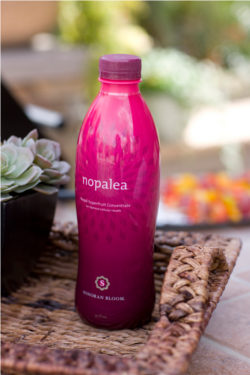 Nopalea is a juice made primarily using extracts from the Nopal Cactus plant, one of natures most amazing superfoods.
The Nopal Cactus plant, also known by its Latin Name Opuntia Ficus Indica and its common name Prickly Pear (because of the purple coloured fruits that grow on this plant) grows throughout Mexico and US states in the South West.
Natives have been using Nopal Cactus for centuries, however in the western world we have only recently discovered how rich in nutrients this superfood really is.
Benefits of using Nopal Cactus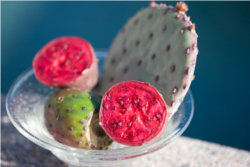 Over 200 peer reviewed clinical trials have uncovered the healing properties of the Nopal Cactus plant.
Nopal Cactus contains very high levels of a particular type of bio-flavanoid called 'Betalains'. These Betalains belong to the Quercetin family. Although Betalains naturally occur in a few other fruits/vegetables, the Nopal Cactus plant has the highest concentration of any plant.
These types of nutrients have been shown to have anti-inflammatory properties which could help to protect the body from inflammation and assist in reducing pain in the muscles and joints.
Inflammation has been termed the 'silent killer' by many medical professionals and in order to experience optimum health we need to ensure our bodies are in balance and inflammation is effectively managed.
Studies have shown that Nopal Cactus has a range of healing properties including:
Anti inflammatory properties
High levels of antioxidants
Protects the body against oxidative stress & the damaging effects of free-radicals
May help reduce LDL cholesterol levels
May assist in stabilizing blood glucose levels
Contains many important nutrients including Vitamin C, Calcium, B Vitamins, Iron
Helps support overall health and well-being
We were VERY impressed!
After doing our research for these Nopalea Reviews we became very excited about the impact the Nopal Cactus plant could have on people's health, particularly those suffering from inflammation, joint pain or breathing problems.
We were also impressed at the way Nopalea has been formulated and the manufacturing processes used to ensure the juice retains all the beneficial qualities present in the Nopal Cactus plant and that these nutrients are provided to the body in a liquid that can be easily and instantly absorbed by the body.
Nopalea Product Information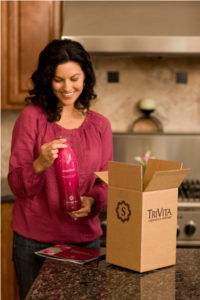 Nopalea is available in a 32oz bottle and can be purchased through a Trivita Affiliate Member (it is not available in the shops). There is a discount if you purchase 4 bottles or more.
The manufacturers suggest taking 3 to 6 ounces per day for the first month and then you can reduce this down to 1 to 3 ounces per day to maintain, depending on the speed at which your body responds.
Nopalea contains no preservatives and there are no known side-effects. The product doesn't contain any artificial sweeteners or sugars and only Algarve Nectar (a beneficial food in its own right) is used to sweeten the juice.
If you become an Affiliate Member when you purchase the products (no cost) you can earn referrals bonuses and commissions if you share the products with those close to you.
Summary
We were so impressed after conducting our Nopalea Reviews that we decided to become an Affiliate Member and promote the products ourselves.
This is a completely natural product that is safe and extremely effective. You only have to look at some of the testimonials from people who have to used this product to see the effect Nopalea is having on people's lives.
If you would like to purchase Nopalea or find out more we recommend visiting the offical Trivita website.
You will receive the lowest available pricing, fresh products, quick delivery and secure payment processing. By purchasing direct you'll also receive regular updates and promotions from Trivita along with their VitaDigest magazine.
We look forward to helping you achieve optimum health and wellness. If you have any questions about Nopalea please contact us.
How to Buy Nopalea / Find Out More
CLICK HERE to visit the official Trivita website and order Nopalea Online
Always place your order on the official Trivita website to ensure you receive the lowest prices, genuine products, long shelf-life and fast delivery.
Note: There are considerable savings available if you order 4 bottles when you place your first order
We are an Affiliate Member for Trivita, the manufacturers of Nopalea.
CLICK HERE to visit the official Trivita website and order Nopalea Online
[/easyazon_link]
Your Nopalea Reviews
Have you tried the product or know someone who has? If you have we'd love to hear about your experiences. You can send us your Nopalea Reviews via email (click here to contact us) or if you are willing to share them here, please leave us a comment below.
Note: We will review all comments before publishing them.
>