THIS POST MAY CONTAIN AFFILIATE LINKS. PLEASE READ DISCLOSURE FOR MORE INFO.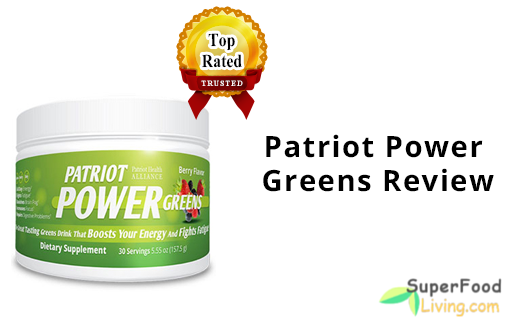 Patriot Power Greens is a green superfood powder that is built around the antioxidant power of its ingredients.
With a certified organic blend of sea vegetables, land vegetables, fruits, berries, probiotics and digestive enzymes the Patriot Power Greens formula is a comprehensive superfood formula.
Below we review Patriot Power Greens and discuss its ingredients, benefits and overall value.
Why Should You Trust Us?
As a healthy living website we strive to provide you with the best products, reviews and foods to help you work towards better health and wellness.
We pursue products that aid in creating a healthier lifestyle and work to provide content that is helpful and honest.
This website is meant to inform and will only supply honest reviews of the products we mention.
What is Patriot Power Greens?
Patriot Power Greens is a superfood powder created by Dr. Lane Sebring for the company Patriot Health Alliance.
Originially created for US military members, hence the name, Patriot Power Greens formula focuses on one main symptom that Dr. Sebring believes is the cause for many physical ailments and diseases: inflammation.
Though it may sound like a minor issue, inflammation is said to be the root cause of almost every major health condition.
Inflammation can lead to a plethora of symptoms such as:
joint, back, hip and knee pain
physical fatigue
mental fog
early signs of aging
poor skin
And can lead to serious illness such as:
heart disease
diabetes
arthritis
Alzheimer's disease
cancer
This is why Patriot Power Greens focuses so much on alkalizing the body with its anti-inflammation formula that focuses on antioxidant-rich fruits and vegetables.
This formula includes:
38 organic fruits and vegetables
10 probiotic strains
7 digestive enzymes
0 allergens such as dairy, wheat, peanuts, gluten or soy
The ingredients in Patriot Power Greens formula is broken down as:
Sea Vegetables – Spirulina, Kombu, Nori, and Wakame
Fruits and Vegetables – Apple, Kale, Broccoli, Spinach, Carrot, Parsley, Beet, Green Cabbage, Blueberry, Raspberry, Strawberry, Tomato, Beet Juice Powder, Acai, Goji, and Amia fruit extract
As you can see from the ingredients list, there are several powerful sources of antioxidants.
Spirulina aids in detoxifying the body and cleansing it of toxins while antioxidant-rich berries such as blueberry, acai and goji join together with their powerful antioxidants to ward off inflammation-causing free radicals.
Antioxidants are one of the best ways to fight against free radicals, which wreak havoc on the body and lead to inflammation.
Patriot Power Greens is a fantastic way to fight back against these damaging free radicals with its powerful antioxidant-rich and alkalizing formula.
What are the benefits of Patriot Power Greens?
According to the makers of Patriot Power Greens, "Your body is flooded with powerful nutrients, phytochemicals, probiotics and enzymes that help neutralize the excess acid and chronic inflammation that's taking over your body."
This reduction of chronic inflammation in the body leads to better energy, less aches and joint pain, clearer skin and an overall healthier body.
What makes Patriot Power Greens different?
Patriot Power Greens contains an ingredient called Chicory Inulin (root), which is uncommon in other superfood formulas. This ingredient is powerful however, with benefits such as cleansing the blood and liver, supporting digestive health as well as is rich in antioxidants and soluble fiber.
Though the antioxidant-rich superfoods in Patriot Power Greens are the real stars of the formula, the probiotics and digestive enzymes included in the formula cannot be overlooked.
It is vital to make sure that when you are using a green drink powder that you are also consuming probiotics and digestive enzymes because they will improve the digestion and utilization of the superfoods you are ingesting.
If these two vital ingredients aren't already included in your green superfood formula, you may want to take them in another supplement to make sure you are getting as much nutrition as possible from your superfood powder.
Another important aspect to Patriot Power Greens that sets it apart from other superfood powders is its pleasant taste. The creator of Patriot Power Greens says,
"This is why I was adamant that Patriot Power Greens had to be nothing like the other green powders on the market. I wanted it to taste so good that even my 5-year old granddaughter, who is one of the pickiest eaters on earth – would want to drink it everyday.
And the key to the great taste we achieved is because of the natural juice we used to sweeten it. Patriot Power Greens is naturally sweetened with acai berry, goji berry and apple juice."
With only 2 grams of sugar per serving, Patriot Power Greens is one of the best tasting green powders on the market.
What are the negatives?
The only real downside to Patriot Power Greens is that there is only 5 grams of superfood nutrition per serving. At just 10 calories a serving it makes sense that the nutrition is so low, however this is far below other superfood powders that boast as much as 10 to 12 grams of nutrition.
This doesn't necessarily mean Patriot Power Greens should be at the bottom of the superfood powder list however.
These 5 grams of nutrition come from all organic sources and include powerful superfoods as well as digestive enzymes and probiotics. Plus this formula is far less expensive than others, which makes it much more attainable for many people.
At just $150 for a 5 month supply, Patriot Power Greens breaks down to less than $1 per serving. That price is far cheaper than Shakeology for example, which is $130 for just a one month supply!
Conclusion
Patriot Power Greens is one of the best green superfood powders on the market even though it only provides 5 grams of nutrition per serving.
With organic sources of superfoods paired with both digestive enzymes and probiotics, Patriot Power Greens is far cheaper than other green superfood products but provides just as much nutrition.
Enjoyed Patriot Power Greens Review? Share it with your friends so they too can follow the Superfoodsliving journey.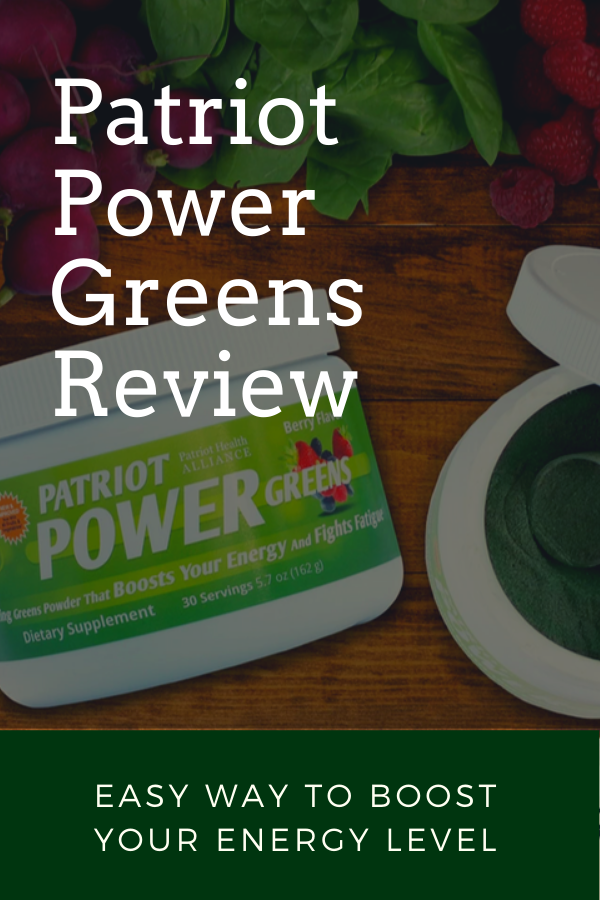 THIS POST MAY CONTAIN AFFILIATE LINKS. PLEASE READ DISCLOSURE FOR MORE INFO.