THIS POST MAY CONTAIN AFFILIATE LINKS. PLEASE READ DISCLOSURE FOR MORE INFO.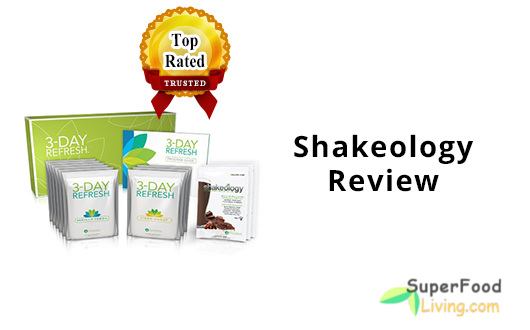 Shakeology is a diet meal replacement shake that is claimed to improve health, boost energy, aid in weight loss and enhance digestion. One of the more pricier meal replacement shake options on the market, we review Shakeology below and discuss wether the product is worth the hefty price tag.
Why Should You Trust Us?
As a healthy living website we strive to provide you with the best products, reviews and foods to help you work towards better health and wellness.
We pursue products that aid in creating a healthier lifestyle and work to provide content that is helpful and honest.
This website is meant to inform and will only supply honest reviews of the products we mention.
What is Shakeology?
Shakeology is a meal replacement product that has been on the market since 2011. Created by the BeachBody company, Shakeology is meant to be paired along with one of the workout programs also created by BeachBody, though you don't need to be a member of their workout program to purchase Shakeology.
A low calorie but highly nutritious meal replacement shake, the Shakeology products come in a variety of different flavors which can make them more appealing to those who get tired of the same vanilla and chocolate offerings.
The flavors of Shakeology are:
chocolate
vanilla
strawberry
greenberry
chocolate vegan
tropical strawberry vegan
cafe latte
As you can see, there is a suitable flavor for everyone to try. While Shakeology markets their meal replacement powder in a large tub, they also have variety packs which allow you to sample more than one flavor. This may be ideal for those who want to sample their options before investing in a larger size.
What are the benefits of Shakeology?
Shakeology is marketed as a meal replacement shake that can improve overall health, boost energy, aid in weight loss and improve digestion. As an added bonus, Shakeology is said to help reduce cravings, which can help to combat overeating and the weight gain that comes with it.
Though marketed as more than just a meal replacement shake, most reviewers of Shakeology bought the product to aid them in their weight loss goals. Shakeology fights hunger with fiber, with each serving containing 5 grams of natural fiber that helps to keep hunger at bay.
The shake also blends up extremely thick, with most reviewers stating they could barely finish the shake due to feeling so full.
This paired with other nutrients is what makes Shakeology so beneficial in aiding weight loss.
What makes Shakeology different?
Shakeology is marketed as more than a meal replacement shake, but does it stand up to the claims? The good news is – yes it does!
Shakeology is one of the few meal replacement products that is about more than just filling you up with protein and fiber. Shakeology is also packed with essential vitamins and minerals with over 50% of your daily recommended intake per serving.
This product also contains superfood ingredients such as:
whey protein
probiotic enzymes
antioxidant blend
proprietary blend
green tea
quinoa
chia
sacha inchi
camucamu
goji berry
amaranth
Though this is a proprietary superfood blend, there are 32 grams of superfood provided, which is a good amount for health benefits.
Another element that makes the Shakeology products different from other meal replacement products is that they offer both non-vegan as well as vegan options.
Though they only have two vegan flavors currently, these two options allow for those who follow a plant-based diet to still utilize the Shakeology products.
Though each flavor of Shakeology has different nutritional facts, they are not too far apart on calories and other macronutrient levels.
The nutrition facts for the Vegan Chocolate flavor:
170 calories
16 grams protein
22 grams carbohydrates
9 grams sugar
5 grams fiber
The nutrition facts for the Chocolate flavor:
160 calories
17 grams protein
17 grams carbohydrates
6 grams sugar
6 grams fiber
Though there is not much difference between the two flavors, it is important to note the differences if you are tracking your calories or macronutrients.
What are the negatives of Shakeology?
The most obvious negative to the Shakeology products is the price. This product is not one of the cheaper ones, with a 30-day supply coming in at around $129.95, or $4.33 per serving.
If you are following one of the BeachBody programs you may even be consuming more than one Shakeology drink a day, which would then cut the 30-day supply in half.
That being said, Shakeology does offer more nutrition than most other meal replacement shakes.
Another negative to Shakeology would have to be their use of a proprietary blend. Though the nutritional facts state that there are 32 grams of the proprietary blend included, we do not know how much of each superfood is actually included.
This lack of information makes the powder less appealing, as customers can be paying extra for certain ingredients that they may be getting little to none of.
Conclusion
Shakeology is a different kind of meal replacement shake. With filling protein and fiber to fight cravings and hunger, Shakeology products also contain digestive enzymes, antioxidants and superfoods.
Though on the pricier side, reviewers and customers of the Shakeology products swear by their effectiveness, though this could also be due to the combined use of Shakeology with a BeachBody workout program.
THIS POST MAY CONTAIN AFFILIATE LINKS. PLEASE READ DISCLOSURE FOR MORE INFO.