THIS POST MAY CONTAIN AFFILIATE LINKS. PLEASE READ DISCLOSURE FOR MORE INFO.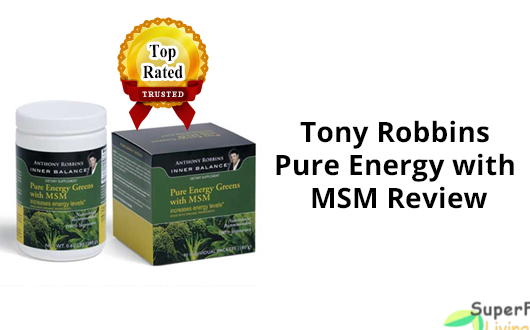 The name Tony Robbins is well known in the fitness and motivation genre, and now Mr. Robbins has created something to help his followers create a body like his.
Tony Robbins Pure Energy with MSM is a green superfood mix, but does it live up to the hype or is it just being marketed off Tony Robbin's name and reputation? We review Tony Robbins Pure Energy with MSM below.
Why Should You Trust Us?
As a healthy living website we strive to provide you with the best products, reviews and foods to help you work towards better health and wellness.
We pursue products that aid in creating a healthier lifestyle and work to provide content that is helpful and honest. This website is meant to inform and will only supply honest reviews of the products we mention.
What is Tony Robbins Pure Energy with MSM?
Tony Robbins Pure Energy with MSM is part of the Tony Robbins Inner Balance nutritional line.
With superfood ingredients such as spinach, wheat grass and barley grass, Tony Robbins Pure Energy powder also has added MSM. MSM, or methylsufonylmethane, is a naturally occuring sulfur that the body creates that aids in joint health, connective tissue health, cellular growth and even natural energy.
What are the benefits of Tony Robbins Pure Energy with MSM?
Tony Robbins Pure Energy superfood powder contains seven superfoods. These superfoods are:
barley grass
wheat grass
alfalfa
broccoli
spinach
kelp
MSM
Though this list of superfood ingredients may seem small, almost all of these ingredients would be listed on any top superfoods list due to their potency and health benefits.
The ingredients are also all-organic, which means that the superfoods included in this powder are all of the utmost standard.
Here is a breakdown of what each superfood ingredient is known for:
Barley Grass – Contains all of the vitamins, minerals and proteins necessary for a human diet. Also contains all nine essential amino acids.
Wheat Grass – Is a complete source of proteins and includes all of the essential amino acids. Is also a powerful detoxifying agent that cleanses the liver and blood, neutralizing any pollutants that may harm the body.
Alfalfa – Supports healthy circulation and immune system. Detoxifies the urinary tract, purifies the blood and liver and contains a high level of digestive enzymes.
Broccoli – Contains high amounts of fiber and vitamin C. Also rich in vitamin A, K, B, iron, zinc, phosphorus and phytonutrients which help to lower the risk of developing diabetes, cancer, and heart disease.
Spinach – Protects eyesight and bones with an abundance of vitamins and minerals. A powerful antioxidant that helps minimize oxidative stress and DNA damage.
Kelp – High in levels of naturally occuring iodine, it can help regulate thyroid hormones that effect metabolism and energy.
The ingredient list in Tony Robbins Pure Energy may be short, but all of the ingredients are superfoods that are highly beneficial to the body. With the addition of MSM, an ingredient not included in many other superfood powders, Tony Robbins Pure Energy is solid in superfood nutrition.
How does Tony Robbins Pure Energy compare to other superfood powders?
While the superfoods included in the Tony Robbins Pure Energy formula are organic as well as some of the top superfoods in the world, they are significantly limited compared to other superfood formulas.
Though there are seven potent superfoods in this powder, it is lacking in superfood stars such as spirulina and chlorella, two super greens that are in most every superfood formula.
The blend of superfoods in this formula is also part of a propritary blend, which means there is no way to tell how much of which ingredients are actually included. Also, Tony Robbins Pure Energy supplies significantly less nutrition per serving than other superfood blends.
With just two grams of superfood nutrition per serving, this product falls well below some of the other superfood powders we have reviewed on this site.
At $69.99 for 140 servings, this product breaks down to $.50 per serving. While this is a decent price, the price you are paying is not really worth what you are receiving in terms of nutrition.
This product provides just 2 grams of nutrition, which compared to other superfood formulas that provide 8 to 12 grams, is severely lacking!
Conclusion
Tony Robbins Pure Energy is a fairly decent superfood formula, however it is not one of the top products on the market.
While it does contain several powerful superfoods, the formula is a proprietary blend, which leaves us wondering how much of each superfood is actually included in the formula.
With just two grams of nutrition per serving, Tony Robbins Pure Energy falls well below other superfood formulas such as Total Living Drink Greens.
The addition of MSM is what really sets this product apart from other superfood powders, however we are not sure that it is enough to make up for the lack of nutrition per serving and make this product worth the price.
Enjoyed Tony Robbins Pure Energy with MSM Review? Share it with your friends so they too can follow the Superfoodsliving journey.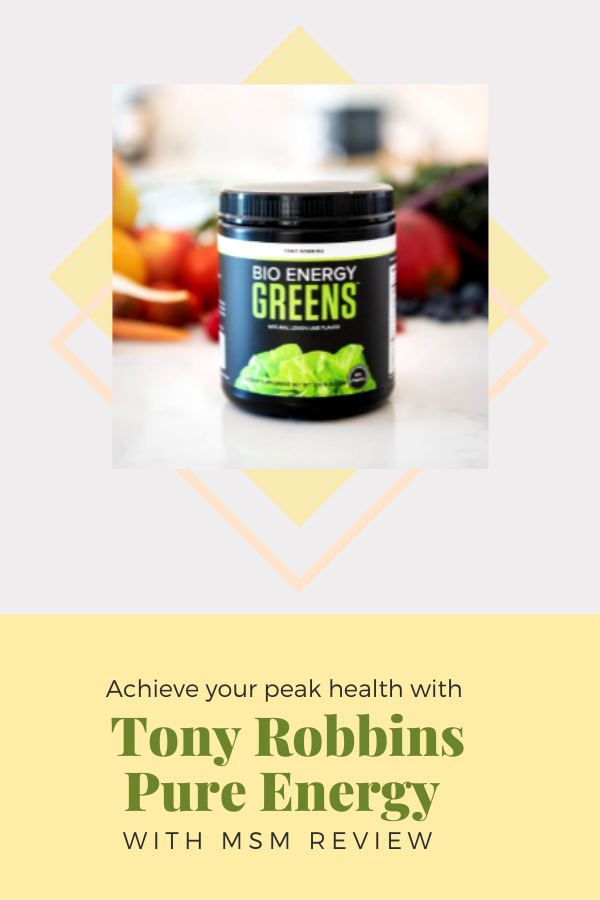 THIS POST MAY CONTAIN AFFILIATE LINKS. PLEASE READ DISCLOSURE FOR MORE INFO.