THIS POST MAY CONTAIN AFFILIATE LINKS. PLEASE READ DISCLOSURE FOR MORE INFO.
It can be a tough task to get back the tight butt and flat belly after the havoc a 9-month long pregnancy plays on your posture and shape.
Your body can use some help to get some belly binding, reduce flab and tighten muscles, improve posture and get relief of back pain.
A postpartum girdle can be a great tool to boost your confidence and get your pre-pregnancy shape back sooner.
It can help to –
accelerate the postpartum healing process
improve lymphatic drainage and reduce water retention
bind the abdomen
shrink the belly, waist and hips
provide comfort and support to muscles
reduce back pain
improve posture and
support c-section incision healing
These benefits make the girdle any new-mom's best friend.
However, there are tons of different types and varieties of girdles available in the market today. It can sure be a daunting process to find the right product that works for you.
Don't fret! After hours of research, reading specialty blogs, asking other moms and scanning through postpartum girdles reviews, we came up with this list of best postpartum girdles.
Features to look for before buying a postpartum girdle –
Effectiveness – Does it provide support? Does it help straighten your back? Does it help relieve back pain? Does it provide the right compression? Can it work after any kind of birth – cesarean or vaginal? Does it aid in recovery?
Durability – Does it stay in shape after many uses and maintain a tight snug? How is the quality of the material used?
Ease of use and comfort – Is it always tough to wear or only the first few times? Does it bruise the skin? Does it slip down and loosen with time? Can you carry out routine activities or exercising while wearing it? Does it roll down or bunch up?
Wearability – Can it be worn under clothes without been seen? Can it be worn all day long?
Material – Latex, cotton, nylon or other materials can be used, but they should be breathable, allow stretch and prevent irritation or allergy on the skin. Is it medical grade or doctor recommended?
Price  – Is it affordable?
10 Best Postpartum Girdle Reviews
The Bellefit Dual-Closure Girdle is one of the pricier girdles on the market, but this is also the best girdle after C Section. While there are cheaper options available, this girdle offers more support and relief that any other product we've come across.
The Bellefit Dual-Closure Girdle comes with adjustable front and eye hooks along with a side zipper for maximum comfort. With a reinforced abdominal panel, the Bellefit helps to improve posture as well as aids in back pain relief. This abdominal panel is also doctor-recommended and is made durable so that it lasts.
Reviewers have raved about the Bellefit Dual-Closure Girdle with the only negative being a struggle with the sizing of the product at times.
The Bellefit Dual-Closure Girdle is one of the pricier girdles on the market.
Pros
Medical-grade, high-quality, doctor-recommended abdominal panel.
Available in different styles.
Has a hook and eye closure on the front of the corset and a zipper up the side.
Can easily be worn under clothes without showing.
Does not slip, roll down or bundle up.
Cons
The saddle between the legs can sometimes cause rubbing and irritation in the inner thigh.
Slightly expensive
The Leonisa Women's Slimming Braless Body Shaper is more than just a girdle. This product is a full body shaper, providing coverage from your bottom all the way up your back and over the back of your bra.
The design of the Leonisa Women's Slimming Braless Body Shaper means that there are no annoying bulges anywhere – no bra bulge, tummy bulge or even underwear bulge!
Pros
Leonisa girdle makes the curves more flattering by giving the look of a trimmed waistline, flat belly and reduced hip size.
It closes across the belly with three sets of hooks, that make it easier to adjust compression as you trim down.
Ultra flat zipper over the hook and eye, avoids zipper bulges
Affordable priced
Virtually invisible under the clothes like Bellefit
Very comfortable and silky smooth DuraFit fabric provides right amount of compression and breathability.
This unique postpartum shapewear girdle is comprised of three belts in one:
The belly belt is the belt to use the first week of postpartum – it helps to get your stomach and muscles back to normal after birth.
The waist belt helps to flatten the stomach, redefine the waistline and relieve any back pain for up to six weeks after birth.
The final belt, the pelvis belt, helps to speed up the contraction of the pelvis.
Pros
This unique girdle is actually comprised of 3 belts addressing issues with belly, waist and hips individually and accordingly.
Available in single size, the belt is made out of high quality, durable and lightweight cloth rather than elastic or latex. This greatly reduces the chances of skin irritation.
Provides good back support and speeds up postpartum healing process
Cons
Since it has three separate belts, it can be a little tricky to put on the first few times.
Not great at wearing under clothes since it is bulky and not completely invisible.
The Just Us Store Fajate VS Colombian Post-Surgery Postpartum Body Shaper is more than a postpartum body shaper. This girdle is highly recommended for post surgeries as well as the girdle helps to compress the body, keeping everything tucked and comfortable. This girdle offers compression on the waist and abdomen while also covering the backside and upper back.
The Just Us Store Fajate VS Colombian Post-Surgery Postpartum Body Shaper gives the body clean lines without any bulges while enhancing curves.
Pros
This girdle is great for postpartum recovery since it aims at trimming the waist and flattening the belly.
Anti-microbial fabric ensures skin is safe from infections.
The Gabrialla Postpartum Support Girdle is similar to the style of the Amon Bodyshaper in that it is a simple pull-up girdle instead of a wrap around girdle. The Gabrialla Postpartum Support Girdle pulls to just above the belly button, providing support for the belly postpartum as well as protection and aid in recovery for those who delivered via C-section.
Reviewers have raved about this product's ability to support the belly and lower back post C-section.
Pros
Classic pull-up style is most effective following a vaginal delivery
Cost effective
Provides back support, reduces pain and improves posture
Cotton-lined nylon plastic provides grip and prevents skin allergies
Cons
Does not flatter your curves
Can sometimes roll up or bundle and might not be very comfortable for day-long wear
6. L.A. Helena Women Postpartum Girdle Corset Recovery Belly Band Wrap Belt
The LA. Helena Women Postpartum Girdle Corset Recovery Belly Band Wrap Belt is constructed with a revolutionary design that includes two compression belts. This allows you to adjust the compression to the level of pressure that best suits you. It uses a three-step compression technology that reshapes the hips, waist and tummy while keeping it secure and comfortable.
The LA. Helena Women Postpartum Girdle Corset Recovery Belly Band Wrap Belt also supports the lower back and offers compression to any wound area to speed recovery of the uterus, pelvis, belly and back. The two back bones in the back of the girdle support the lower back while also improving breast feeding posture.
Pros
Pocket-friendly.
Design tightens around the belly to provide good support and recovery.
Cons
Rolls up while sitting
Might not be the best quality.
The Trendyline Women Postpartum Girdle Corset Recovery Belly Band Wrap is a stretchable, lightweight and comfortable girdle that will fit almost any woman. With an adjustable closure to help cinch the waist, extra Velcro straps wrap around to double cinch your tummy and keep your belly secure.
Supportive for the back and effective at flattening your tummy postpartum, the Trendyline Women Postpartum Girdle Corset Recovery Belly Band Wrap is also suitable for aerobic exercise.
Pros
Cost effective way of tightening your belly and get good back support
Lightweight and comfortable material
Available in different sizes for the right fit
Cons
The Velcro can sometimes bunch up.
Slightly visible under clothes.
8. Belly Bandit – "Power Compress Core" Postpartum Belt Review
The Belly Bandit company has a line of girdles for the woman's body, however the Original Belly Bandit is the one that started it all.
This postpartum belt was designed specifically for the postpartum body to help tighten and shrink the belly, waist and hips. With its "Power Compress Core" the Belly Bandit can be adjusted to create optimal results.
The Belly Bandit:
is doctor recommended
helps healing post baby
supports the back and core
provides comfort post C-Section
Pros
Helps tighten and reduce the belly, waist and hips as well as helps the skin to retain nourishment by soaking moisture while breathing.
Also available in different styles including ones built with bamboo, cotton and lace.
Convenient to wear and take off
Does not cause any rubbing and chaffing.
Cons
More like a wide belt rather than a girdle.
Slightly visible under the clothes especially if you are a little curvier.
The Squeem "Perfect Waist" Firm Compression Waist Trainer is the perfect girdle for women looking to smooth their midsection while enhancing their natural curves. This girdle provides excellent back support and has an internal flexible boning that prevents the product from rolling up and causing an annoyance.
Pros
This girdle provides the just the right compression and support needed to trim the belly and provide support to the back
Aims to trim specific areas of the body without the need to wear complex and uncomfortable girdles
Inherent boning structure prevents roll ups
Perfectly invisible whether you are wearing low rise jeans or a strapless dress.
Cons
Some users have reported sizing issues. So measure yourself correctly before ordering one.
10. Amon Forgive Post-Partum Maternity Girdle
The Amon Maternity Forgive Bodyshaper is a girdle that everyone can afford. This girdle fits just to the belly button, tucking your belly postpartum.
The Amon Maternity Forgive Bodyshaper is also terrific for those women who are recovering after a c-section. Soft fabric covers the entire incision mark, preventing any rubbing or chaffing on the incision. This girdle is a terrific place to start for anyone who is looking into a girdle but doesn't want to pay a lot of money.
Pros
Fits right into everyone's budget.
A Simple yet effective pull up design.
Very comfortable and easy to wear all day.
Cons
Does not provide as much support or binding as the actual girdles or zipper styles.
Postpartum Girdle Buyers Guide
Different Types of Girdles
There are several different types of girdles that provide different coverage levels and perform different tasks. Below is an outline of the different types of girdles and what they are meant to help.
Though most women postpartum should opt for a designated postpartum girdle as is doctor recommended, there are other girdles that make great options for when the C-section wound has healed and you have passed the six week postpartum mark.
These girdles will help to hide any excess baby weight that may be hanging on to your hips, bottom, waist and back, giving you back the confidence in your body that you had before your pregnancy.
Panty Girdles
These girdles are essentially just like normal underwear. The girdles pull up and cover to the belly button, offering support for the bottom and stomach area.
These girdles may include a tummy control panel, bottom shaping abilities or contain built in padding for the bottom region.
These girdles are meant to trim the stomach, smooth curves and give a more appealing shape to the backside. Panty girdles are popular due to their ease of use.
Body Shapers
Body shapers are the girdle to chose if you have several areas that need aid. These garments typically cover from the thighs to the shoulders, though they vary depending on the brand. These girdles include support for the thighs, bottom, hips, stomach and back.
A body shaper provides the added bonus of shaping the bottom and lifting the breasts as well, which is an added appeal. Body shapers are stepped into and then pulled up and over the shoulders like a one-piece bathing suit.
Torso Trimmers
Torso trimmers are made specifically for the torso and cover the area from the waist to the breasts. These girdles pull in the stomach for an appealing look to the torso.
Torso trimmers are perfect for women who are looking to slim their waist or tummy bulge, lift their breasts or eliminate back rolls.
Torso trimmers vary from those that can be pulled up over the tummy to those that wrap around and pull tight to cinch.
Thigh Shaping Girdles
Thigh shaping girdles are meant for women who want to reduce the appearance of cellulite or excess weight in the thighs, hips and bottom.
Thigh shaping girdles pull on and have the appearance of biker shorts that are long in length. As an added bonus to these girdles, most also contain stomach slimming panels as well.
These girdles are quite comfortable and are nearly undetectable under clothing as they do not roll or move at all.
Postpartum Girdles
Postpartum girdles are meant for women who have just given birth to a baby naturally or via C-section. There are several types of girdles, most of which fit into the above girdle categories, however the main priorities of these girdles are to:
support and cinch the stomach
protect any C-section wound
support the lower back
Almost every postpartum girdle will aid in those areas with some providing even more benefits postpartum such as trimming the hips and back as well as even aiding in breastfeeding.
How to Chose The Right Girdle
Choosing the right girdle for you depends on what you are looking to achieve. Body shapers are typically the girdle of choice for most women as they offer the most coverage, however panty girdles and torso trimmers can be just as successful at shaping your body.
If you are looking for a full body shaping girdle that will change the shape of your waist, thighs, stomach and back however, body shapers are the girdle for you.
The other aspect to think of before purchasing a girdle is comfort. While most girdles are made from soft and comfortable material, not everyone enjoys the feeling of being cinched in certain areas.
Some girdles may also have issues with moving or rolling down which can cause discomfort as well as be a pain under clothing. This is an important aspect to remember.
The best girdle is the girdle that you are going to actually wear – there is no point in buying one if you hate it and never wear it! If minimal aid is what you are seeking, then a panty girdle will most likely be the most comfortable for you.
Postpartum girdles can be very helpful and beneficial postpartum, however they only work if you choose the right one for your situation.
The below list of girdles contains the top ten girdles that we have found according to their ratings and reviews as well as price. From a girdle that costs $150 to one that costs under $10, this comprehensive list is bound to have the right postpartum girdle for you!
Conclusion
The firm support and compression provided by the postpartum girdles can accelerate the healing process, tighten your stretched abdominal muscles and improve posture. Find the right product that fits you and your needs, is comfortable and start wearing it as soon as your doctor recommends.
Enjoyed Best Postpartum Girdle & Belt Reviews? Share it with your friends so they too can follow the superfoodsliving journey.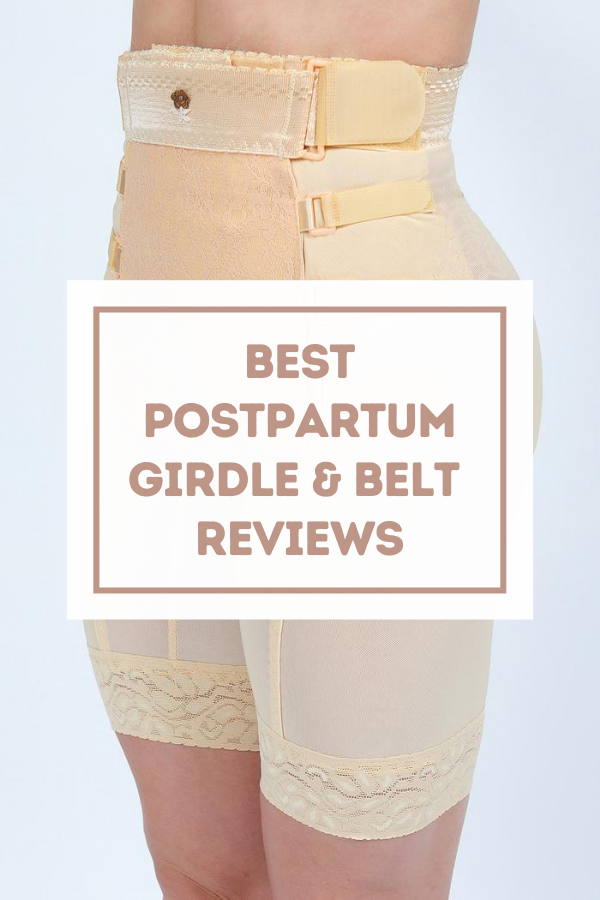 THIS POST MAY CONTAIN AFFILIATE LINKS. PLEASE READ DISCLOSURE FOR MORE INFO.