THIS POST MAY CONTAIN AFFILIATE LINKS. PLEASE READ DISCLOSURE FOR MORE INFO.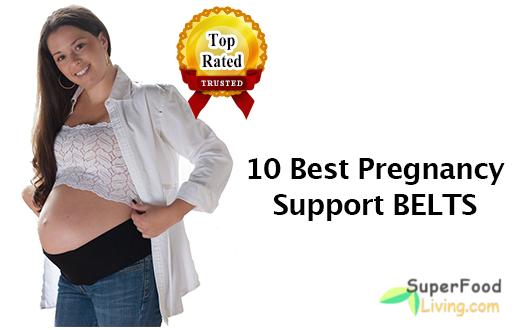 As the pregnancy advances, the uterus grows causing a lot of discomfort and pain.
A pregnancy support belt can prove to be a smart aid for expectant moms in relieving back pain, pelvic pain, providing comfort, maintaining a healthy exercise routine and easing mobility.
Most women suffer from severe back and abdominal pain during pregnancy.
Maternity belts provide support, promote correct posture and balance the additional weight, making it a little easier on the mom-to-be to carry on an active lifestyle.
However, there are different types of belts available in the market today, including the basic wrap around belt, tube-top style band and camisoles.
They have the common aim of providing comfort, but their utility extends beyond that.
Take a look at the highest-reviewed maternity support belts to better enjoy your pregnancy.
Best Pregnancy Support Belts For Back Pain & Pelvic Pain
1. It's You Babe! Mini Cradle
Lifts the weight from the pelvis, redistributes it and supports the abdomen, bringing great relief in back and abdominal pains during pregnancy.
Available in different sizes.
Hook and eye closure secures the belt in place without bulking up.
Improves blood circulation in the pelvis.
Reduces swelling in the leg and ankle.
2. Bracoo Breathable Maternity Back Support
Simple yet popular binder that can be used both during and post pregnancy.
This belt from a trusted brand, lifts the abdomen to provide relief in lower back pain and improve posture.
Provides gentle compression.
Alleviates pelvic area joint ache and muscle fatigue, along with overall soreness.
Cost effective.
Wear it over a thin garment for more comfortable, chaffing-free, longer wear with support during exercise, working and other routine activities.
3. ORT22300D – Medline Curad Maternity Belt
Provides relief in back and abdominal pain.
Accommodates most sizes as the uterus grows during pregnancy.
Very comfortable design that easily hides under clothes and is lightweight for all-day wear.
4. Outop 3-in-1 Breathable Elastic Postpartum Postnatal
Easily transforms from a slim belt, to mid-size, to a complete coverage belt that covers starting from just below the breast to the lower abdomen.
Breathable and lightweight material. Designed for comfort so that the velcro does not touch and irritate the skin.
Highlights the natural curves without bulging from ends.
Improves posture and relieves pain.
Can sometimes be a little tricky to put on as it is a 3-in-1 product. Some reviewers also have complained about the sizing and thick material of the belt.
5. AZMED Maternity Belt, Breathable Abdominal Binder, Back
Provides comfort during pregnancy by supporting the belly and providing gentle compression to provide therapeutic healing.
Helps improve posture by reducing pressure on the spine and supporting excess weight.
With adjustable size fitting up to 46-inches, it easily fits through various stages of pregnancy.
Soft and breathable material for comfort all day long.
6. It's You Babe V2 Supporter
Its clinically proven to provide compression therapy for Vulvar Varicosities during pregnancy
It is also recommended for Vulvar Varicosities, Lympedema, Perineal Edema, Incontinence, External Prolapse Bladder or Uterus.
Convenient design that lets you take it on and off easily.
Quite comfortable providing support all day long with minimal chaffing.
7. Baby Belly Band Original Maternity Support Belt
Relieves pregnancy discomforts like abdominal strain, round ligament pain, lower back or lumbar pain while providing support.
Soft and comfortable medical grade, made with latex-free material that is hypoallergenic and easy to maintain.
Fits smoothly under the clothes without rolling or bunching up during longer hours of work.
Can be used during twin or multiple pregnancies as it can be easily adjusted.
Additional accessories like Compression Therapy groin bands and shoulder straps have to be bought separately.
8. OPTP Maternity SI-LOC S/M
Helps in relieving SI joint, low abdominal pain during pregnancy and post-delivery.
Patented design offers gentle compression that is helpful in alleviating discomfort.
Lightweight and breathable material provides comfort without bunching up under clothes.
9. Gabrialla Elastic Maternity Support Belt
Highly recommended by maternity experts and doctors for effectively alleviating back pain and supporting the belly.
Won the National Top Choice and Family Choice awards.
Easily adjustable to accommodate changes in size during and post-pregnancy and provide maximum comfort.
Lightweight and not visible under clothes, allowing it to be worn all day long.
Wide back comes with a pocket to fit in hot/cold therapy packs.
Can help to reduce the risk of stretch marks.
10. Maternity Belt – NEOtech Care ( TM ) Brand – Pregnancy Support
Fully adjustable to fit throughout the belly growth during pregnancy.
Designed for maximum comfort with multi-layered fabric.
The side panels, made out of plastic, provide compression as well as ventilation.
Provides excellent support to lumbar and abdominal regions to reduce lower back pain.
Its innovative style prevents rolling or bunching.
Final Word
While the maternity support belts are available in different style and designs, it is very important to understand your requirements before buying one.
Things to consider before buying include personal requirements (such as additional support due to multiple pregnancies), fit and size, what activity is the belt required to support, comfort and of course the price.
What works for one might not work for everyone, so find the right product for you.
THIS POST MAY CONTAIN AFFILIATE LINKS. PLEASE READ DISCLOSURE FOR MORE INFO.