THIS POST MAY CONTAIN AFFILIATE LINKS. PLEASE READ DISCLOSURE FOR MORE INFO.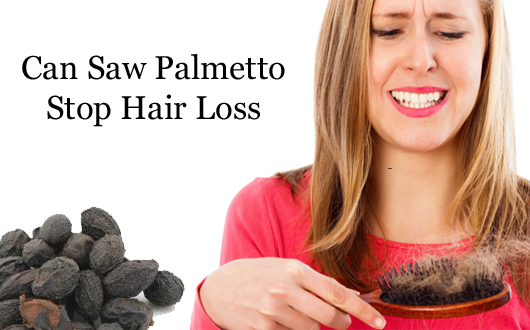 Hair loss is common in men and women as they age. We hear of many hair loss medicines or treatments which claim to show significant results. But we don't know how many of them actually work! There are certain hair treatments that use harmful chemicals, which can damage hair and cause it to break off. So avoid the ones which have lots of chemicals and instead opt for natural treatments. The one natural treatment that you should definitely try is, the saw palmetto hair loss treatment. Also read about the top 10 ways for natural hair growth here.
Saw palmetto is a natural herb that is popularly used for treating hair loss. Saw palmetto is a small palm plant primarily found in North America. It mainly grows around the Atlantic coastal states of Florida and Georgia. The fruit of this plant is considered highly helpful for generating hair growth. Besides this use, saw palmetto has some special qualities for treating urinary infections in men and some breast diseases in women.
Let's see how saw palmetto works as a hair loss treatment. Also read about hair care here.
How Saw Palmetto Works:
The benefits of saw palmetto are not scientifically proven, but it has demonstrated efficacy as a treatment for hair loss. It works indirectly, within the body, to help prevent hair loss in both men and women. Saw palmetto helps to block an enzyme called 5-alpha-reductase from transforming testosterone into dihydrotestosterone within the body.
Dihydrotestosterone (DHT) is a prime contributing factor behind the outbreak of androgenic alopecia, or partial baldness. Presence of DHT in large amounts may suffocate the hair follicles and hinder the growth of new hair. Saw palmetto helps to block this element effectively. It therefore prevents hair loss, and stimulates hair re-growth.
Clinical Studies
Intriguing research suggests that supplementation with saw palmetto may prove useful in preventing and managing hair loss. It has been estimated that there are between 100,000 and 150,000 hairs on the human scalp. On average, between 50 and 150 hairs may be lost each day. Baldness occurs when this hair loss occurs at an abnormally high rate or when hair replacement occurs at an abnormally slow rate. About 95% of all cases of hair loss are the result of androgenic alopecia, or male pattern hair loss.
Biochemically, one contributing factor of this disorder is the conversion of testosterone to DHT via the 5-alpha-reductase enzyme.  Accordingly, agents that block the 5-alpha-reductase enzyme are attracting attention as treatments for androgenic alopecia.
One study sought to examine saw palmetto's effects in treating androgenic alopecia. The study followed 19 healthy men, aged 23-64, with mild-to-moderate androgenic alopecia. The men were given either 200 mg of saw palmetto and 50 mg of beta-sitosterol twice a day, or a matching placebo, for an average of 4.6 months.
Overall hair loss assessment was determined using a standardized scale. Evaluations were performed at baseline and at the study's completion. Sixty percent of the study subjects were rated as improved at the final visit. Larger, gender-specific clinical trials are needed to further substantiate these promising initial findings.
What Kind of Hair Loss Does Saw Palmetto Treat?
Saw palmetto has proven effects in treating both male and female pattern baldness. Although some experts have commented that the fruit is more effective in treating male pattern baldness, female patients can be equally benefitted by its qualities. Saw palmetto is most effective in curing a specific pattern of baldness called alopecia.
Alopecia is the most common type of hair loss problem, and millions of people around the world suffer from it. In this type of hair loss, one experiences partial baldness that takes shape on top of the head and around the temples. The thinning hairline creates a characteristic pattern which resembles a horseshoe on the head.
Saw Palmetto Dosage
Saw palmetto is taken orally in the form of either tablets or capsules, when following a treatment for baldness or hair loss. The ideal dosage of saw palmetto for hair loss is 150 milligram to 300 milligram a day.
Tablets are the most popular administration method among those who use this herb, as it works internally. But other external application options like Soft Gels, Liquid, Saw Palmetto Tea, and Saw Palmetto Oil are also readily available, but offer little or no effect at all.
Regardless of the administration method one chooses, it is always wise to follow the appropriate saw palmetto dosage listed on the product's label.
Saw Palmetto Pros
Relatively inexpensive, depending on which brand you buy
It can be used in conjunction with other treatments (with the exceptions noted under references in the side effect section above)
Provided you take saw palmetto orally (not topically), it's easy to fit into your existing routine
Unlike some more powerful anti-androgens, it can be used by both men and women
Saw Palmetto Cons
Likely not a primary hair loss treatment
The help saw palmetto provides is slow and in some cases ineffective.
Assuming it works for you, you need to keep taking the product for as long as you wish to control your hair loss or regrow hair
Saw Palmetto Side Effects and Warnings
One false assumption is that "all natural" treatments don't have potential side effects.  It is stated that use of saw palmetto has not been proven safe for women with hair loss during pregnancy and lactation.  Medical supervision is suggested for women of childbearing age.
Saw Palmetto Interactions
If you wish to try this hair loss remedy, it's important to do so with caution, which extends to more than simply following the package directions as to how to take it. But like any herbal product, it not only has the potential to trigger an allergic response, but may interact with other treatments you take, whether they are herbal or medicinal. It's therefore advisable to discuss the suitability of this supplement with your doctor or pharmacist before you start taking it for the treatment of male pattern baldness.
It is important to note that saw palmetto works in a similar way to finasteride, which is used as a treatment for both male pattern baldness and benign prostatic hyperplasia (BPH). The two should not be taken together. It is also known to interact with blood thinners such as aspirin and warfarin, making their effects stronger as it also acts to reduce blood clotting, so the combination is a no-no if you are prescribed these.
Summary
Based on some anecdotal evidence, saw palmetto is said to treat baldness because of its tendency to act like finasteride by helping those suffering from BPH.   However, authentic clinical studies have not been performed to date that support this claim.  The dosage and how it should be used (orally or topically), therefore, is based on conjecture rather than scientific evidence.
We encourage you to read about the 5 amazing Superfoods for your skin and hair.
Choosing the Best Curling Iron for Thick Hair
Enjoyed Can Saw Palmetto Stop Hair Loss?? Share it with your friends so they too can follow the Superfoodsliving journey.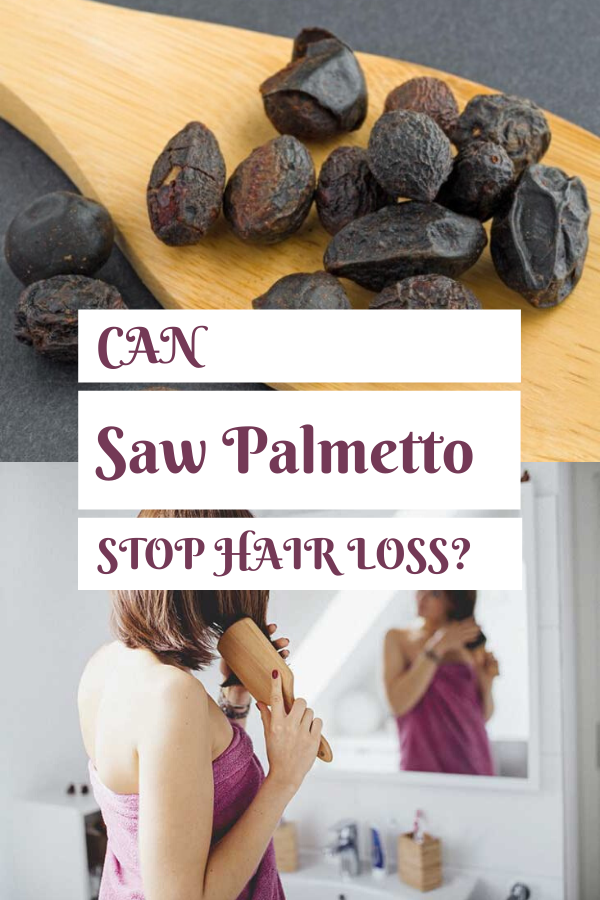 THIS POST MAY CONTAIN AFFILIATE LINKS. PLEASE READ DISCLOSURE FOR MORE INFO.