THIS POST MAY CONTAIN AFFILIATE LINKS. PLEASE READ DISCLOSURE FOR MORE INFO.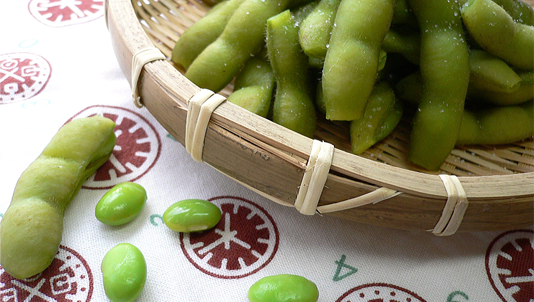 Superfood offers extra health benefits, making it an important addition to a healthy, active lifestyle. There are various superfood recipes out there, making it easy for you to incorporate more of these superfoods in your daily regimen.
Tasty Superfoods
Edamame
Have you ever heard of the superfood edamame? Most Japanese restaurants offer edamame. Well, it is actually a Japanese word for sweet, green vegetable soybean. It is a young soybean that is usually still in the pod. Unlike the mature soybeans, edamame is soft and edible. They are often added to rice dishes or salads. For a quick snack, you can enjoy them steamed in the pods sprinkled with a bit of salt.
Edamame are full of fiber, low in cholesterol, and are low fat. A cup of edamame contains 17 grams of protein and 16 grams of carbohydrates. It is really healthy and delicious.
Berries
There are hundreds of species of berries around the world but goji and acai berries has caught the attention of the consumers lately. The hype of these berries are attributed to the overflowing antioxidants and the essential nutrients that human body needs.
Acai berries are a rich source of vitamins A, B1, B2, B3, and C, and minerals such as potassium, magnesium, copper and calcium. On the other hand, goji berries are high in antioxidants including carotenoids, flavonoids, and phenols. In addition to, they contain vitamins A, C, E, B2, calcium, potassium, zinc and iron.
There are many ways to enjoy these berries including: blending into smoothies, tossing into salads and dishes, sprinkling into granola or cereals, adding to trail mixes and nut mixes, making a tea, or simply baked into muffins, pancakes, and breads.
Sweet Potatoes
Sweet potatoes may be one of nature's best sources of beta-carotene. It has the ability to raise the blood levels of vitamin A. It is also a rich source of vitamin B6, C, and D. It holds an adequate amount of magnesium, an important mineral that promotes a healthy artery, blood, bone, heart, muscle, and nerve function. In many studies, magnesium deficiency can lead to various health problems including heart disease, high blood pressure, kidney stones, cancer, insomnia, PMS, and menstrual camps.
Quinoa
This ancient grain is rich in protein, fiber, and iron. Quinoa is incorporated in many ways such as boiling it in the stove like rice, eating quinoa like oatmeal with added fruit, almond milk, and nuts, or used in dessert recipes.
Superfood Recipes
Quinoa Salad (http://www.glueandglitter.com/main/2012/09/17/superfood-recipe-quinoa-salad/)
Sweet Potato Casserole (http://www.health.com/health/recipe/0,,10000001854014,00.html)
Acai Sorbet (http://www.vegetariantimes.com/recipe/a-ccedil-ai-sorbet/)
Roasted Edamame with sea salt and cracked pepper ( http://www.thekitchn.com/easy-appetizer-roasted-edamame-139397 )
Conclusion
Whether you are preparing for breakfast, lunch, snacks, dinner or even dessert, you should always strive to include these superfoods every day. This is the easiest way to stay fit and healthy.
Enjoyed Few Healthy Superfoods that Taste Great in Meals? Share it with your friends so they too can follow the Superfoodsliving journey.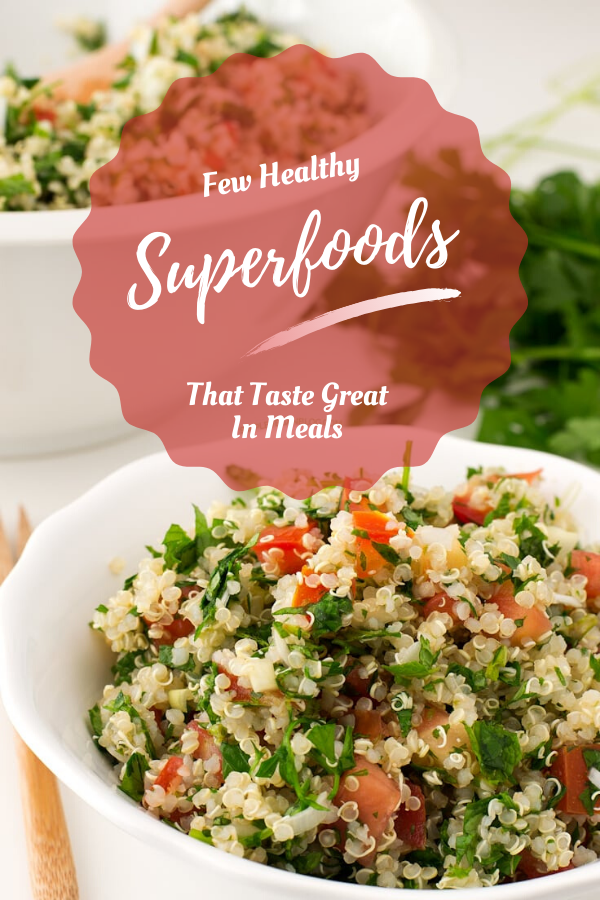 THIS POST MAY CONTAIN AFFILIATE LINKS. PLEASE READ DISCLOSURE FOR MORE INFO.