THIS POST MAY CONTAIN AFFILIATE LINKS. PLEASE READ DISCLOSURE FOR MORE INFO.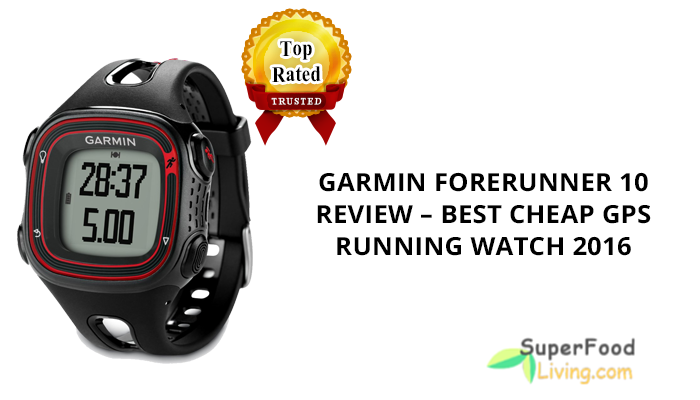 Garmin Forerunner 10 is the perfect entry point for beginners to intermediate level runners at a great price.
Why you Should Trust Us?
At superfoodslstg.wpengine.com we are on a quest to help you uncover the best product to match your fitness and training requirements, with our years of experience in the area.
I am an athlete who likes to tinker with gadgets and have an engineering background. So the watch review is mostly complete with all aspects well scanned and noted.
Who Should Buy Garmin Forerunner 10?
The Garmin Forerunner 10 is a stylish GPS running watch aimed for beginners to intermediate runners, who are looking to upgrade from mobile apps without having to break the bank. It allows precise tracking of pace, distance, route, elevation and calories burnt.
You should be able to start running with the push of a button, without having to waste a lot of time to establish connection with the satellite and browsing through a complicated interface.
If you are beginner or intermediate level runner, there are tons of different smartphone apps available to track progress. However, these apps are usually not equally precise, require you to take out the mobile and turn it on, use up mobile battery and are often not water resistant.
What Makes a Good GPS Running Watch?
Garmin is one of the pioneers is manufacturing running and sports watches, with more than 25 years of expertise in manufacturing and innovation.
It depends on your individual feature requirement to find the right fit for you like track distance, training plans, heart rate monitoring, double up as regular time watch, pairing with third party apps and more.
However, one of the other important requirements include intuitive menu, price, battery life, durability and usability.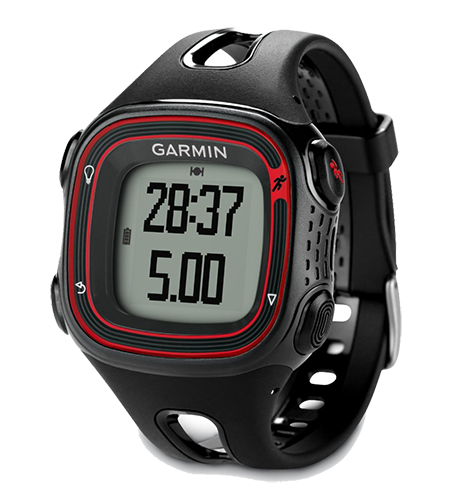 About the Product
-High sensitivity GPS receiver
-Records position, speed/pace, distance and calories
-Easy-to-use, button operated
Our Pick – Garmin Forerunner 10
Garmin Forerunner 10 is the GPS running watch you want if you are just starting to run and looking for something inexpensive. Available in attractive and comfortable design it is loaded with basic features without having to worry about understanding technology.
Pros
Most lightweight Garmin watch with adjustable wristband for varying wrist size
Easy to use and
Comfortable design makes you forget that you are even wearing it
Inexpensive and most affordable Garmin Forerunner
Waterproof design allows to be worn without adversely affected by rain and sweat.
Available in different bright colors like green, pink, and black-red.
Works for Garmin Connect to help analyze every aspect of your run and motivate you.
Durable design
Cons but not deal-breakers
Lacks Bluetooth for wireless synching your data.
Does not include Heart Rate Monitor for advanced level runners
Battery life could be improved as it needs charging post every 5 hours of running.
How we tested?
Here are some of the features and design parameters that we have considered to test and come up with the best watch among value-priced GPS running watches.
Design- The Garmin Forerunner 10 has looks similar to the Garmin Forerunner 15. It looks sleek, stylish and snugs tightly yet comfortably on any wrist.Its lightweight design and flexible wrist band makes it easy to run with. The black model with red accents has a slightly bigger watch face and broader wrist band. It doubles up as your regular watch and hence can be worn all day.
Setup – Setting up the watch before you start running is dead simple. Forerunner 10 comes fully charged in the box, to allow you to start running without any waiting.To setup the watch, start with connecting the watch to your computer using the USB cable that comes along in the box. Download the free Garmin express and open it to start automatic pair up. Next, create an account with Garmin that ensures that the watch syncs up with your account.
Interface – The menu options are very intuitive and user-friendly. With only four buttons, it is one of the easiest to use watch. There are buttons for backlight, to initiate run/ workout, to go back and to pull up and scroll menu.The screen displays 2 data fields at the same time and you can choose from 6 data field combinations to be displayed like time/ distance or time/calories. It allows a level of customization in the fields being displayed as per user requirements.
Start Running – to begin a workout session, you just need to press the "run" button to enable GPS and press it again to start tracking the progress. Make sure you are outdoors to enable a satellite lock to identify location and set time and date.To pause the time, press the same button again and wait for watch to show you the summary including run distance, total time, average pace and calories burnt. Up to 7 workout histories are stored on the watch to compare later.
Motivation – The auto lap function, helps you to push yourself to reach your target. The auto lap automatically sets a marker at the end of the time period, as configured by you.By default the lap distance is setup to be 1 mile, which alerts you as you continue to pass over the threshold. These laps are saved in the history as well as Garmin Connect to analyze later. FR10 also lets you know when you achieve a personal best including best speed or longest run.
Training Tools – If you are looking for something more like if you are training for a marathon and want to be altered when you run too fast or too slow, you can use training features like Virtual Pacer. It compares your present running pace to your target.Also, if you are a beginner it has a run/walk feature that allows you to alternate between running and walking by beeping at the set interval.
Garmin Connect – You can easily upload your date from your watch to Garmin connect to store and share with your friends and get inspired. It offers a detailed look into your run like replay your run on map, view lap time, analyze data, view personal records and much more.In short it lets you get more out of your watch and run to keep you motivated. Sharing your activities with your friends on platforms like Facebook or running blog is also a great way to motivate and Garmin sure knows that.
Battery Life – If you plan to use it for 30 minutes everyday (typical run time), the battery will probably last for 10 days. However, if you plan to wear it all day long with GPS on, the battery needs to be recharged after 5 hours.
Runner Up – TomTom Runner
Another solid, no-nonsense GPS running watch under $100 is the TomTom Runner. It is a comfortable wear and easy to forget that you are wearing one. The GPS is fast, has Heart Rate Monitoring along with a good battery life.
However, it is a little expensive as compared to FR10 and does not support Garmin Connect that is great for analyzing your run with great layout.
Conclusion
Running with a training companion like the GPS watches helps you keep track of your personal record and helps you train better.
The economical Garmin Forerunner 10 watch tracks important data from your running session in an easy to use interface.
For its value for money and usability we give it an 8/10. I would personally recommend the Garmin Fr10 watch to all my friends.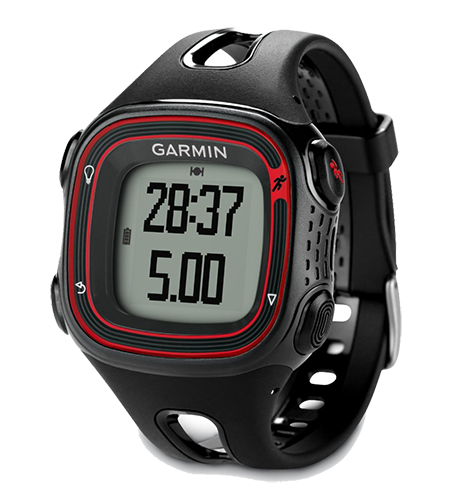 About the Product
-High sensitivity GPS receiver
-Records position, speed/pace, distance and calories
-Easy-to-use, button operated
Enjoyed Garmin Forerunner 10 Review, Price & Battery Life? Share it with your friends so they too can follow the superfoodsliving journey.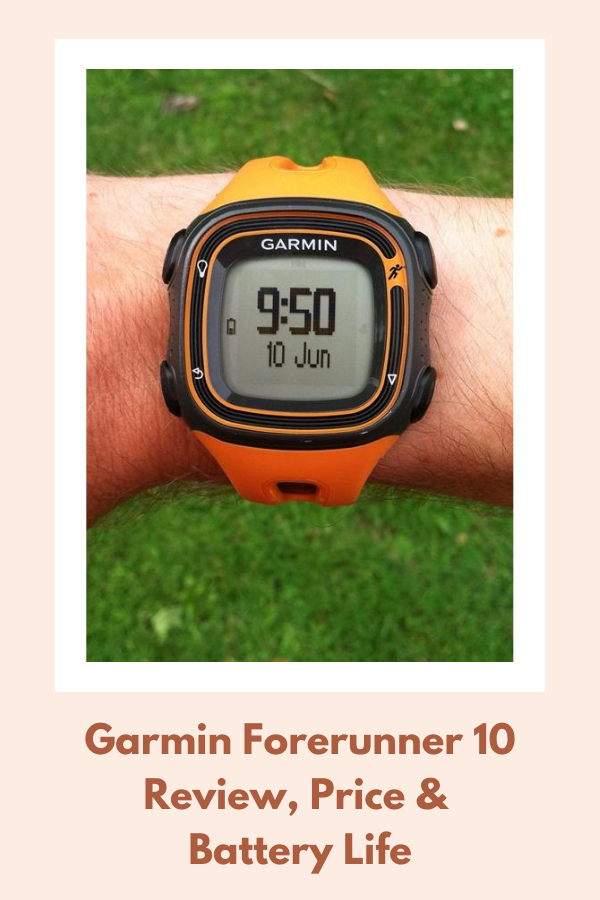 THIS POST MAY CONTAIN AFFILIATE LINKS. PLEASE READ DISCLOSURE FOR MORE INFO.