THIS POST MAY CONTAIN AFFILIATE LINKS. PLEASE READ DISCLOSURE FOR MORE INFO.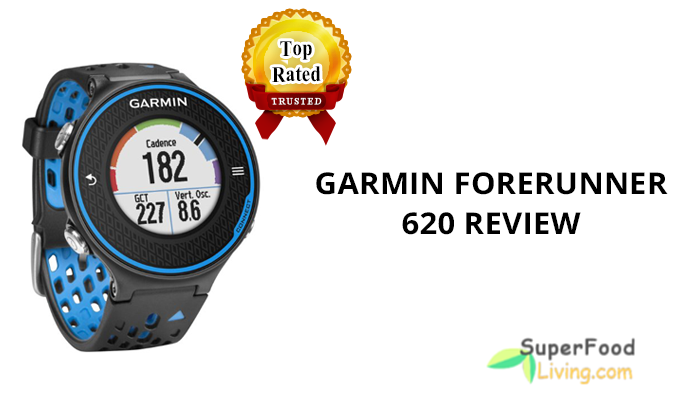 Garmin Forerunner 620 is one of the most advanced and powerful GPS watches available on the market today. It could prove to be the right companion to help improve your running performance and train better.
Who should buy Garmin Forerunner 620 ?
If you are a serious runner and looking for more advanced features, then this watch could be your best friend.
Most basic watches provide tracking of only pace, distance, route, elevation and calories burnt. GPS locking and uploading of data to a computer are often available but very limited in speed or require more effort.
When you are looking to run a marathon, get motivated or beat your personal record, you need to be able to train better with features like a training calendar, recovery advisor, race predictor, live tracking and automatic uploading all in a waterproof design with nearly half the weight of its predecessor. It also gives you feedback on your performance and plan to train better.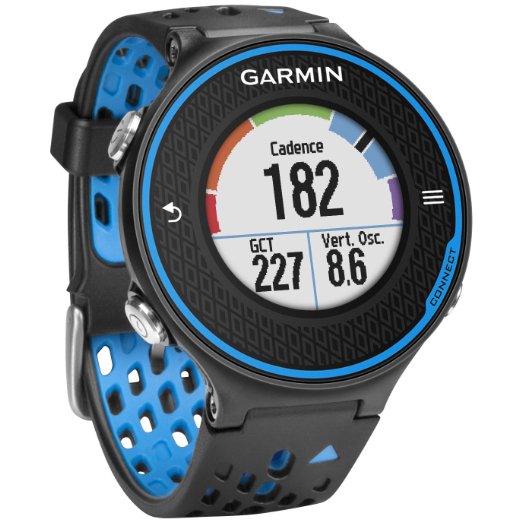 About the Product
-Advanced GPS running watch with a high-resolution color display and comfortable.
-lightweight design
-Built-in accelerometer tracks distance and pace when indoors
Our Pick – Garmin Forerunner 10
Pros
Comfortable, lightweight and waterproof design
Touchscreen display with high-resolution color.
Tracks distance, pace, calories burnt along with heart rate.
Advanced features like recovery advisor, race predictor and VO2 max estimate.
Bluetooth enabled to upload data directly to your smartphone.
Wi-Fi connectivity allows live tracking, automatic uploading to Garmin Connect and receives firmware updates as well as ability to share on social media with your friends.
Fast and reliable GPS locking if you are regularly using Garmin Connect.
Built-in accelerometer tracks distance and pace for your indoor/treadmill workouts.
Training calendar and plans with Garmin Connect.
Cons
Advanced design but not stylish or beautiful.
Touchscreen has sometimes been reported to be unresponsive.
A little expensive, but great value for money.
How we tested
Here are some of the features and parameters that we tested against:
Design- The Garmin Forerunner 620 is much thinner, lighter and sleeker than the previous FR610, weighing in at just 44g. The design is quite attractive with color display, high resolution and touchscreen to allow easy visibility and navigation.
It has a backlight to enable visibility in low light. It is comfortable to wear all day long with ventilated straps. FR620 is water resistant up to 50m, which enables wearing it while it's raining or for surface swimming. It is available in two sporty color combinations: black with blue accents and white with orange accents.
Setup – Set up of the FR620 before you start running is pretty straightforward. All Garmin watches come fully charged in the box, to get you into your running shoes without wasting any time. To begin setting up, start with downloading the free Garmin software on your computer.
Now plug the watch into your computer using the USB-connected charging port that comes along in the box. You will be prompted to create an account, if you don't already have one with Garmin. Next, open the software to start automatic pairing with your watch.
You can sync your data from your watch using the Bluetooth, WiFi or by plugging it in. Data transfers are dead convenient now as compared to earlier versions of the Garmin Forerunner watches.
Interface –The touchscreen is quite responsive when compared to FR620. It also has the 4 physical buttons that can be used for intuitive navigation. The combination of touchscreen and buttons makes the watch pretty intuitive and easy to use.
You can view up to 4 data fields on each of the series of up to 4 different viewing screens/pages. Like most high-end running watches, these data fields are configurable and you could choose from a wide range of data options available like calories, distance, timer, current pace, time of the day or HRM.
While you are on the move, simple taps on the touchscreen will help you navigate between screens.
Advanced Features – The impressive training watch has a long list of features that were never seen before in running watches.
Pre-cache GPS positioning ensures that satellite locking is only a matter of seconds with superb accuracy.
Estimated VO2Max Check: Using data on speed, heart rate, and heart rate variability FR620 can estimate VO2Max to identify your body's ability to transport and utilize oxygen during exercises.
Race predictor: To estimate how fast you might run in your next race.
HRM (Heart Rate Monitor)  – Run – You can pair your watch with the HRM-Run heart-rate strap to collect important metrics like vertical oscillation and ground contact time. The pairing process was easy to setup by utilizing the settings menu.
Recovery Advisor – It not only suggests the amount of time required to recover from your current session. In addition, it also tells how well you are recovering from the the workout (Recovery level) which is a key indicator of your overall fitness level. Always give your body enough time to recover in order to avoid injuries.
Virtual Pacer –It works as a virtual partner that allows you to race against yourself by setting up a target speed or pace.
Auto Pause Function – This feature stops the timer automatically based on your speed and resumes when you start running again.
Built-in accelerometer – You can also use the FR620 for indoor training (treadmill) using the built-in accelerometer without the need for an extra foot pod.
Post-run stats –It provides a detailed review of your speed, pace, distance, laps, HR average along with cadence and much more.
Motivation – Features like live-tracking and alert when you beat your personal record have positive effects on your running. You can share your GPS data in real time with your friends, share on social media as well as save data for review on different third-party sites.
App and web Tools –Post-run you can analyze your data either on Garmin Connect website or mobile app. You need to upload your data vial Bluetooth, direct connection or WiFi to be able to do that first.
The Garmin Connect website has a more user friendly interface to navigate than the app though. Garmin Connect is a powerful tool which also allows you to use available free training plans, create your own calendar and sync with Outlook or Google calendar.
Battery Life – The battery actually provides a six weeks in watch mode (meaning, no GPS for live-tracking and ANT+ for attaching a heart rate strap) and solid ten hours in tracking activity mode (meaning, with GPS and ANT+).
Polar V800 is a multi-sport watch aimed for high-end users. It can be paired with an HRM, use zonal training smarts, estimate cadence as well as aid in recovery.
However, the price is a little too high for general affordability and does not include capabilities like ANT+ support, WiFi, higher water resistance, wireless sync, and accelerator.
Conclusion
One of the most sophisticated watch in its category, FR620 takes care of all the aspects of running physiology with interesting metrics as well as HRM and WiFi with Bluetooth.
It is a serious tool for pros with useful insights and will definitely make to the top of your list.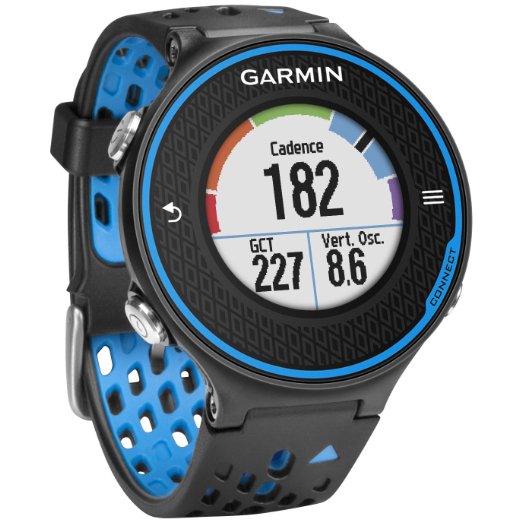 About the Product
-Advanced GPS running watch with a high-resolution color display and comfortable.
-lightweight design
-Built-in accelerometer tracks distance and pace when indoors
Enjoyed Garmin Forerunner 620 Review, Price & Battery Life? Share it with your friends so they too can follow the superfoodsliving journey.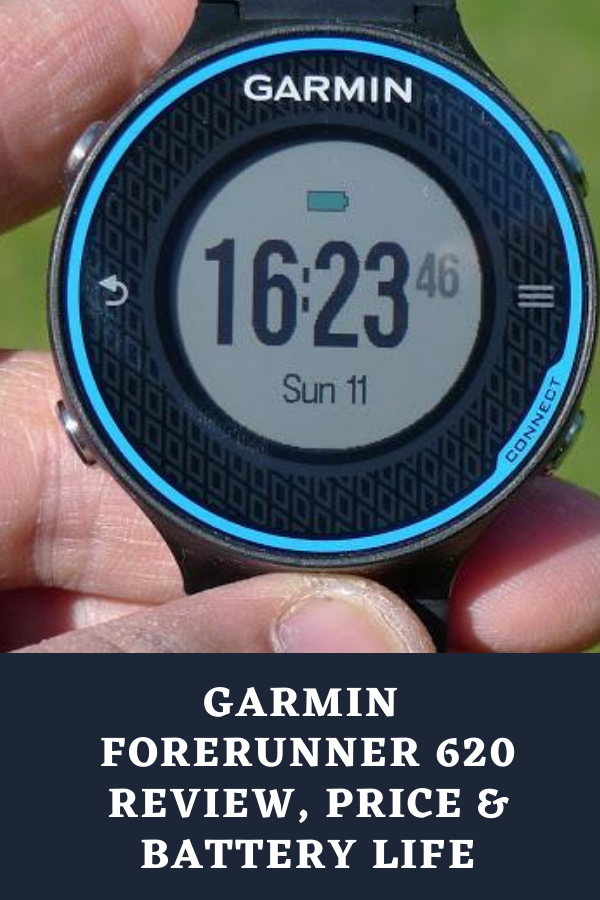 THIS POST MAY CONTAIN AFFILIATE LINKS. PLEASE READ DISCLOSURE FOR MORE INFO.