THIS POST MAY CONTAIN AFFILIATE LINKS. PLEASE READ DISCLOSURE FOR MORE INFO.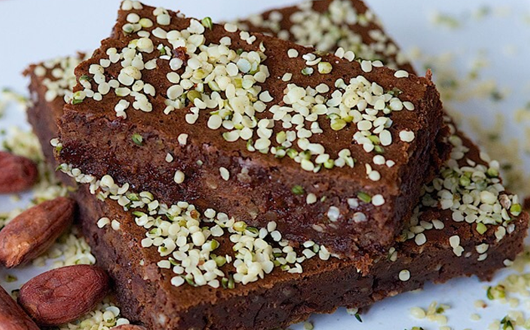 If someone tells you that you need to give up treats in order to eat healthy, tell them, "Let them eat brownies!" These goodies are literally bursting with both flavor and nutrition.
Did you know that 1 cup of cooked black beans provides more than 60% of your daily need for fiber? Studies have shown that soluble fiber promotes a healthy heart and can lower blood cholesterol levels. Beans are also high in folate and magnesium, both of which are important nutrients for cardiovascular health.
If heart health is what you're after, Hemp Hearts sure live up to their name! The fatty acids in Hemp Hearts help lower bad LDL cholesterol and improve cholesterol ratio.
They are rich in phytonutrients and anti-aging antioxidants such as vitamin E that protect the cardiovascular system from damage. Both black beans and hemp hearts contain good amounts of omega-3 fatty acids in the form of ALA (alpha-linolenic acid), which help lower inflammation in the body.
To get your mouth watering, add this tasty nutritional powerhouse – dark chocolate. Dark chocolate contains flavanols, which have antioxidant properties and increase the bioavailability of nitric oxide, both of which help to reduce blood pressure.
The antioxidants in dark chocolate can increase levels of the "good" HDL (high-density lipoprotein) cholesterol. Studies show that after only two hours after consuming 40 grams of dark chocolate, individuals can experience coronary vasodilation, improved coronary vascular function, and reduced platelet adhesion – all of which reduce the risk of developing a cardiovascular disease.
Ingredients:
15-oz can black beans, drained and thoroughly rinsed
3 large organic eggs
1/3 cup coconut butter (or coconut oil if butter is unavailable)
1/4 cup raw cocoa powder
1/4 tsp pink rock or grey sea salt
2 tsp natural vanilla extract
1/2 cup honey
1/2 cup dark, sugar-free chocolate chips
1/3 cup hemp hearts
…and 1/4 tsp of coconut oil to oil the pan.
Directions:
1. Preheat oven to 350°F. Oil an 8×11 baking pan with coconut oil.
2. Place the black beans, eggs, melted coconut butter, cocoa powder, salt, vanilla extract and honey in the bowl of a food processor and blend until smooth.
3. Remove the blade and gently stir in the chocolate chips and hemp hearts. Transfer mixture to the prepared pan.
4. Bake the brownies for 30 minutes, or until just set in the centre. Cool before cutting into squares. Makes 12 servings.
Author and Nutritionist Julie Daniluk's first bestselling book, Meals that Heal Inflammation, advises on allergy-free eating that tastes great and assists the body in the healing process. In Julie's second book, Slimming Meals That Heal, she helps people shatter the need to count calories and conquer cravings by offering the Live-It. As the co-host of the reality cooking show Healthy Gourmet (Oprah Winfrey Network), she negotiates the ongoing battle between taste and nutrition. You can check out her amazing recipes and nutrition tips at www.juliedaniluk.com
Connect with Julie on Facebook, Twitter and Instagram @JulieDaniluk
Enjoyed Gluten-Free Black Bean Hemp Brownie? Share it with your friends so they too can follow the Superfoodsliving journey.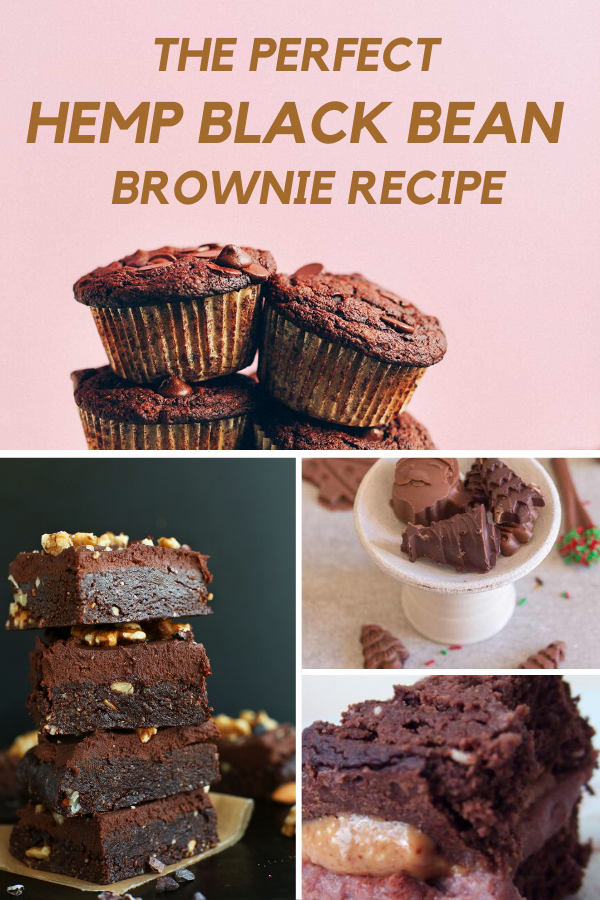 THIS POST MAY CONTAIN AFFILIATE LINKS. PLEASE READ DISCLOSURE FOR MORE INFO.