THIS POST MAY CONTAIN AFFILIATE LINKS. PLEASE READ DISCLOSURE FOR MORE INFO.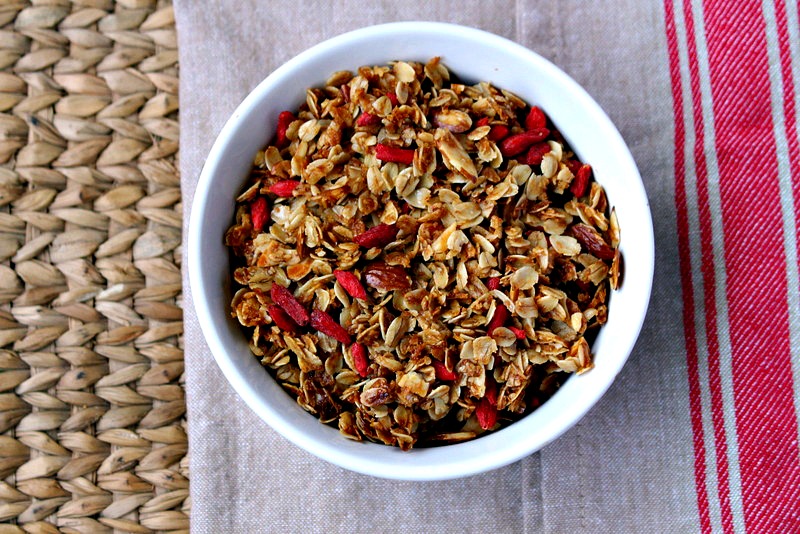 Looking for a superfood snack to boost your energy and keep you satisfied until your next meal? Then look no further than this Goji Berry Superfood Granola!
A power packed granola that is chock full of superfoods, the real star of this recipe is the goji berries.
Goji berries are all the rage with celebrities like Madona and supermodel Miranda Kerr, and for good reason.
The Ultimate Goji Berry Guides:
Goji Berry Benefits
25 Tasty Goji Berry Recipes
Known sometimes as wolfberries, goji berries have been enjoyed in China and the Himalayes for their use as a medicinal plant for over 2000 years. In fact, goji berries earned the nickname "red diamond" because of their unusually high nutritional value.
While almost every berry earns high praise for it's antioxidant content, goji berries are perhaps the most nutrient dense berry in the world.
Characterized by its vibrant orange-red color and raisin like appearance, goji berries continue to grow in popularity in the West, with many researches regarding them as "superfruits."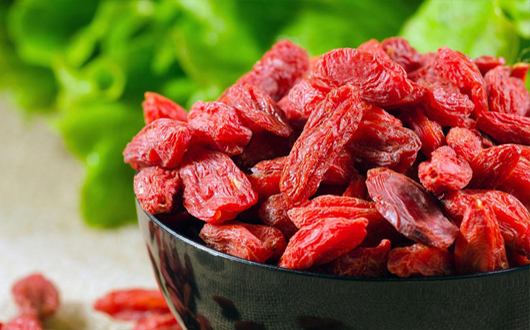 Antioxidant Rich
Goji berries are an excellent source of anti-oxidants such as polyphenols, flavonoids, carotenoids and vitamins A, C and E.
In fact, goji berries contain roughly 500 times the amount of vitamin C per weight than an orange does as well as more beta-carotene than carrots.
Antioxidants help nutralize the cell-damaging effects of free radicals, which means that eating more foods that boost the anti-oxidant levels in your body can help prevent degenerative diseases such as rheumatoid arthritis, Alzheimer's disease and most types of cancer.
Nutrient Rich
Though known mostly for their high level of antioxidants, goji berries also contain a high amount of vitamins and minerals.
Just a quarter cup of goji berries contains 11 essential vitamins and 22 trace minerals, including 24 percent of our daily intake of potassium, 18 percent of our daily intake of zinc and an impressive 100 percent of our daily intake of iron, cooper and riboflavin.
Goji berries also contain 8 polysaccharides, a primary source of dietary fiber.
Other noticeable health benefits:
contains 18 different amino acids
protects the liver
helps boost the immune system
improves circulation in the body
protects the eyes and eyesight
can promote longevity
Clearly, goji berries are one superfood that needs to be in your diet!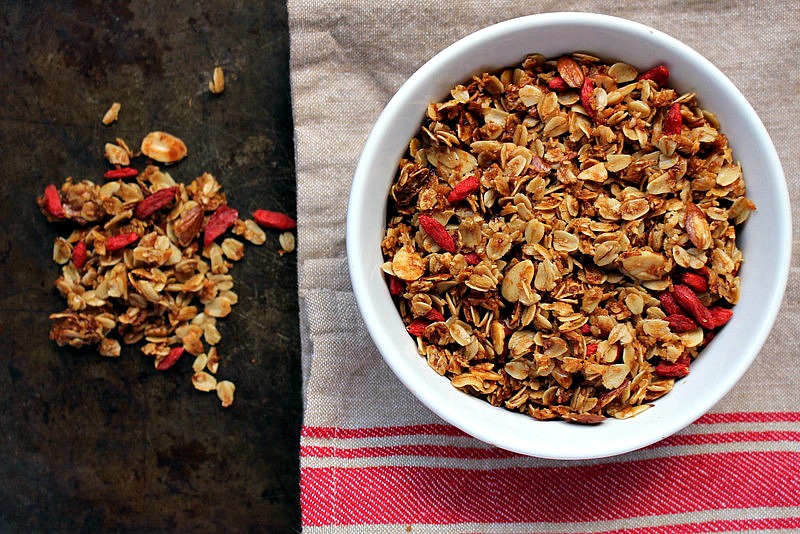 Due to the goji berries tangy yet sweet flavor, they are easy to combine with almost any other food or can be enjoyed simply by the handful.
Some of my favorite ways to enjoy goji berries include:
tossed on top of a green salad
sprinkled on top of oatmeal or Greek yogurt
mixed into a trail mix of nuts, seeds and other dried fruit
soaked in tea or warm lemon water
Another great way to enjoy goji berries is by tossing them into a batch of granola! This granola recipe is jam packed with superfoods like coconut oil, almonds and of course, goji berries and is also naturally sweetened with raw, local honey.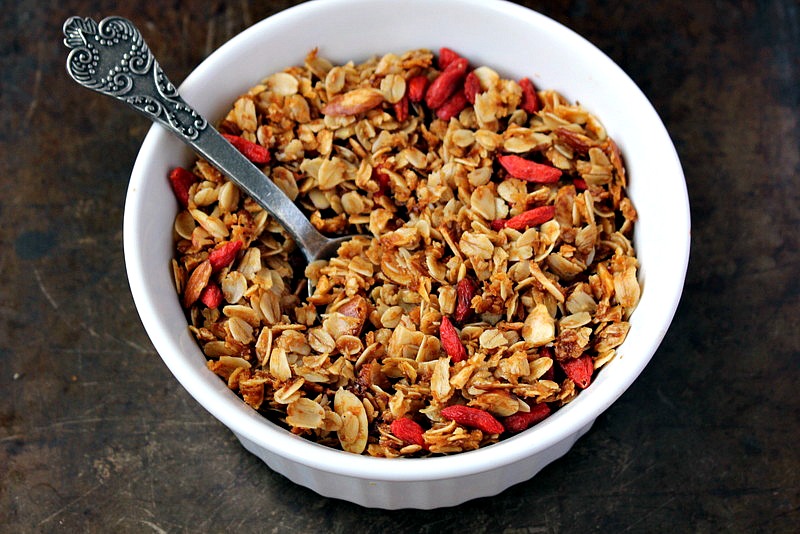 Goji Berry Superfood Granola
Makes 4 cups
2 cups rolled oats
1/4 cup raw, local honey
1/4 cup coconut oil
1/2 cup sliced, raw almonds
1/2 cup unsweetened coconut flakes
1/2 tsp sea salt
1/2 cup goji berries
Preheat the oven to 325 degrees. In a large bowl combine the rolled oats, raw almonds, coconut flakes,  and sea salt. In another small bowl, combine the raw honey and coconut oil. Microwave coconut oil combination roughly 20 seconds or until oil has melted and can be stirred smooth.
Pour the coconut oil mixture on top of the oats mixture and stir with a large wooden spoon until well coated. Spread onto a lined baking pan.
Bake for 15 minutes then stir. Bake for another 15 minutes making sure to check half way through so that nothing burns. Remove from the oven and sprinkle on goji berries. Let cool before storing in an air tight container.
Enjoy this Goji Berry Superfood Granola on top of yogurt, with milk or simply by the handful. Remember to watch your portion control though, as granola is a calorie dense food.
The Ultimate Goji Berry Guides –
-Goji Berry Benefits
-25 Tasty Goji Berry Recipes
Enjoyed Goji Berry Granola Recipe: Antioxidant Rich Superfood Snack For Energy? Share it with your friends so they too can follow the Superfoodsliving journey.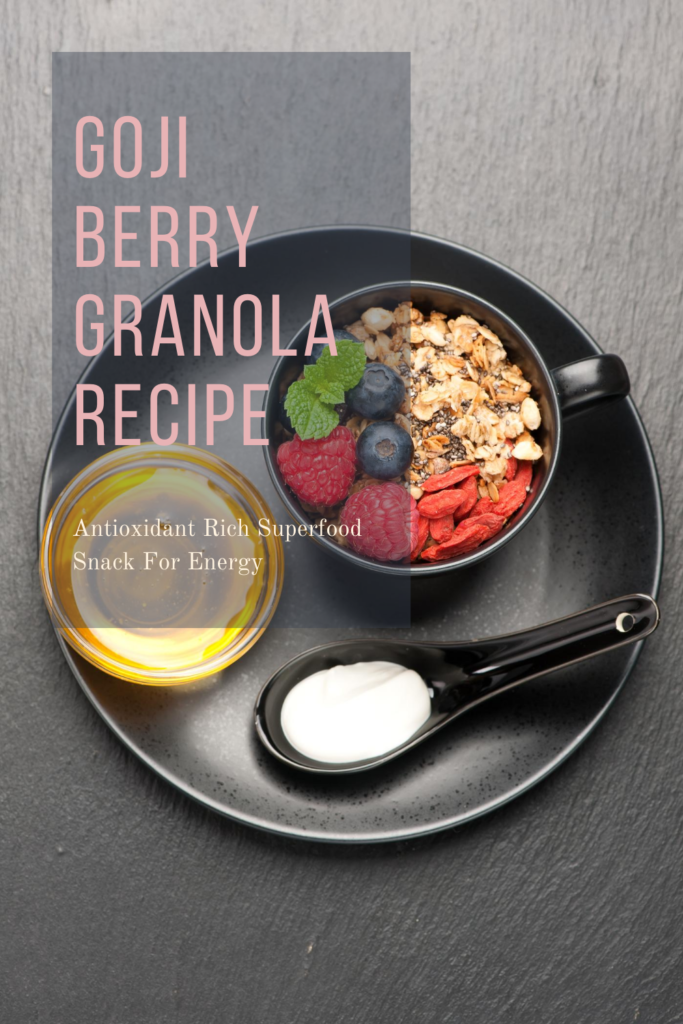 THIS POST MAY CONTAIN AFFILIATE LINKS. PLEASE READ DISCLOSURE FOR MORE INFO.