THIS POST MAY CONTAIN AFFILIATE LINKS. PLEASE READ DISCLOSURE FOR MORE INFO.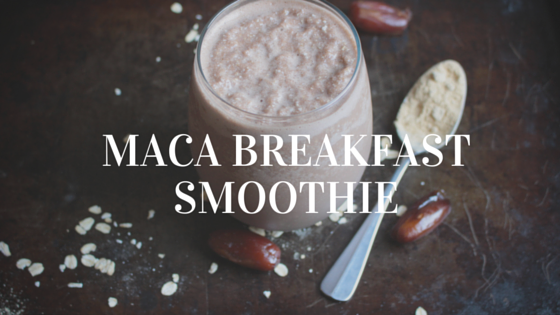 Some mornings are more difficult than others and require an extra push to get going. Thankfully, that push can be given by a healthy, energizing breakfast!
This smoothie recipe is more than just a healthy breakfast; it's also an energizing drink.
Chock-full of healthy, wholesome ingredients, the energy punch in this smoothie comes from maca, a powdered root that belongs to the cruciferous family.
Maca powder is considered to be an "adaptogen", which means that it helps the body to naturally adapt to life's stressors such as a busy schedule, illness, demanding job, etc. Maca has been found to provide energy making people feel more "alive", while also helping to restore hormone balance and "feel good" endorphins.
Maca is an incredible source of nutrition with nutrients such as:
Over 20 amino acids, including all 8 essential amino acids
Essential fatty acids
Vitamins B1, B2, C and E
Calcium
Magnesium
Potassium
Copper
Zinc
Manganese
Phosphorus
Selenium
Sulfur
Sodium
Iron
Phytonutrients
Maca Benefits
Energy Boost – Those who use maca regularly have reported feeling more energized, driven, and awake soon after taking it.
Maca has become a popular energy booster because it lacks caffeine, which means you won't have to deal with any caffeine-induced jitters.
Even athletes are taking maca now before an athletic event as an all-natural energy and stamina booster.
Increased Memory – Maca has also been found to regulate the hypothamlus, which aids the pituitary gland in proper function.
This is yet another key element to balanced focus and energy. When energy, mood and focus are increased, it allows people to concentrate better, thus improving memory and performance in tasks at work or school.
High in Antioxidants – Maca acts as a natural antioxidant in the body helping to boost levels of glutathione and superoxide dismutase.
Both glutathione and superoxide dismutase are two major disease fighters that the body has. Recent studies have revealed that maca can help prevent chronic illnesses developed through high oxidative states.
Women's Health – Due to maca's ability to aid in hormone balance it is a terrific superfood to combat PMS symptoms as well as menopause symptoms.
When estrogen levels are off balance it can become difficult for a woman to become pregnant.
When maca regulates the hormones estrogen and progesterone the female's body becomes more balanced. This balance is vital for reproductive health, fertility, and decreasing PCOS symptoms such as irregular menstrual cycles.
Men's Health – Maca doesn't just aid in women's sexual health, but in men's as well. In studies, maca has been shown to improve sperm production, mobility and volume.
These are all important elements to increasing fertility.
Adding Maca To Your Diet
Maca is easily added into your daily diet in a variety ways.
The powder can be stirred into oatmeal or pudding, mixed into raw treats or cookies, and even used as a hot chocolate or coffee alternative.
Another alternative is adding maca to a smoothie to be used as a meal or a snack.
Whether you are simply looking for a delicious breakfast or wanting an energy boost to start your day, this energizing maca breakfast smoothie is the way to go!
Energizing Maca Breakfast Smoothie
Vegan and gluten-free
Serves 1
1/2 cup almond milk
1/4 cup chopped dates
1/2 cup gluten-free rolled oats
1 teaspoon maca powder
1 tablespoon coconut butter
1 banana
1/2 teaspoon cinnamon
½ cup ice
Directions:
Place all ingredients into a high-speed blender
Blend on high until smooth
Add more ice as needed
Enjoyed Maca Breakfast Smoothie? Share it with your friends so they too can follow the superfoodsliving journey.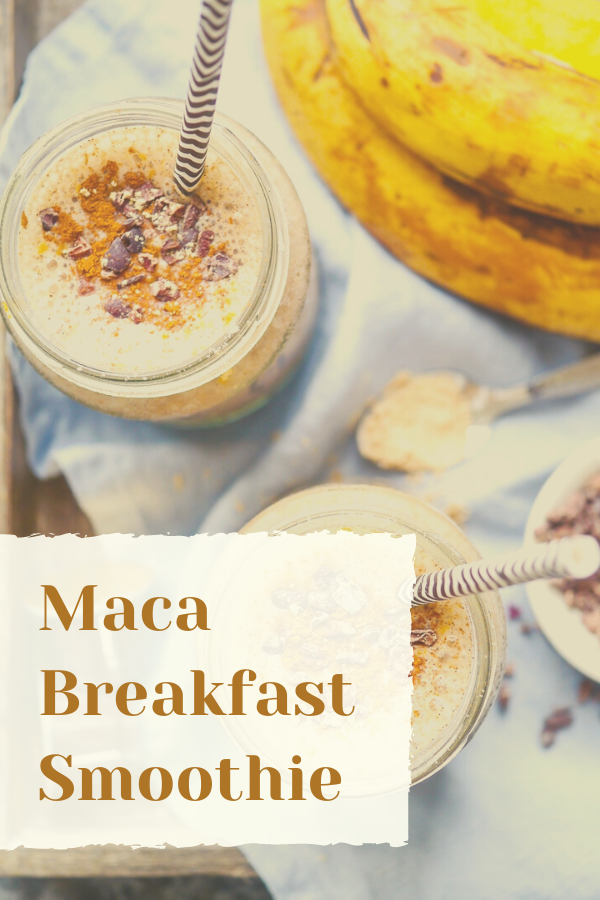 THIS POST MAY CONTAIN AFFILIATE LINKS. PLEASE READ DISCLOSURE FOR MORE INFO.