THIS POST MAY CONTAIN AFFILIATE LINKS. PLEASE READ DISCLOSURE FOR MORE INFO.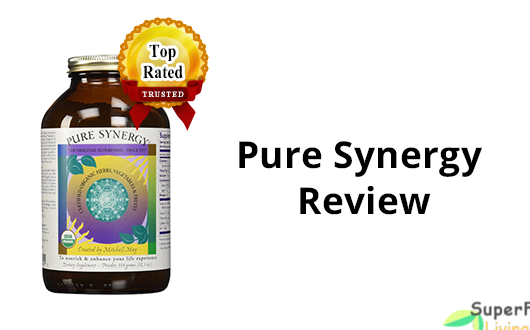 Pure Synergy is one of the oldest superfood products on the market with 30-plus years of customer satisfaction.
With its extensive superfood ingredient list that are all certified organic, Pure Synergy has the honor of being one of the first premier superfood powders introduced on the market.
Below we review Pure Synergy as we discuss its ingredients, benefits and overall value.
Why Should You Trust Us?
As a healthy living website we strive to provide you with the best products, reviews and foods to help you work towards better health and wellness.
We pursue products that aid in creating a healthier lifestyle and work to provide content that is helpful and honest. This website is meant to inform and will only supply honest reviews of the products we mention.
What is Pure Synergy?
Pure Synergy is one of the oldest green superfood powders on the market, with over 30 years of product sales and customer satisfaction.
With a certified organic formula, Pure Synergy contains 60 high quality superfood ingredients that are non-GMO and kosher with no added filler ingredients or artificial chemicals.
A very comprehensive formula, Pure Synergy contains a mixture of aquatic greens, grass juices, fruits and vegetables, mushrooms and herbs.
Pure Aquatic Greens: These aquatic greens contain an incredible amount of proteins, trace minerals, chlorophyll, fatty acids, and antioxidants to boost health.
Nourishing Fruits: Antioxidant and enzyme-rich organic fruits support the health of your cells, skin, heart, and whole body.
Grass Juices and Veggies: Organic grass juices and green vegetable powders provide an abundance of phytonutrients and purifying chlorophyll to cleanse and alkalize the body.
Enzyme Rich Sprouts: Potent enzymes and phytonutrients help ignite your metabolism and vitality.
Asian Mushrooms: Boost your immune system and protect your overall well-being with organic mushrooms.
Herbal Extracts: Organic Asian herbs help to create balance, regenerate and revitalize your body and health.
Some of the superior ingredients in Pure Synergy are:
Chlorella
Kelp
Sprouted millet
Sprouted quinoa
Green papaya
Blueberry
What are the benefits of Pure Synergy?
Pure Synergy helps to support vitality, energy, mental clarity, detoxification and immunity.
Due to Pure Synergy being manufactured onsite and not by a third party, the nutrients in the superfoods are retained.
This means that the benefits of the superfoods are more likely to be upheld as opposed to other superfood formulas that are manufactured by a third party.
By manufacturing their product in-house, Pure Synergy is able to guarantee that their formula is 100% contaminant free and produced in a low heat facility, keeping the essential phytonutrients intact.
The Pure Synergy formula provides 12 grams of superfood nutrition per serving, which is on par with the other high-end superfood formulas.
What makes Pure Synergy different?
There are several factors that separate Pure Synergy from other green superfood powders.
First is the impressive algae panel. With one of the largest selections of algae in any green superfood powder, Pure Synergy contains 10 ocean grass and algae which includes not only spirulina, chlorella and kelp, but also some lesser known but still incredibly healthy other algae.
Other algae included are:
Klamath – the ultimate food for the brain
Dunaliella – contains the highest source of magnesium which plays a vital role in cellular health
Wakame – helps prevent heart disease and diabetes
Bladderwrack – stimulates the thyroid gland
Another difference between Pure Synergy and other green superfood powders is the inclusion of healthy mushrooms.
In fact, mushrooms make up roughly 50% of the bulk of the formula by weight, which is fairly unusual in green superfood powders.
Ingredients in the Pure Synergy are also of the sprouted variety, such as millet and quinoa, which activates more digestive enzymes as well as makes the phytonutrients easier to digest by the body.
What are the negatives of Pure Synergy?
Due to Pure Synergy's inclusion of so many algae, as well as mushrooms, along with a lack of sweeteners or fillers, the formula can be tough for some people to tolerate taste-wise.
The powder has a very earthy taste to it, more so than other superfood formulas, which can be a struggle for those whom may not be used to a green superfood powder's taste.
Another downside to Pure Synergy is the lack of probiotics. With so many other superfood powders including probiotics in their formulas, Pure Synergy looks to be incomplete next to them.
This product is still a very good superfood product in terms of superfood ingredients, however it can only be viewed as one dimensional with its lack of probiotics.
Conclusion
Pure Synergy is a green superfood powder that is made up of over 60 organic superfoods. With a plethora of sea grasses and algae, alongside an impressive line-up of mushrooms, Pure Synergy provides powerful health benefits for those looking for a superfood powder to increase their health.
However, this product does not contain probiotics and can be difficult to consume due to its taste, so it is not a superfood powder for everyone.
Pure Synergy packs a punch in terms of superfood nutrition, but does lack in some areas such as probiotics and antioxidants, making it less superior to other powders on the market.
THIS POST MAY CONTAIN AFFILIATE LINKS. PLEASE READ DISCLOSURE FOR MORE INFO.