THIS POST MAY CONTAIN AFFILIATE LINKS. PLEASE READ DISCLOSURE FOR MORE INFO.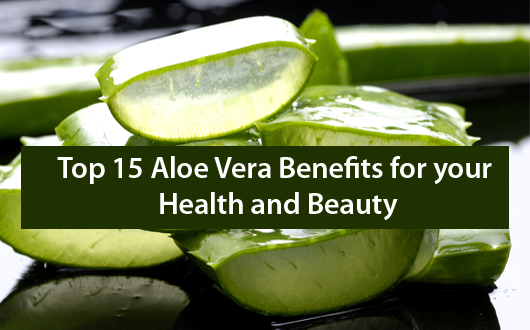 Aloe Vera is quite an incredible medicinal plant full of nutritional benefits. It is a succulent plant and part of the lily family (Liliaceae) – the same family that garlic and onions belong to.
The plant has been shown in studies to help heal minor wounds eight days faster than a standard dressing. It's also an antibacterial agent and contains vitamins and minerals that can ease eczema and psoriasis flare-ups. But creative and enterprising beauty experts are using it for a lot more than the occasional cut or rash; they're using it to get gorgeous, too.
Aloe Vera contains over 200 active components including vitamins, minerals, amino acids, enzymes, polysaccharides, and fatty acids – no wonder it's used for such a wide range of remedies! The bulk of the aloe vera leaf is filled with a clear gel-like substance, which is approximately 99% water. The list of benefits and effects for this miraculous plant are numerous.
We've collected these 15 completely natural aloe vera uses.
 A. Health Benefits of Aloe Vera
1. Aids Digestion and Treats Intestinal Issues:
Aloe vera, when taken internally, aids in digestion and effectively cleanses the digestive system. Aloe vera works as a laxative, which makes it easier for the food particles to pass through the intestine. Because it is an adaptogen, it helps with either constipation or diarrhea, helping to regulate your elimination cycles in whatever way is needed.  It's been a great remedy for people with problems such as irritable bowel syndrome as well as acid reflux. Aloe also helps to decrease the amount of unfriendly bacteria and in your gut, keeping your healthy intestinal flora in balance. Aloe is also a vermifuge, which means it helps to rid the body of intestinal worms. Aloe vera also helps to mitigate the effects Crohn's disease and peptic ulcers.
2. Boosts Immunity:
Aloe vera is a well-known adaptogen. An adaptogen is something that boosts the body's natural ability to adapt to external changes and resist illness. It is thought that aloe's power as an adaptogen balances the body's system, stimulating the defense and adaptive mechanisms of the body. This allows you an increased ability to cope with stress.
Aloe vera is full of antioxidants, also known as natural immunity enhancers, which help to fight free radicals in the body. Free radicals cause several diseases and ailments which speed up the ageing process. Consuming aloe vera juice regularly boosts the immune system and helps you to stay young and fit.
Read more about the Superfoods that can boost your immunity
3. Detox
Aloe vera juice can be a great natural option for detoxing. Because of the way we live – including stress, pollution and junk food – we need to occasionally cleanse our systems. Aloe vera juice is an ideal way to do this because it contains many trace elements, vitamins and minerals that can help the body deal with it's daily stress and strain.
We encourage you to read the Do's and Don'ts of a Detox Cleanse here.
4. Vitamin and Mineral Powerhouse
Every day our body needs to ingest several vitamins and minerals. Aloe vera juice contains a great deal of these. It includes vitamin A, vitamin B1, vitamin B2, vitamin B6, vitamin B12, vitamin C, vitamin E, niacin and folic acid. In addition to these, it also contains chromium, magnesium, manganese, zinc, copper, potassium, iron, sodium, calcium and others.
5. Amino Acid Supply
Our body needs 20 different amino acids in order to build protein and it is not able to produce 8 of them on its own. Because aloe vera juice contains 7 of these essential amino acids and 19 amino acids in total, it is able to easily fulfill your body's daily needs.
6. Treats Diabetes:
The dried gel of aloe vera is used to treat diabetes as it helps to lower blood sugar levels. It accomplishes this by decreasing insulin resistance and also lowering the triglyceride levels in the liver and plasma. Aloe vera helps to improve the quality of our blood naturally, by decreasing its levels of cholesterol and triglycerides. Since, aloe vera helps to control cholesterol, triglycerides and blood sugar; it directly helps to prevent cardiovascular disease. Aloe vera keeps the blood fresh and rich in oxygen.
Also read about the incredible superfoods to curb diabetes.
7. Stimulates Metabolism and Weight Loss:
Aloe vera juice also increases energy levels and aids in maintaining a healthy body weight. Drinking aloe vera juice regularly stimulates the metabolism and helps the body to burn calories more quickly. So aloe vera keeps you slim naturally.
Read more about how you can loose weight without exercising here.
When we drink aloe vera juice, the body can naturally cleanse its digestive system.
Because our diets have many parts that can lead to exhaustion or fatigue, consuming aloe vera regularly can fight this. That means that aloe vera juice will give you a better feeling of well-being, help you maintain a healthy body weight and increase your energy levels.
8. Dental and Oral Health:
Aloe vera juice also helps in maintaining healthy gums and oral hygiene. Its natural anti-bacterial and anti-microbial actions promote cell growth and healing. Aloe vera gels are also used in a variety of tooth gels which prevent bleeding gums and mouth ulcers.
It also provides quick relief to people who experience burning mouth symptoms. Its antifungal properties help greatly in the problem of denture stomatitis, apthous ulcers, cracked and split corners of the mouth.
 B. Beauty Benefits of Aloe Vera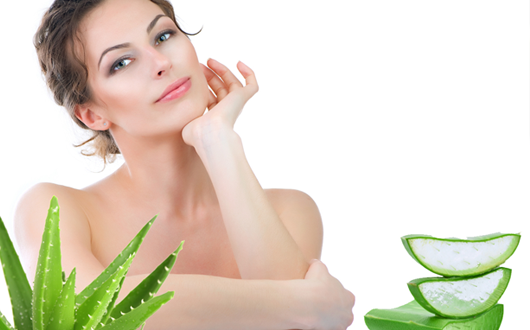 Aloe vera has several properties that are effective in treating a variety of skin conditions like flaky or dry skin, cosmetic ailments, and hair and scalp problems.
Due to its many uses and benefits to the skin and hair, aloe vera has now gained more popularity and has become a staple ingredient in many beauty and skin care products. In order to achieve proper skin restoration, aloe vera needs to be applied every day.
Applying aloe vera gel soon after taking a shower is advisable as the skin is clean. Aloe vera benefits are plentiful. Given below are its benefits for skin, hair, feet and lips:
9. Treats Inflammation, Wounds and Burns:
Inflammation is the body's first reaction to damage. The damage can be caused by physical means or due to chemical reactions. Aloe vera has been used in both traditional medicine as well as general home remedies in recent times to cure cuts, wounds, burns, abrasions, inflammations and skin breakage.
Aloe vera contains plant steroids which help in reducing inflammation naturally. So aloe vera is used in orthodox or traditional medicine as steroidal drugs. Aloe vera also contains salicylic acid and its salts – salicylate. They helps to curb inflammation by inhibiting the production of hormones like prostaglandins. Salicylic acid is like aspirin and has the potential of reducing inflammation by destroying the bacteria that cause inflammation.
You can use aloe vera to reduce inflammation without the fear of side effects. Drinking aloe vera juice regularly eases swollen and painful joints and reduces the stiffness of bones. It is excellent for treating scars, burns and cuts. It also soothes wound or cuts and fights bacteria that occur due to wounds. The cooling effect of the plant helps to regenerate new cells and helps in rebuilding damaged tissue.
10. Heals Irritated Skin:
The anti-allergic property of aloe vera is useful in the treatment of various skin diseases like eczema, psoriasis, itchy skin and so on. It is helpful in curing blisters, insect bites and other allergic reactions as well.  Aloe vera face packs are a boon for people who have sensitive skin.
11. Reduces Acne and Blemishes:
Aloe vera's anti-inflammatory property helps to reduce acne greatly. It does not completely cure the acne; however, it reduces inflammation and redness of the skin to a great extent.  It also prevents outbursts of acne and pimples. Its juice or gel can be applied directly on the skin to cure acne. Aloe vera face packs can be prepared by boiling aloe vera leaves in water. Make a paste and add a few drops of honey. Apply it on the face. Leave it on for 15 minutes and then rinse off with tap water.
Aloe vera juice combined with a gel is a great way to combat acne and blemishes on your skin. It works internally to supply vitamins and nutrients, reduce inflammation and fight bacteria and infection. It also hydrates our bodies because of its high water content.
Its gel form, when applied topically, helps to:
Make Skin Supple
Heal Blemishes
Moisturize
Minimize Inflammation Due To Shaving Or Sun Burns
All of these improve the overall health of your skin and eliminate acne.
12. Lip Care:
Prepare your own lip balm at home with aloe vera gel in seconds. This is a super easy process that can even be done by the kids. All you need to do is heat a heaping teaspoon of petroleum jelly in a double boiler. After it melts, add half a teaspoon of fresh aloe vera gel and two drops of Vitamin E oil extracted from the capsule. Remove from heat and blend this mixture well. Pour it into a tube or an old lip balm container when it is in the liquid state. Allow this lip balm to cool and thicken in the refrigerator and start using it on your lips. This will cure dry and chapped lips more effectively than any other store bought lip balms.
13. Foot Care:
A homemade nourishing aloe vera foot scrub can give you the soft feet you've always wanted. Add two teaspoons of sugar and 2 teaspoons of coarsely powdered rice powder with a scoop of aloe vera gel to make an instant foot scrub. After soaking your feet in warm water for 15 minutes, gently work this scrub onto your feet for 10 minutes to remove the dead skin cells without stripping off moisture. The sugar and rice powder exfoliates the skin to remove dead cells, while the aloe vera gels helps in rejuvenating your feet with its calming properties. Follow this every week to achieve soft and beautiful feet!
14. Improves Hair Growth
Aloe vera for hair loss treatments can be traced back to the ancient Egyptian times. Aloe vera is rich in amino acids, or protein, which is good for healthy hair. Since hair is comprised of a protein called keratin, you need more protein to help in hair growth. It is important that new hair takes place of old hair after it falls out naturally.
Keeps the pH balance in the correct range to boost growth.
Retains moisture so that hair can grow.
Proteolitic enzymes found in aloe vera help eradicate dead skin cells on the scalp. The aloe vera's keratolic action breaks down the sebum and dead scalp cells.
As a Conditioner – Aloe vera's alkalizing properties balance the pH level of the scalp and hair which results in further hair growth and retains moisture in the scalp.
Clears Dead Skin Clogging Pores
Treats Dandruff – The natural enzymes found in aloe vera soothe and moisturize the scalp, which helps to eliminate the scalp dryness that causes dandruff.
15. Treat Alopecia
Aloe vera contains enzymes that promote hair growth. Alopecia, or male pattern baldness, is a common hair problem faced by men. This is a kind of hair loss that occurs in a particular region of the scalp or leads to full hair loss. This scalp condition can be reduced by regular usage of aloe vera.
Aloe vera juice has become the new super-food in the health food industry. Very few natural liquids have as long a list of benefits as this one has. No longer is this just a topical solution that we use to heal cuts, burns and bites. Now many natural substances are available so that we can take full advantage of this super-food.
Hope you are now going to make aloe vera a part of your daily routine. Get yourself an aloe vera plant today!
Reference:
http://www.webmd.com/vitamins-supplements/ingredientmono-607-aloe.aspx?activeingredientid=607&activeingredientname=aloe
http://www.newhealthguide.org/Health-Benefits-Of-Aloe-Vera-Juice.html
Enjoyed Top 15 Aloe Vera Benefits for your Health and Beauty? Share it with your friends so they too can follow the Superfoodsliving journey.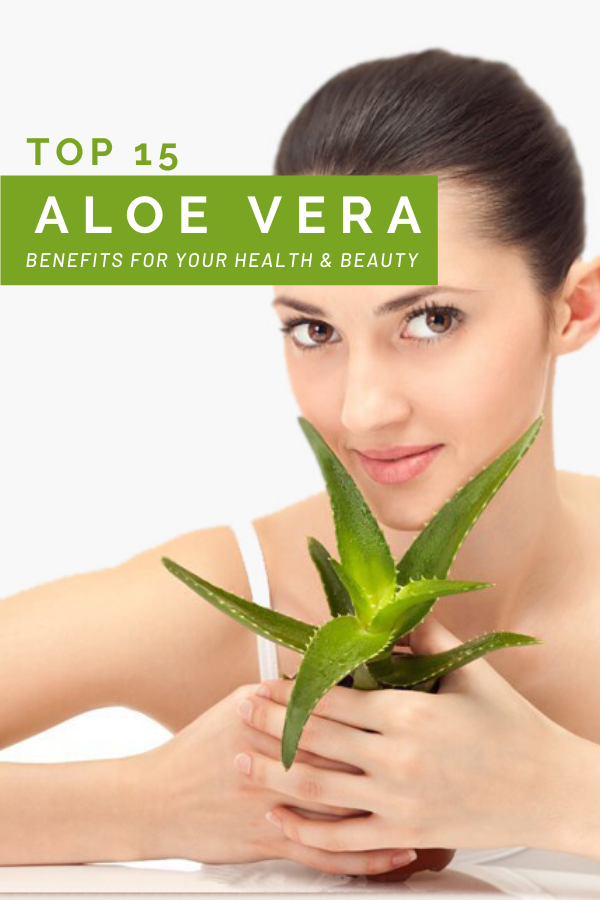 THIS POST MAY CONTAIN AFFILIATE LINKS. PLEASE READ DISCLOSURE FOR MORE INFO.