THIS POST MAY CONTAIN AFFILIATE LINKS. PLEASE READ DISCLOSURE FOR MORE INFO.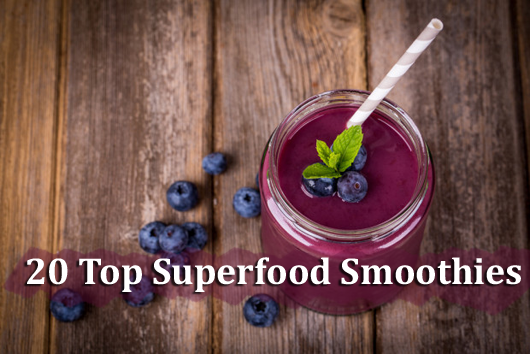 Smoothies are one of the easiest ways to introduce superfoods into your diet. Quick, simple to throw together and packed with nutrients, smoothies can be substituted for a meal or enjoyed as a refreshing, energy boosting snack.
As an added bonus, smoothies have the ability to turn less appealing (yet incredibly healthy) foods into a delicious blend full of antioxidants, vitamins and minerals.
If you are new to superfoods and are looking for a way to incorporate them into your diet, check out these superfood smoothie recipes!
1. The Easiest Superfood Smoothie You'll Ever Make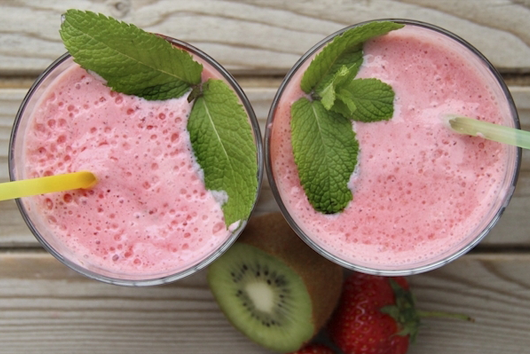 Made with only 4 ingredients, this superfood smoothie is basic yet effective. The medium-chain fatty acids in the coconut milk are metabolized quickly, thus giving you a jolt of energy. Goji berries are rich in antioxidants and hormone-balancing compounds while the banana and strawberries combine to make a delicious flavor that even kids will love. Learn more about the powerful goji berry here!
Source: http://www.mindbodygreen.com/0-13111/the-easiest-superfood-smoothie-youll-ever-make.html
2. Chocolate Caramel Superfood Smoothie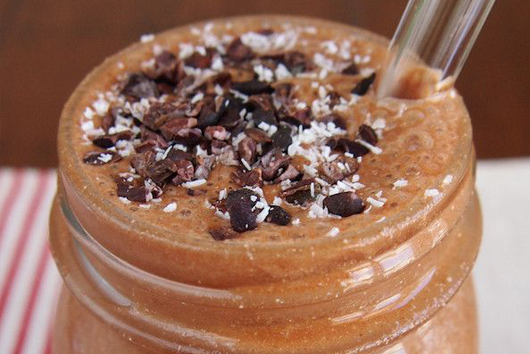 The combination of chocolate and caramel flavor in this drink will have you wondering if you're sipping a smoothie or enjoying a sinful dessert. Packed with antioxidants, vitamins and minerals, this smoothie tastes more like an indulgent treat than a superfood smoothie!
Source: http://www.mindbodygreen.com/0-13857/chocolate-caramel-superfood-smoothie.html
3. Blueberry Flax Superfood Smoothie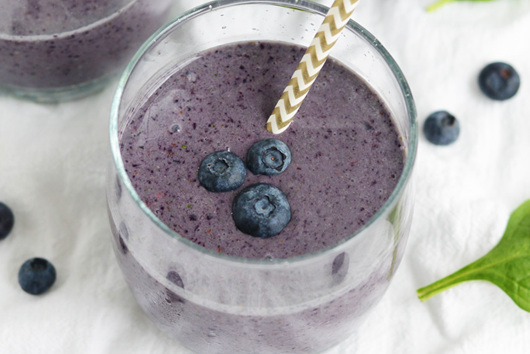 Made from antioxidant rich blueberries, this berry flavored smoothie gets an extra protein boost from full fat Greek yogurt. Enjoy this smoothie as a meal replacement or a quick post workout recovery snack.
Source: http://fitfoodiefinds.com/2014/06/blueberry-flax-superfood-smoothie/#_a5y_p=1921160
4. Extra-Thick Mint Chip Superfood Smoothie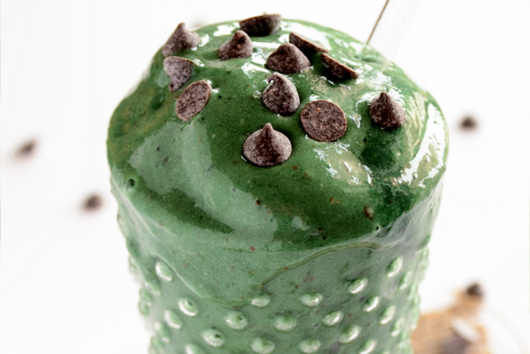 This thick milkshake-like smoothie contains spirulina, a type of blue-green algae that boasts many healthy qualities. Loaded with anti-inflammatory properties, omega-3 fatty acids and high levels of chlorophyll to help detox the body, this superfood smoothie is a terrific addition to any diet. Learn more about spirulina here!
Source: http://blissfulbasil.com/2014/09/05/extra-thick-mint-chip-superfood-smoothie/
5. Cranberry Pomegranate Smoothie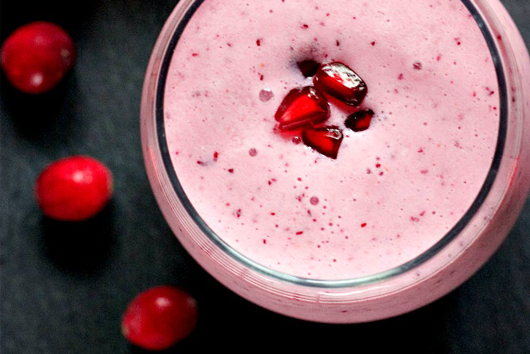 Made with cranberries and pomegranates, this tangy yet sweet smoothie is packed with vitamin C and fiber. Add this smoothie to your diet when colder weather sets in and chase away those nasty colds with this vitamin C rich smoothie!
6. Superfood Chia Green Smoothie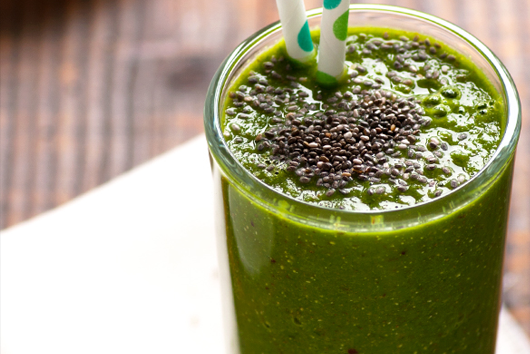 This smoothie contains chia seeds, a tiny powerhouse of a superfood. Rich in omega-3 fatty acids and antioxidants, chia seeds actually have more antioxidant power than blueberries do! The spinach and kale may give this smoothie a bold green color, but they also pack it with iron and plenty of vitamins.
Source: http://ifoodreal.com/superfood-chia-green-smoothie-recipe/
7. Maca Matcha Magic Green Smoothie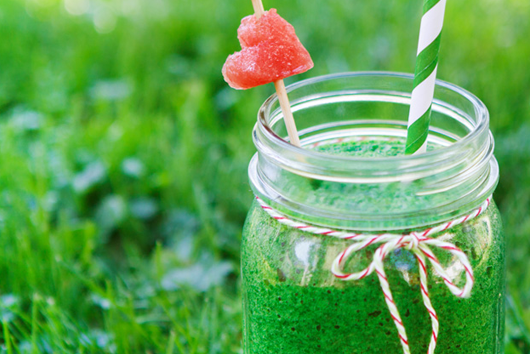 Matcha powder is one powerful superfood. Known to increase metabolism, reduce joint pain and fight cancer, this power food is a great addition to any smoothie. Paired with maca in this recipe for an extra health boost, this recipe also contains a few hidden vegetables.
Source: http://www.soulfulspoon.com/2014/04/healthbenefitsofmatcha.html#.U2AMks9OV9A
8. Carrot and Pineapple Smoothie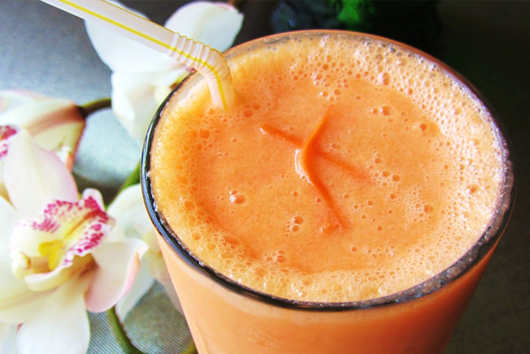 This beta-carotene and anti-inflammatory rich smoothie combines the tropical flavors of pineapple, banana and carrot together for a taste bud satisfying creation. This smoothie gets an added boost of omega-3 fatty acids as well from chia seeds.
Source: http://healthbistro.lifescript.com/2014/02/22/smoothie-saturday-chia-seeds-mangosteen-carrots-and-more/
9. Superfood Sunshine Smoothie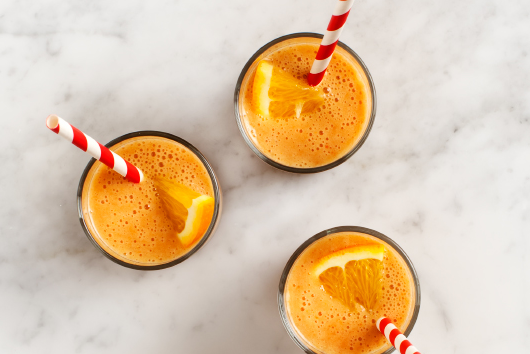 The perfect smoothie to wake up to, this citrus filled smoothie is like a supercharged dose of orange juice. Made with hemp seeds, known as the most nutritious seed in the world, this smoothie can help to lower blood pressure, improve organ function and also decrease inflammation in the body.
Source: http://www.loveandlemons.com/2013/12/30/superfood-sunshine-smoothies/
10. Avocado Superfood Smoothie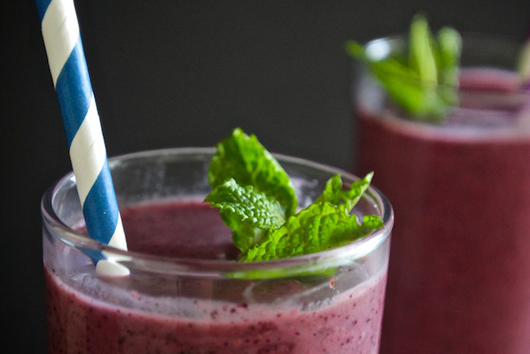 Don't let the avocado in this smoothie chase you away! Avocado adds a rich smoothness to this smoothie, giving it a wonderfully creamy texture. Blueberries, strawberries and raspberries give the drink a tangy taste as well as added antioxidants.
Source: http://www.shutterbean.com/2014/avocado-superfood-smoothie/
11. Big 5 Superfood Smoothie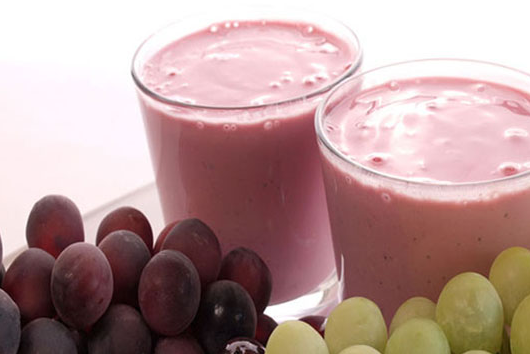 Five ingredients are all you need for this superfood packed smoothie. This recipe opts for kefir, a yogurt like food packed with probiotics and calcium and gets its antioxidant punch from brewed green tea.
Source: http://skinnyms.com/big-5-superfood-smoothie/
12. Quinoa Banana Berry Smoothie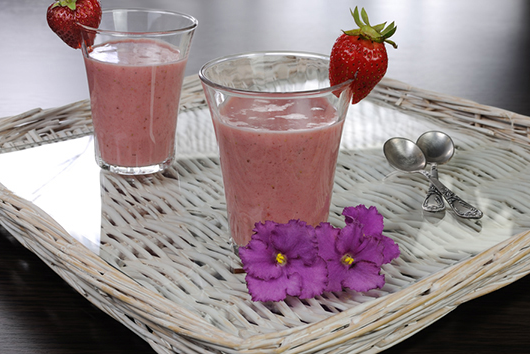 Cooked quinoa stars in this smoothie, giving the drink some bulk as well as a heavy dose of protein. Quinoa is also high in fiber, antioxidants and minerals. Cook and chill your quinoa prior to making this smoothie so that it is ready to go when you need it!
Source: http://skinnyms.com/quinoa-banana-berry-smoothie/
13. Superfood Power Smoothie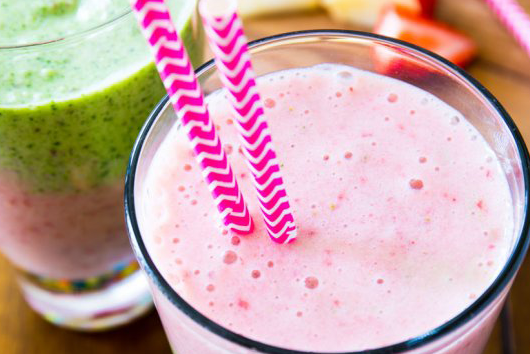 This smoothie is a refreshing, nutrient packed drink that needs no extra sugar. Spinach, strawberries, and flax provide the superfood kick in this healthy two-toned drink.
Source: http://sallysbakingaddiction.com/2014/06/08/superfood-power-smoothie/
14. Sweet Green Goddess Smoothie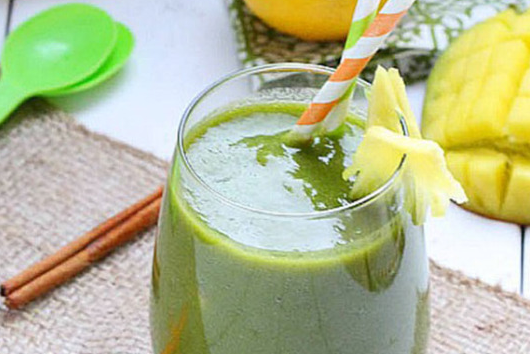 Persian cucumber and pear make this a refreshing and light smoothie that is perfect for an afternoon pick-me-up. A full tablespoon of flaxseeds provides important omega-3 fatty acids important to fighting heart disease, cancer and even stroke.
Source: http://simplyartisanal.com/smoothies/sample-recipes/summer-volume-1/sweet-green-goddess-recipe/
15. Peach Raspberry Superfood Smoothie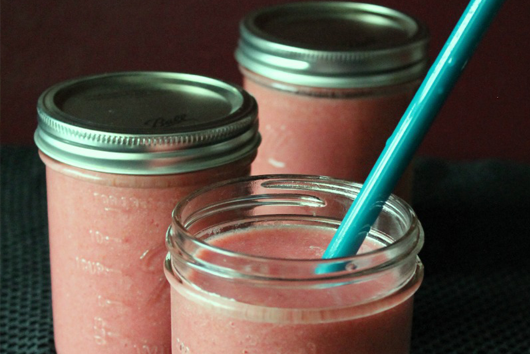 A subtly tart but not overly sweet smoothie, this peach and raspberry smoothie gets its sweetness from just a touch of pure maple syrup.
Source: http://www.organizeyourselfskinny.com/2014/09/04/peach-raspberry-superfood-smoothie/
16. Chocolate Superfood Smoothie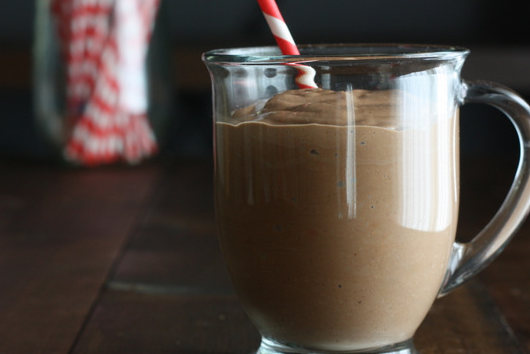 A delicious chocolate smoothie that is as thick and creamy as a milkshake, this drink has all the chocolate flavor and antioxidants you could want. Bonus: Kids won't even know that they are drinking powerful antioxidants and healthy fats.
Source: http://www.laurelonhealthfood.com/2012/03/chocolate-shake/
17. Blueberry Green Tea Smoothie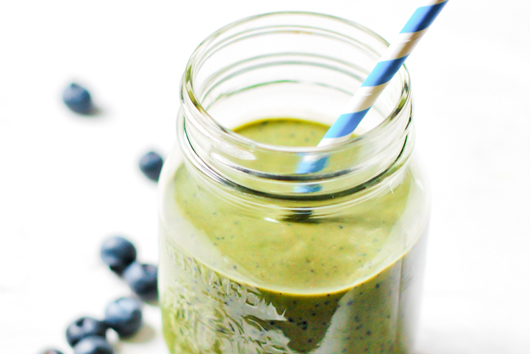 If you are looking for antioxidants, then look no further than this smoothie! Matcha powder, hemp seeds and spirulina powder are all included in this drink, as well as fresh blueberries, making this smoothie one powerful, free radical fighting drink.
Source: http://thefreshmethod.com/2013/12/29/blueberry-green-tea-smoothie/
18. Blueberry & Mango Superfoods Smoothie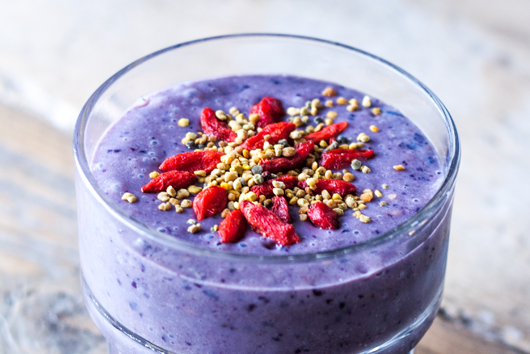 The powerful superfood, bee pollen stars in this recipe providing you with rich protein and amino acids, vitamins and folic acid, helping to boost your metabolism, energy and immune system.
Source: http://rosalieruardy.com/2013/10/02/smoothie-blueberry-mango-superfoods/?crlt.pid=camp.MpI6yBhlN8aw
19. Superfood Smoothie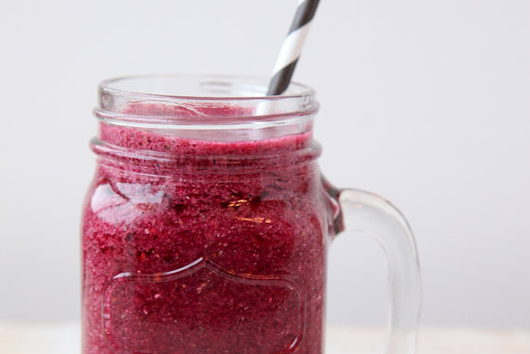 This beautiful purple smoothie gets its hue from pomegranate juice and fresh blackberries, along with a hidden leafy vegetable!
Source: http://www.betterrecipes.com/blogs/daily-dish/2013/06/18/superfood-smoothie/?utm_source=crowdignite.com&utm_medium=referral&utm_campaign=crowdignite.com
20. Almond Butter Maca Madness Smoothie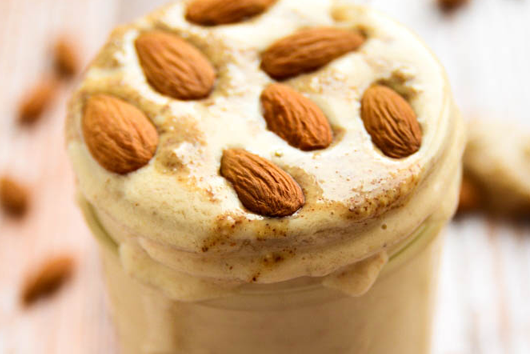 If you haven't tried maca powder yet, this recipe is the perfect introduction. Rich in vitamins B, C and E, maca powder helps balance mood and hormones, increases energy and stamina, and can even help keep skin clear! Learn more about the benefits of maca powder here.
Source: http://blissfulbasil.com/2014/04/18/almond-butter-maca-madness-smoothie/
Enjoyed 20 Top Superfood Smoothies? Share it with your friends so they too can follow the Superfoodsliving journey.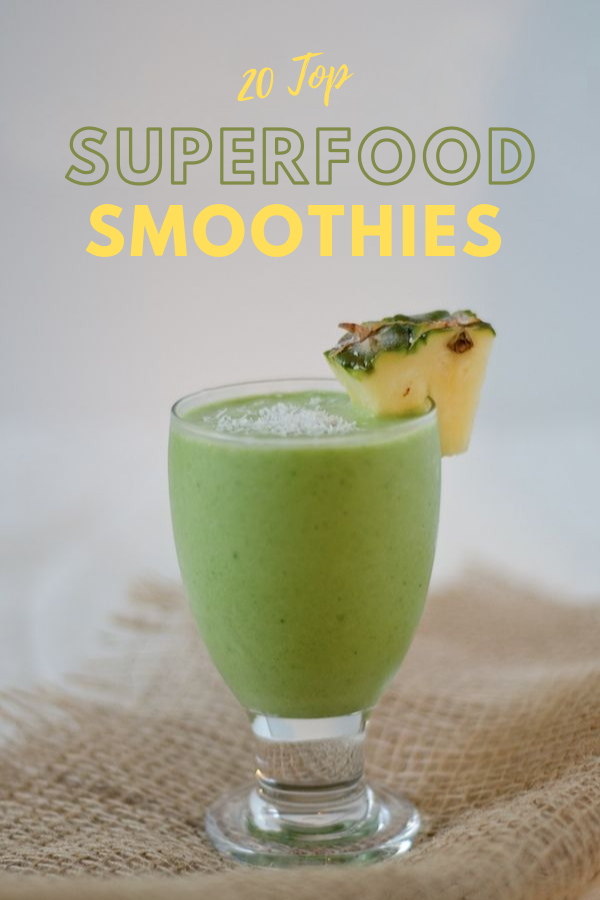 THIS POST MAY CONTAIN AFFILIATE LINKS. PLEASE READ DISCLOSURE FOR MORE INFO.