THIS POST MAY CONTAIN AFFILIATE LINKS. PLEASE READ DISCLOSURE FOR MORE INFO.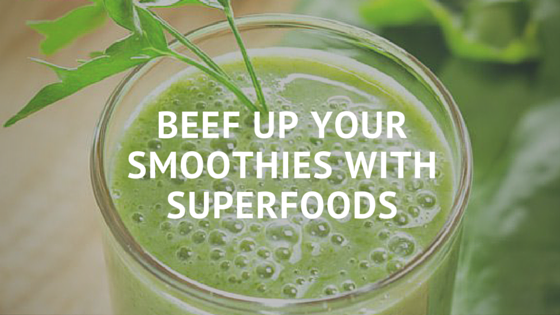 Smoothies on their own are already an amazingly simple and delicious option for meals. Wake up late in the morning and don't have time to cook breakfast? Smoothies can help with that. Looking to slim down and lose a few pounds? Smoothies to the rescue again!
There are certainly plenty of tasty recipes out there, it's easy to get overwhelmed with which one can pack the most nutritious and delicious punch.
The good news is that adding one of the many superfoods out there to your favorite blender is the easiest way to give your smoothie an extra high dose of antioxidants, vitamins, and minerals- basically all the things you need to maintain your health and stay on-track for a balanced diet.
What are these magical, nutritious superfoods you ask? There are a lot of different definitions out there for what a superfood is, but it all boils down to their extra-high content of antioxidants and nutrients.
Not only are they delicious, but each of these superfoods have their own special properties and learning about them will help you utilize them in the best way so you can look and feel your absolute best!
Some of the benefits of consuming superfoods include cancer-fighting properties, anti-aging, free radical fighting, anti-inflammatory properties. Alright! So now you're dying to know, what exactly is on this list of superfoods? You might even be surprised to find that some of your favorite smoothie add-ins have already make the list.
Acai Smoothie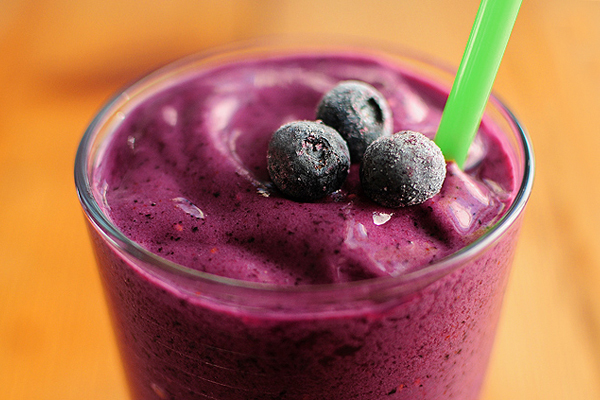 Acai is hailed as one of the world's top superfoods. In fact, this small, sweet, South American berry has the highest concentration of the antioxidant called anthocyanin– over ten times more than dark chocolate, red wine, or blueberries – which makes acai one of the most antioxidant-rich foods on the market.
Adding this little purple berry into one of your smoothies will not only give it a deep, tempting hue, but the high levels of antioxidants could also help prevent the development of cancer or diseases related to aging, such as Alzheimer's.
1 packet of frozen acai berries
1 cup strawberries (fresh or frozen)
½ banana
½ cup greek yogurt (you could use plain or vanilla for extra flavor)
¼ tsp. honey or maple syrup (optional for extra sweetness)
Kale Smoothie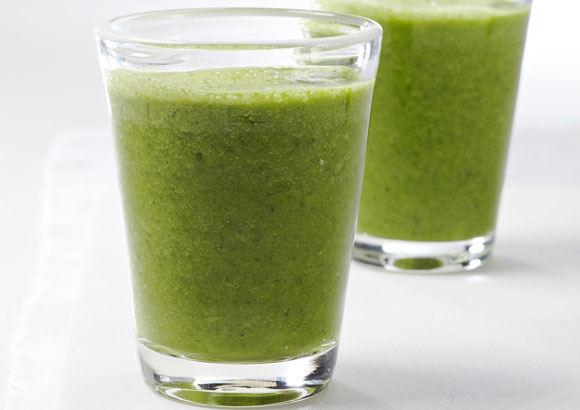 Kale has taken the place of spinach as the best leafy green food to add into any smoothie. The most special substance found in kale is the phytonutrient called sulforaphane, which is known to be a powerful cancer-fighting agent.
However, there are many other properties of kale which make it the perfect green add-in to your smoothies.  For example, the extra fiber found in kale acts as a powerful anti-inflammatory agent.
You can also find super high levels of vitamin C (among many, many others) in this dark and fibrous green.
In fact, kale even beats out oranges for the amount of vitamin C per serving. So the next time you feel a cold coming on, leave the oranges in the pantry and reach for some kale- especially some that is snuck into a smoothie!
2 cups of chopped kale
½ peeled red grapefruit- don't forget to take out the seeds!
1 whole, peeled kiwi
1 banana
8 oz. unsweetened coconut milk
1 tbsp. of coconut flakes (optional for extra coconut flavor)
Gojiberry Smoothie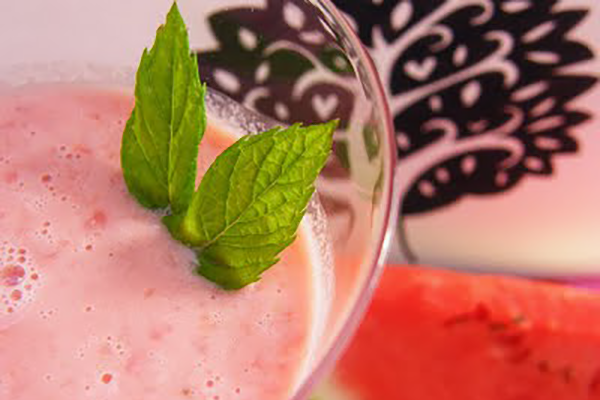 Although Goji Berries, tiny superfruits native to Asia, have been used in traditional Chinese medicine for thousands of years, other parts of the world are only recently privy to their amazing health properties.
If you're always looking for new ways to achieve beautiful, glowing skin, then goji berries might be the answer you're looking for due to their high levels of beta-carotene.
This, in addition to their other 21 essential minerals and 18 amino acids, can also contribute to a stronger immune system and preservation of eye-health.
For this recipe, you'll want to soak the dried goji berries in water for at least 15 minutes to make them easier to blend.
After the 15 minutes is up, strain the berries out of the water, add to your blender with the rest of your ingredients, and enjoy!
2 tbsp. dried goji berries
1 cup strawberries, fresh or frozen (add ½ cup ice if using fresh)
2 cups almond or coconut milk
2 tsp. honey (optional for adding sweetness)
Pomegranate Smoothie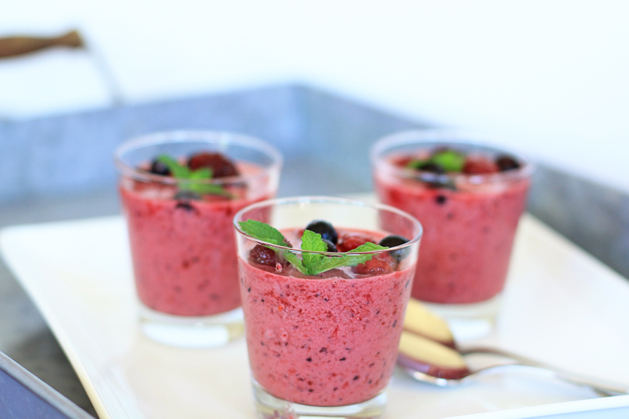 Pomegranates may be a notoriously difficult fruit to eat, but this superfood is definitely worth all of the extra work. Within each tender aril (or seed) of the pomegranate, lies a huge amount of antioxidants, vitamins, and minerals.
The juicy part surrounding the actual seed accounts for the sweetness and flavor of the pomegranate, but it also provides an important antioxidant, while the actual seed contains the essential fatty acids of the pomegranate.
Both of these properties are known to help reduce bad cholesterol and increase circulation by improving blood flow by decreasing buildup in the arteries.
The high levels of antioxidants found in pomegranates can also contribute to reducing inflammation and clearer, glowing skin.
½ cup pomegranate arils
1 whole banana
1 cup fresh or frozen strawberries (remember to add ice if you use fresh)
1 ½ cups almond or coconut milk
Hemp Seed Smoothie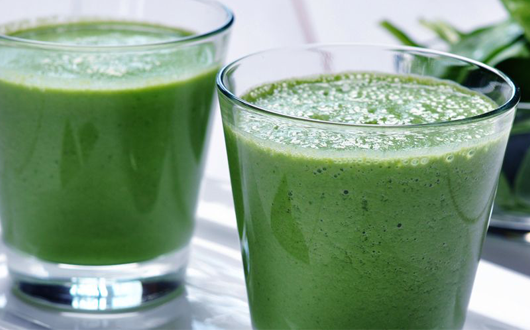 Hemp Seed, unlike many of the other trendy superfood seeds, is the most easily digestible and nutritious seed that you can add to your smoothies, so you can really take advantage of the perfect 3:1 ratio of omega-3 and omega-6 fatty acids; the ratio nutritionists suggest.
In fact, hemp seeds contain 10 amino acids and 4 essential amino acids, which are major contributing factors to heart health, lowering cholesterol, inflammation reduction, brain heath, and immune system strength.
Not only that, but these little, nutty seeds pack a huge protein punch that is more complete and digestible that all other proteins found in grains, nuts, or legumes.
So, adding a little hemp to your smoothies will keep you fuller, longer, while keeping the rest of your body happy and healthy!
3 tbsp. organic hemp seeds
1 banana
1 cup pineapple, peeled and cut into chunks
1 cup coconut water
1/2 tsp. cinnamon
Now you're armed and ready to start incorporating superfoods into your diet today! Of course, these smoothie recipes are delicious on their own, but they should also inspire you to use any of these superfoods in a variety of other superfood smoothies.
You could try centering your smoothie around just one, or mix and match several of these yummy foods for a mega-dose of nutrients and antioxidants. Just blend them together and enjoy your delicious and healthy smoothie, to start looking and feeling like your best self!
Enjoyed Beef Up Your Smoothies With Superfoods? Share it with your friends so they too can follow the Superfoodsliving journey.
THIS POST MAY CONTAIN AFFILIATE LINKS. PLEASE READ DISCLOSURE FOR MORE INFO.