THIS POST MAY CONTAIN AFFILIATE LINKS. PLEASE READ DISCLOSURE FOR MORE INFO.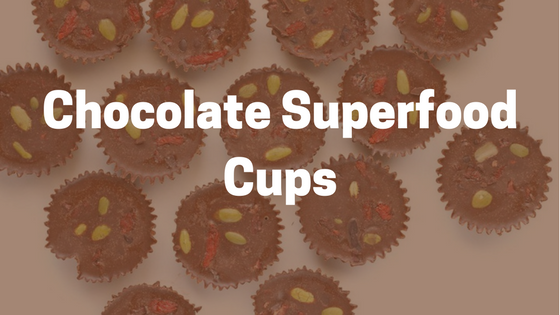 Most desserts are loaded with processed ingredients, unhealthy fats and far too much sugar – not something that you should be consuming on a daily basis. Does that mean you can't have dessert every evening? Of course not!
Unlike the processed chocolate cups you find in stores, these Chocolate Superfood Cups are made from wholesome ingredients that not only taste great but also provide nutrition for your body. It's the best of both worlds!
The primary ingredients that make up these Chocolate Superfood Cups are coconut oil, raw cacao powder and almond butter.
Coconut Oil
Coconut oil is a true superfood – it can be used in so many different ways, both internally and topically, and provides countless benefits for the body. Unlike long chain fatty acids, coconut oil is made up of medium chain fatty acids, which are:
Easier to digest
Not readily stored as fat
Anti-microbial and anti-fungal
Small in size, thus available for immediate energy for the brain and body
Processed by the liver and immediately converted into energy instead of being stored as fat.
When consumed, coconut oil can help to improve memory and brain function, boost endurance and energy, fight Alzheimer's, improve the digestive system and stomach ulcers, and boost the immune system. And that's not even all of the benefits it provides!
Raw Cacao
Similar to coconut oil, raw cacao is another stand out superfood that can do wonders for the body. Unlike processed cocoa that is combined with milk and sugar to create chocolate bars, raw cacao is chocolate in its purest, unprocessed form.
Rich in flavanols, anti-inflammatory antioxidants that protect the heart, raw cacao powder may help to protect against cardiovascular disease, stroke and improve circulation. Raw cacao also contains polyphenols, antioxidants that can help to reduce the levels of bad cholesterol in the body.
Other benefits of raw cacao powder:
It helps to thin blood and may prevent blood clots
Can prevent premature aging due to its antioxidant content
Balances mood
Though chocolate might not always be the healthiest option, it's health benefits increase drastically when the primary source is raw cacao.
Additional Superfoods
A smaller, yet no less beneficial ingredient included in these chocolate cups is maca. A powerful source of nutrition, maca provides:
Over 20 amino acids, including 8 essential amino acids
20 free form fatty acids
Vitamins B, C and E
Calcium
Magnesium
Iron
And much more!
Known as an adaptogen, maca helps the body respond to stressors that affect it adversely, thus balancing things like mood and hormones. It's also a great source of nutrition!
We topped our Chocolate Superfood Cups with goji berries, pepitas and cacao nibs for an added superfood boost, however you can leave your chocolate cups plain or top them with whatever you choose.

Chocolate Superfood Cups
Makes 15-20
Ingredients:
½ cup coconut oil
½ cup raw cacao powder
½ cup almond butter
1 tablespoon maca powder
1-2 teaspoon maple syrup [if needed]
Toppings:
goji berries
pepitas
cacao nibs
Directions:
Line a mini muffin tin with liners. Set aside.
In a bowl, microwave together the almond butter and coconut oil for 30 seconds to 1 minute or until smooth. Stir in cacao powder, maca powder and maple syrup, if desired.
Fill each mini muffin liner ¾ full. Sprinkle with toppings of choice.
Place tray in the freezer for 30 minutes to harden. Remove from freezer and remove the liners. Place chocolate cups into a tupperware and store in the fridge until ready to eat.
Now that you have the recipe for these simple Chocolate Superfood Cups, there's no need to have to pass on dessert again!
Enjoyed Chocolate Superfood Cups? Share it with your friends so they too can follow the Superfoodsliving journey.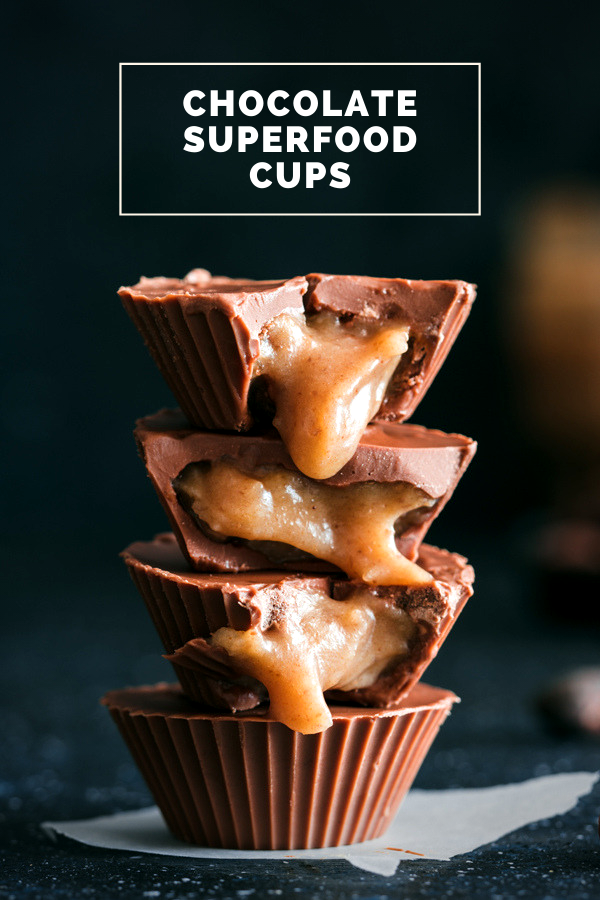 THIS POST MAY CONTAIN AFFILIATE LINKS. PLEASE READ DISCLOSURE FOR MORE INFO.