THIS POST MAY CONTAIN AFFILIATE LINKS. PLEASE READ DISCLOSURE FOR MORE INFO.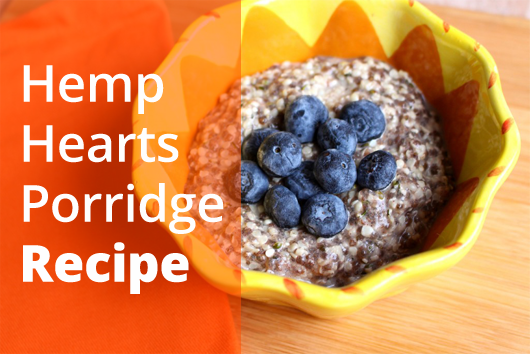 Hemp seeds come from the hemp plant, which has been used for centuries in productions involving textiles, paper, and biodegradable plastics. The seeds, however, have recently been found to be a highly nutritious food, boasting a high nutrient profile as well as the gluten-free tag.
Hemp seeds are one of the best sources of easily digestible plant protein, better than nuts, seeds and plants. The only other food that can compare in this aspect is spirulina, another tremendous superfood.
Hemp seeds are 44 percent oil, 33 percent protein and 12 percent carbohydrates. Hemp oil, extracted from hemp seeds, is the richest source of polyunsaturated essential fatty acids, according to the North American Industrial Hemp Council. These fatty acids support brain function and heart health. The carbohydrates found in hemp seeds are mostly fiber, making hemp seeds a natural way to cleanse the body.
Another vital nutrient hemp seeds provide is GLA, or gamma linolenic acid, an essential fatty acid that can help reduce inflammation in the body. Hemp seeds are also high in the antioxidant vitamin E. Vitamin E is good for the skin, hair, and bones, as well as cardiovascular health.
While hemp may be most commonly known for marijuana, the plant that hemp seeds come from is actually a relative of the marijuana plant, meaning that the seeds will not produce any sort of "high" or reaction in your body. As the phrase goes, "You can't get high on the seeds, you can only get healthy!"
Hemp Seed Benefits:
Contains a 3:1 ratio of omega-3 and omega-6 fatty acids, which protect the heart
Is high in gamma linolenic acid, or GLA, which is an essential omega-6 fatty acid that has been proven to naturally balance hormones
Is considered to be a perfect protein due to it containing all 20 amino acids, including the essential 9 amino acids that our bodies cannot produce
Rich in both soluble and insoluble fiber, which naturally cleanses the body and can help reduce sugar cravings.
This recipe utilizes hemp seeds to make a porridge, kicking the normal bowl of oatmeal up a notch in terms of nutrition. If you are unable to eat your beloved bowl of morning oats anymore or are simply looking for a new breakfast food, give this hemp hearts porridge a try.
Sweetened with raw honey, this porridge is refined sugar free as well as vegan. It's highly nutritious and tastes great, so give it a try when you are in a breakfast rut!
Hemp Hearts Porridge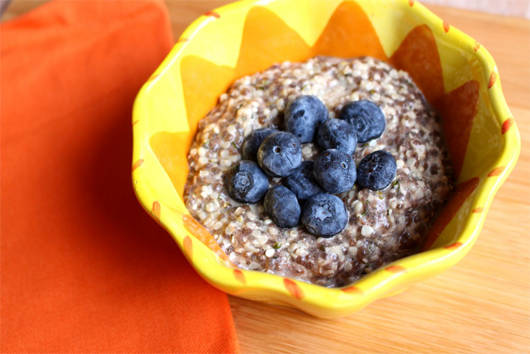 Gluten free, refined sugar free and vegan
Serves 1
Ingredients:
-1/2 cup almond milk
-1/4 cup hemp hearts
-1 tablespoon ground flaxseeds
-1/2 tablespoon chia seeds
-1 tablespoon raw honey
-1/2 teaspoon vanilla extract
-1/2 teaspoon cinnamon
Toppings:
-Honey
-Blueberries
Directions:
-Add all ingredients into a small pan.
-Stir to combine, then heat over medium heat until it begins to boil slightly.
-Stir again, then cook for another 1 to 2 minutes.
-Remove from heat and add toppings.
-Eat immedietly.
Enjoyed Hemp Hearts Porridge? Share it with your friends so they too can follow the Superfoodsliving journey.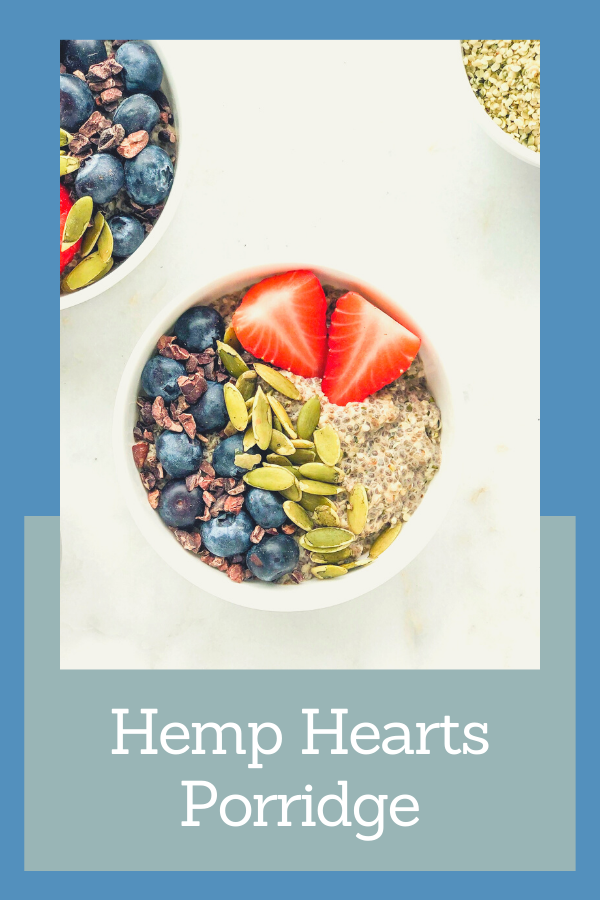 THIS POST MAY CONTAIN AFFILIATE LINKS. PLEASE READ DISCLOSURE FOR MORE INFO.