THIS POST MAY CONTAIN AFFILIATE LINKS. PLEASE READ DISCLOSURE FOR MORE INFO.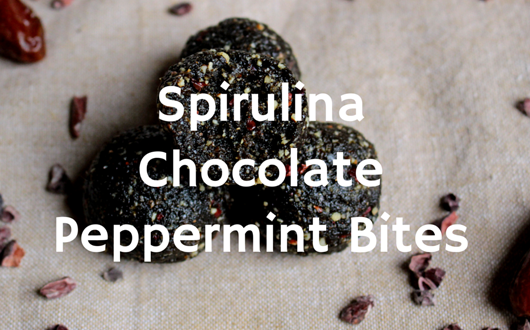 Spirulina is an incredible food worthy of the superfood title. A blue-green algae known as a cyanobacteria, spirulina is now one of the most researched superfoods along with it's similar sister, chlorella.
Most often used in green superfood powders, energy bars, and supplements, spirulina is so beneficial to health that you will want to add it to your daily diet.
Spirulina Nutritional Content
Spirulina is an incredibly nutrient-rich food.
In just one tablespoon of spirulina powder you get four grams of protein, 11% of the daily recommended amount of vitamin B1, 15% of the daily recommended amount of vitamin B2, 4% of the daily recommended amount of vitamin B3, as well as 21% of the daily recommended amount of copper and 11% of the daily amount of iron.
Spirulina also contains magnesium, potassium, and manganese as well as small amounts of almost every other nutrient that our bodies need.
Health Benefits of Spirulina
• Rich in antioxidants that fight off damaging free radicals in the body
• Lowers your bad cholesterol (LDL) levels while raising your good cholesterol (HDL) levels
• Has potential to be a cancer-fighting food
• Helps to detox the body and fight against heavy metal poisoning
• Is rich in iron which can help to battle anemia, especially in plant-based dieters and elderly
• May help with muscle endurance
• Can help regulate blood sugar levels
Spirulina isn't the only superfood in this recipe! This recipe also contains raw cacao powder as well as cacao nibs.
Health Benefits of Raw Cacao
Raw cacao is chocolate in its purest form. This raw form of chocolate is at its nutrient peak, unaltered without any additional sugars or chemicals added.
In fact, raw cacao is considered to be one of the most nutrient-rich foods, with 14 times the amount of antioxidants that red wine has and 21 times the amount of antioxidants in green tea.
Antioxidants are powerful compounds that are essential for keeping our bodies healthy.
Antioxidants help to:
• Protect the heart
• Fight free radicals from damaging cells in the body
• Improve blood circulation
• Lower blood pressure
• Reduce inflammation in the body
This recipe has not one, but two sources of raw cacao! Raw cacao powder gives these bites a wonderfully subtle chocolate flavor, while the cacao nibs provide that chocolate bite that is so beloved.
Free of refined sugars, these bites utilize raw dates for their sticky texture as well as sweet flavor.
Due to the ingredients, these bites are considered to be raw, vegan, as well as gluten-free, which means they can fit into almost every diet. Give your diet a superfood boost with these healthy spirulina bites!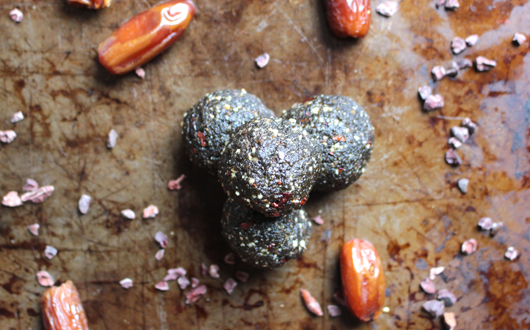 Spirulina Chocolate Peppermint Bites
Makes 12 bites
Ingredients:
 1 cup walnuts, raw
¼ cup almonds, raw
1 ¼ cup dates
1 tablespoon raw cacao
1 tablespoon spirulina
½ teaspoon peppermint extract
2 tablespoons cacao nibs
Directions:
1. Place walnuts and almonds into a food processor.
2. Process until nuts are in small pieces, but don't let the nuts become butter!
3. Add remaining ingredients – dates, raw cacao, spirulina, peppermint extract and cacao nibs.
4. Process mixture until all of the ingredients start to stick together.
5. Place mixture in the fridge for one hour to set up.
6. Remove from the refrigerator and roll mixture into 1 tablespoon bites.
7. Store in a sealed container in the refrigerator until ready to eat.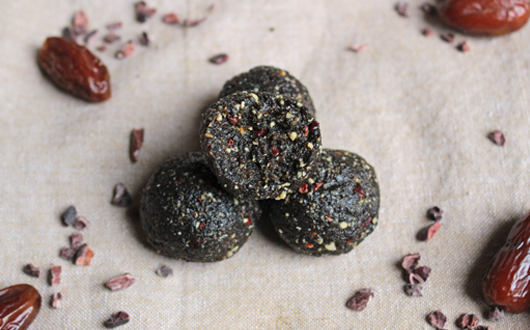 Stock pile your refrigerator with these Spirulina Chocolate Peppermint Bites so that you'll always have a nutrient-rich snack handy!
Enjoyed Spirulina Chocolate Peppermint Bites Recipe (Delicious!)? Share it with your friends so they too can follow the Superfoodsliving journey.
THIS POST MAY CONTAIN AFFILIATE LINKS. PLEASE READ DISCLOSURE FOR MORE INFO.