THIS POST MAY CONTAIN AFFILIATE LINKS. PLEASE READ DISCLOSURE FOR MORE INFO.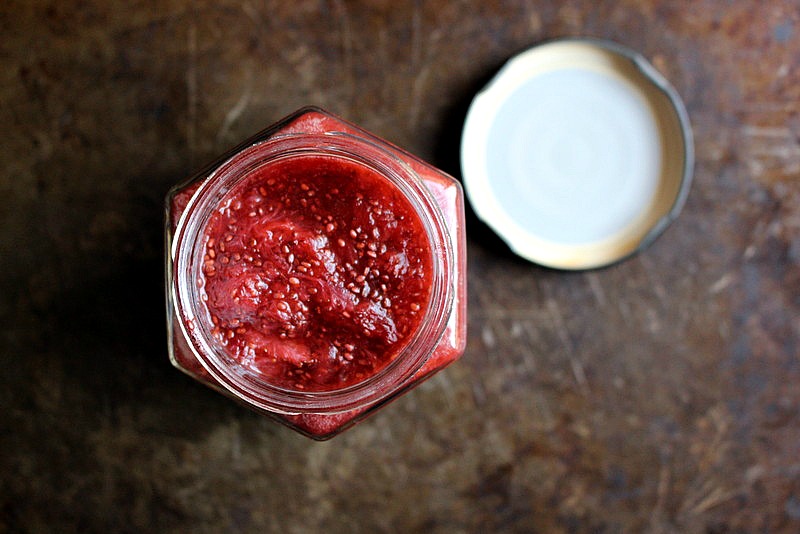 Chia seeds are an important superfood, but they can be hard to incorporate into the diet due to their texture and appearance. That's why this Strawberry Chia Seed Jam is so perfect!
This jam hides the chia seeds perfectly (they just look like strawberries seeds) and the texture helps to hold the jam together.
Even children won't be able to tell the difference between this superfood packed jam over the sugar filled store bought ones!
Chia seeds are one of the healthiest foods on the planet, loaded with nutrients that have important benefits for your body. Find out more about chia seeds below!
Here are some facts about chia seeds:
Omega 3 Fatty Acids – Chia seeds are packed with vital omega-3 fatty acids, with nearly five grams of omega-3s in a one ounce serving.
Omega-3 fatty acids protect the heart by helping to lower the levels of bad cholesterol (LDL) in the body which can protect the heart against strokes and heart attacks.
High in Antioxidants – Chia seeds are extremely high in antioxidants, which help to ward off free radicals in the body.
In fact, recent studies have shown that the antioxidant activity was shown to stop up to 70 percent of free radical activity in the body. These free radicals can damage molecules in cells and contribute to aging as well as diseases such as cancer.
Fiber – Chia seeds contain 11 grams of fiber in just two tablespoons, with one serving of chia seeds containing the daily recommended fiber intake.
Due to their high fiber content, chia seeds can absorb up to 10 to 12 times their weight in water, expanding in your stomach to help you feel fuller longer. Fiber also helps with digestive issues and can help promote bowel regularity.
Protein – Chia seeds are a favorite amongst vegetarians and vegans due to the fact it is a high quality protein that is completely plant based. Chia seeds also contain essential amino acids. Also see best tasting protein powders.
Calcium – Chia seeds are high in several nutrients that are vital to bone health. In fact, 18 percent of the daily recommended amount of calcium can be found in one single ounce of chia seeds.
Chia seeds also contain boron, another essential nutrient for bone health. This makes chia seeds an excellent source of calcium for those who do not consume dairy.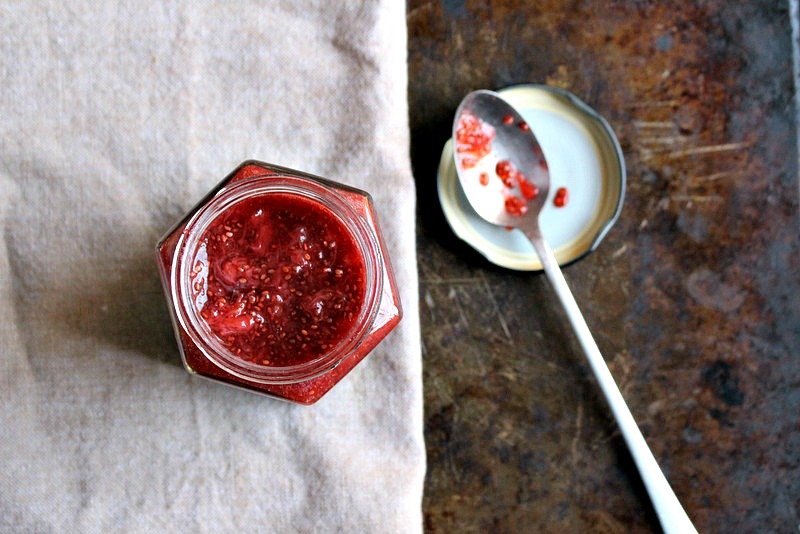 Strawberry Chia Seed Jam
1lb package of strawberries, stems removed and halved
2 tablespoons chia seeds
2-4 tablespoons of honey
squeeze of fresh lemon juice
Place sliced strawberries into a pan over medium to high heat. Bring to a boil, then reduce to a simmer.
Once berries have broken down and softened, mash with a potato masher or fork. You can also transfer them into a blender.
On medium to low heat, stir in the chia seeds, honey and lemon juice.
Allow the strawberry mixture to simmer and thicken for roughly 5 minutes. Once thickened, remove from heat and let cool.
Store in a sealed jar or container. Jam will keep for two weeks.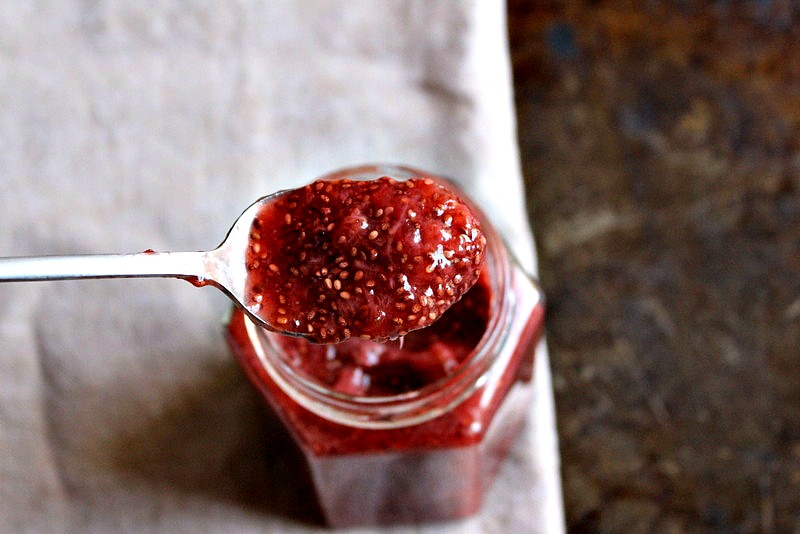 Tips To Try
Almost any kind of berry can be used for this recipe. Try blueberries, raspberries or even a mixture of berries!
Fresh berries are preferred, but frozen can be substituted as well.
Substitute maple syrup for the honey for a different flavor
The amount of sweetener used depends of the sweetness of the berry as well as your preference. Play around with the amount until you reach the desired sweetness level.
This jam pairs well with everything: toast, peanut butter and jelly sandwiches, crackers, on top of yogurt or even stirred into warm oatmeal.
So if you've been eyeing chia seeds at the store and want to start benefiting from this tiny powerhouse, take the plunge with this recipe. It's the perfect way to introduce chia seeds into your family's diet!
Enjoyed Strawberry Chia Seeds Jam: Protein-Packed Recipe for your Kids? Share it with your friends so they too can follow the Superfoodsliving journey.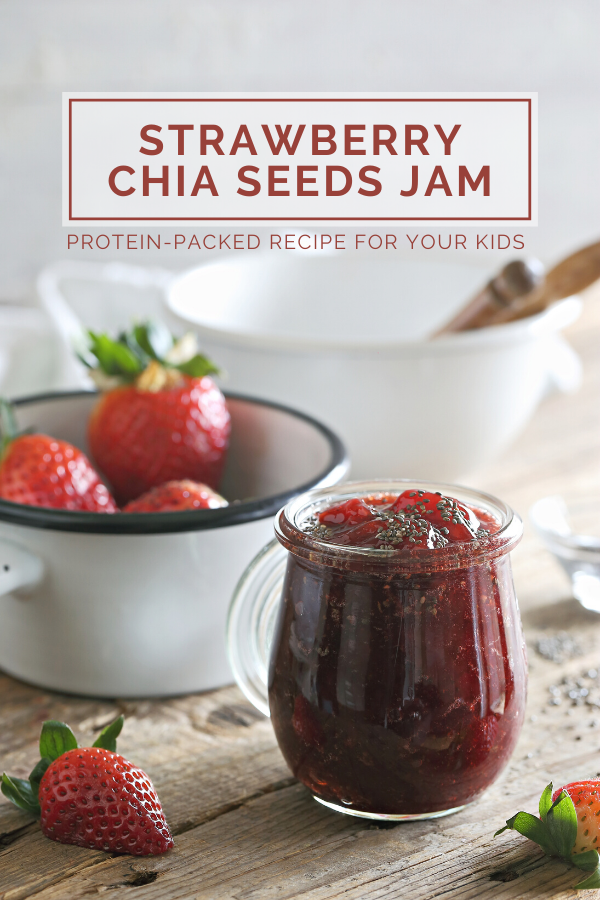 THIS POST MAY CONTAIN AFFILIATE LINKS. PLEASE READ DISCLOSURE FOR MORE INFO.